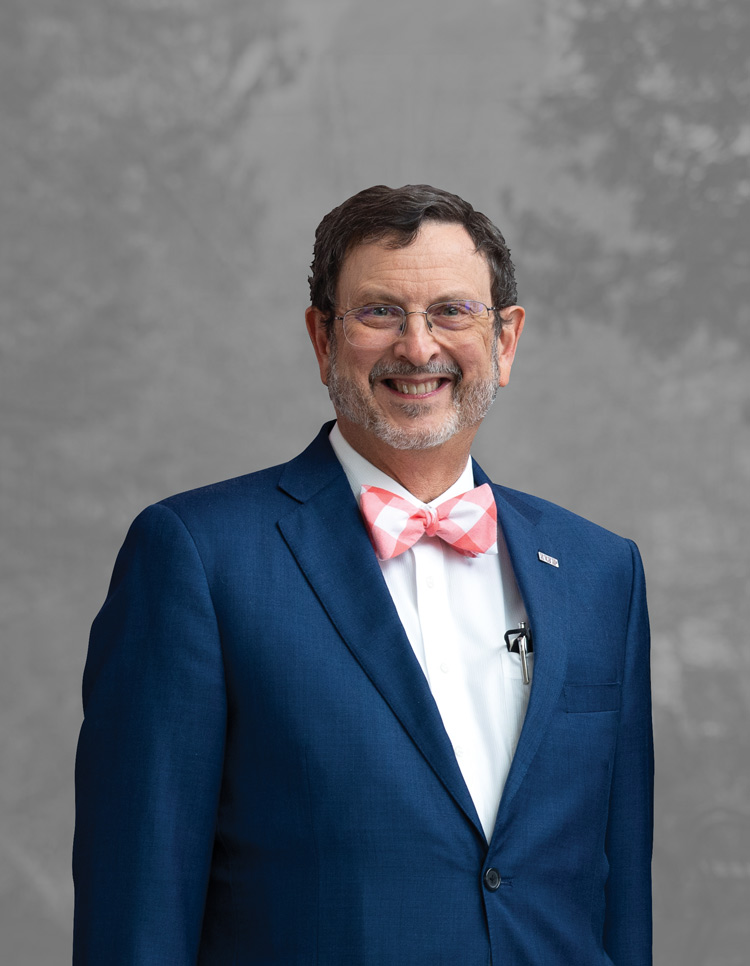 President Michael Driscoll's leadership of IUP is guided by a commitment to being a student-centered university. Students are empowered to become the world's transformative leaders through high-quality academic programs, strong support structures, and interconnected, hands-on learning experiences outside the classroom.
With an eye toward IUP's sesquicentennial in 2025, President Driscoll led the university community's adoption of a shared vision and two strategic plans: one for 2015-20 and the other for 2020-25, the current strategic plan.
The Middle States Commission on Higher Education praised the earlier plan for its inclusive process and for the number of university stakeholders engaged in developing the vision, the strategic plan, and the self-study for the reaffirmation of institutional accreditation—the ultimate stamp of approval, which occurs every 10 years.
Under his leadership, IUP celebrated raising $81.36 million during its Imagine Unlimited comprehensive fundraising campaign—more than $6 million over its $75-million goal. The campaign, which concluded in February 2021, six months ahead of schedule, included two one-time gifts, both made by IUP alumni, that were the largest in the history of the university: $23 million from John and Char Kopchick and $7 million from Tim and Deb Cejka. More than 22,000 donors gave through this campaign.
In October 2020, President Driscoll announced IUP NextGen, a plan to create a stronger, more student-centered university. At its core, IUP NextGen redefines the way IUP serves its students, reflecting student and marketplace demands, prioritizing and putting more resources behind what IUP does especially well, and giving students experiences they can't get anywhere else.
Both IUP NextGen and the 2020-25 strategic plan focus on leveraging IUP's strengths as a doctoral research university and its commitment to involving students in meaningful faculty research. President Driscoll's own academic research while a faculty member at Portland State University recently resurfaced as the 2020 SIGMICRO Test of Time award winner. This is the highest honor the organization gives an academic paper, recognizing that its influence is still felt 18 to 22 years after the paper's initial publication in a prior session of the International Symposium on Microarchitecture.
In spring 2023, President Driscoll announced the Student Success Infrastructure, a new organizational model to drive IUP closer to its goal of student centeredness; this model was launched in fall 2023. Built with extensive university-wide input and with the best practices from universities across the country, the infrastructure provides proactive, direct support to every IUP student at every level. It augments existing resources, like the University College, while standardizing and streamlining tools and processes. 
Key to the SSI are navigators—frontline staff members who provide personalized support and are trained to intervene to help students, faculty, and other staff as needed. A data specialist provides standardized dashboards and training to help navigators—and every member of the IUP community—better support students. A 12-month Academic Advising Center, housed in the University College, augments the advising already being done in academic departments across the university. The navigators also are housed in the University College, benefiting from and enhancing the University College's current work.
President Driscoll's administration established the University College in 2019 to support students as they seek an academic path that will fit their career goals. The University College is intended to meet students where they are, helping them get the most from their education right from the start. Students who have not yet chosen a major are called explorers—never undecided. Staff members and peer mentors in the University College work closely with these explorers through specialized courses, advising, workshops on study skills, and linked classes team-taught by professors from different departments.
After extensive discussions with community leaders, alumni, legislators, internal constituencies and the Pennsylvania State System, President Driscoll secured the approval of the IUP Council of Trustees in December 2022 to begin exploration of the development of a College of Osteopathic Medicine at IUP. This initiative is poised to address the critical shortage of primary health care physicians in Pennsylvania, especially in rural areas. 
Following the tenets of the strategic plan and IUP NextGen, President Driscoll has prioritized creating an inclusive, equitable, and diverse culture at IUP. This is happening through education and programming, offering cocurricular support for students from marginalized groups in their living and social opportunities, promoting financial and other support from IUP alumni and friends, and ensuring students have appropriate incident reporting and response options. President Driscoll formed the President's Commission on Diversity and Inclusion to enhance IUP's learning atmosphere. He also created the Center for Multicultural Student Leadership and Engagement to reflect students' distinctive differences while acknowledging they become better leaders through direct experience. In summer 2022, IUP completed the rainbow sidewalk, a visible symbol of IUP's commitment to providing a welcoming community.
As part of the university's commitment to diversity and inclusion, he also supports the importance of global understanding and exposure to international cultures.
IUP's international student population continues to be the largest within Pennsylvania's State System of Higher Education. At its peak, IUP was host to nearly 1,000 international students from more than 60 countries. IUP students also take advantage of study abroad opportunities with IUP's many partner institutions.
Under President Driscoll's leadership, IUP established a dedicated National Achievement Scholarship Office in 2019 to raise awareness about scholarship opportunities and to guide qualified students through the application process. IUP students have had decades of success in securing prestigious national and international scholarships: as of spring 2022, IUP had 21 Gilman Study Abroad Scholarship winners; 20 Fulbright award winners; 10 Freeman-Asia scholarship recipients; three Boren study abroad winners; and 12 Goldwater Scholarship recipients.
Open since 2014, IUP's Military and Veterans Resource Center assists veterans, active military personnel, and their family members in achieving their educational goals. President Driscoll established the center, in part, after research by a team of faculty members and students concluded that veterans successfully assimilate into civilian life and the college experience with unique support. Since the year the center was established, IUP has increased the enrollment of veterans and military-affiliated students by almost 70 percent. In the last several years, IUP has hosted more than 900 of these students. 
John J. and Char Kopchick Hall, a $90-million, 142,536-square-foot facility showcasing student and faculty work in science and mathematics and increase collaboration, will open for classes in spring 2024. The facility is both state of the art and flexible, reflecting the best thinking of what will be needed for science teaching and learning in the next decades.
The opening of Kopchick Hall followed the 2016 completion of IUP's first new academic building in 20 years, Jane E. Leonard Hall, home to the College of Humanities and Social Sciences. The building was dedicated in November 2022 in tribute to Jane Elizabeth Leonard, one of the university's (then Indiana Normal School's) original staff members. Leonard served the university for 46 years in a number of roles, including as a faculty member and preceptress (similar to a Dean of Women). Jane E. Leonard Hall earned Leadership in Energy and Environmental Design (LEED) certification, an honor shared by all of the university's recently completed residence halls.
While looking to the future, President Driscoll also honors IUP's past. He supported the publication of an updated history of IUP, published in 2021: The IUP Story: Indiana University of Pennsylvania, from Normal School to University. President Driscoll authored the afterword for the book, which was written by IUP Professor of History Emeritus Dr. Charles Cashdollar.
In 2014, President Driscoll formed the Indiana Area Collaborative Team to strengthen IUP's relationship with the local community, including government and business leaders and law enforcement agencies. The team initially helped address unsanctioned and out-of-control gatherings in the community. Now, it serves as a base for additional collaborative projects.
President Driscoll's interest in community partnerships is also reflected in his work as past chair of the American Association of State Colleges and Universities' Committee on Economic and Workforce Development. He played a lead role in writing a statement about the economic importance of universities in their home regions.
Currently the longest-serving president in Pennsylvania's State System of Higher Education, he was elected in 2017 to chair its Commission of Presidents/Commission for the Universities.. He is a member of the NCAA Division II Presidents Council and the Indiana County Chamber of Commerce. He formerly served as a board member of the Center for Rural Pennsylvania, the Pennsylvania Economy League of Greater Pittsburgh (an affiliate of the Allegheny Conference), and locally, Indiana Healthcare Corporation (now dissolved).
In 2023, President Driscoll was honored by City & State Pennsylvania as one of 50 over 50 top leaders for the commonwealth. He has also been honored with the 2018 Distinguished Citizens Award from the Laurel Highland Council of the Boy Scouts of America.
Before his arrival at IUP in 2012, President Driscoll served as the executive vice chancellor and provost of the University of Alaska Anchorage, a position he took after serving in various posts at Portland State University in Oregon. He earned his PhD in 1988, his MS in 1985, and his BS in 1983, all in electrical engineering at Michigan State University.
He enjoys all the cultural and athletics events that IUP has to offer. He and his late wife, Becky, have two adult children and a Cavalier King Charles Spaniel, Bert.