Lawrence Pettit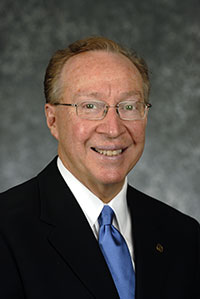 Lawrence K. Pettit served as president of IUP from 1992 to 2003.
From 1986 to 1992, he was chancellor of Southern Illinois University. Prior to that, Pettit served as chancellor of the University System of South Texas, chief academic officer for the Texas College and University System, chief executive officer of the Montana University System, and chairman of the Political Science Department at Montana State University.
His time at IUP was his second venture into higher education in Pennsylvania.For his first faculty appointment during the 1960s, he was an assistant and later associate professor of political science at Pennsylvania State University. His career has been accented with practical political experience as well. He served as campaign manager for the governor of Montana in 1972 and was a legislative assistant to two U.S. senators, in 1959-1960 and 1962. In 1980, he ran for United States representative from what was then Montana's Second Congressional District.
Pettit is the author or co-author of several books and numerous articles in both political science and higher education. He served on the editorial board of Educational Record and was president of the National Association of System Heads and the organization of Presidents and Chancellors of multi-campus universities and has held numerous other leadership posts at the state, regional, and national levels.
During his presidency at IUP, he served as chairman of the board of directors of the National Environmental Education and Training Center, Inc. He has been honored by his fraternity, Sigma Chi, and by the American Association of State Colleges and Universities, and he has been a senior fellow of the American Council on Education.
Pettit received his B.A. degree with honors from the University of Montana, the M.A. from Washington University in St. Louis, and the Ph.D. in political science from the University of Wisconsin, Madison, where he was a university fellow and a Vilas fellow.