Diane Reinhard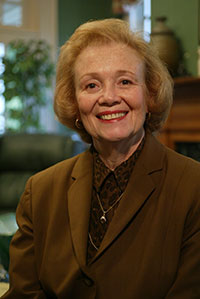 Diane L. Reinhard, who served as interim president in 2004, came to IUP with a wide variety of experience in the education field.
Retired as president of Clarion University of Pennsylvania, Reinhard served IUP's fellow member in the Pennsylvania State System of Higher Education for thirteen years.She arrived in that position after serving as acting president of West Virginia University for a year.
Before becoming WVU's acting president, Reinhard had been dean of the university's College of Human Resources and Education, as well as a professor in the Department of Educational Psychology.
During the 1970s, Reinhard served as a faculty member, associate dean, and acting dean at the University of Oregon.
Reinhard earned her Ph.D. in Educational Evaluation at Ohio State University and her master's degree in Educational Psychology and bachelor's degree in Elementary Education at the University of Wisconsin-Milwaukee.
She has served on numerous boards and councils and with professional organizations, including the National Council for Accreditation for Teacher Education, the National Collegiate Athletic Association, the National Postsecondary Educational Cooperative Council, the American Association of Colleges for Teacher Education, and the American Association of State Colleges and Universities.