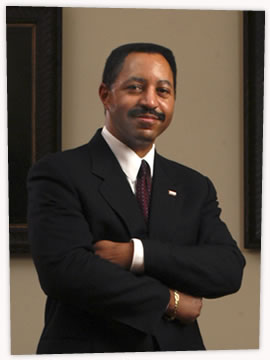 Tony Atwater served as president of IUP from February 4, 2005, through June 30, 2010.
Before becoming president of Indiana University of Pennsylvania, Tony Atwater served as provost and vice president for Academic Affairs at Youngstown State University in Ohio. In this capacity, he oversaw academic programs, academic policy, and academic assessment, while providing leadership and strategic direction to approximately 750 faculty members serving six academic colleges, the School of Graduate Studies and Research, and the library.
He earned a Ph.D. degree in communication research from Michigan State University (1983), where he was the recipient of a competitive doctoral fellowship. He completed postdoctoral study in the Department of Communication at the University of Michigan (1989). President Atwater earned a Bachelor of Arts degree in mass media arts (magna cum laude) from Hampton University (1973). He is the recipient of three graduate certificates in higher education administration from the Harvard Graduate School of Education.
President Atwater is a Ford Foundation Postdoctoral Fellow, and the focus of his research has been news selection behavior in the mass media. He has published approximately thirty refereed journal articles on the subject. Earlier administrative assignments included roles as dean of the College of Professional Studies and Education at Northern Kentucky University, chairperson of the Rutgers University Department of Journalism and Mass Media, and special assistant to the provost at the University of Connecticut. He also served as associate vice president for Academic Affairs at the University of Toledo.
President Atwater has assumed significant community leadership roles throughout his career. These efforts have included serving on the (Kentucky) Governor's Task Force on Youth and Substance Abuse Prevention, on the Board of Trustees of the Northwest Ohio Public Television Foundation, and as a member of the 2000-2001 delegation of Leadership Cincinnati. He also served as a member of the Advisory Board of KeyBank (Northeast Ohio Region) and as a board member of the Youngstown Business Incubator. He is a past president of the Association for Education in Journalism and Mass Communication.
During his tenure at IUP, he has assumed several leadership roles. He is a member of the Pennsylvania Tuition Account Program Advisory Board, the Pennsylvania Economy League of Southwestern Pennsylvania Board of Directors, and the International Student Exchange Program Board of Directors. President Atwater served on the American Council on Education's Commission on Lifelong Learning from 2006 to 2009. He is a member of the Indiana County Chamber of Commerce Board of Directors, the Indiana County Center for Economic Operations, Rotary Club of Indiana, the Greater Indiana Revitalization Steering Committee, the Indiana County Keystone Innovation Zone Partnership Board (advisory member), the Indiana County Tourist Bureau Board, and the Urban League of Pittsburgh Board of Directors.
In 2009, President Atwater was selected by Pennsylvania Business Central for both its "Top 100 Business Leaders in Pennsylvania" and "Top 100 People" lists. Also that year, he received the Commander's Award for Public Service, one of the highest civilian service awards given by the United States Army, and the New Pittsburgh Courier's Men of Excellence award.