For the second year in a row, two online graduate programs at Indiana University of Pennsylvania have been selected for excellence by U.S. News & World Report.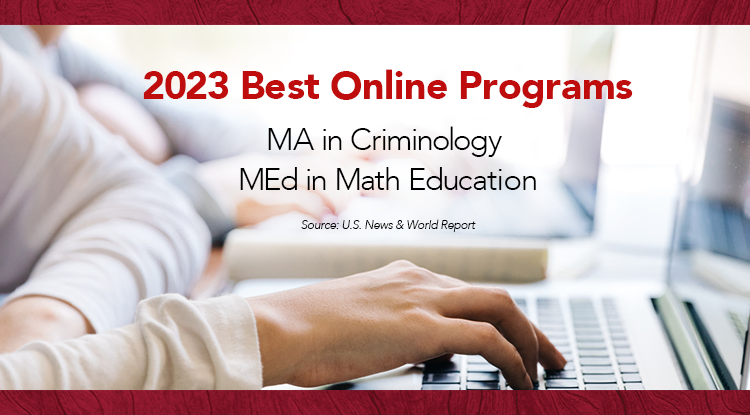 IUP's master's in criminology and master's in mathematics education were selected for the magazine's "2023 Best Online Program" rankings.
The online criminology program rose five spots from the 2022 listing to be ranked in the top 27 programs in the nation; IUP is the only university in Pennsylvania in the top 29 online criminal justice master's programs rankings.
IUP's master's in mathematics education is one of only three programs at Pennsylvania public universities in the top 150 ranked universities.
The publication's "Best Online Programs" are the only US rankings that evaluate specific online programs rather than lumping all of a college's online offerings into a single ranking, magazine editors said.
More than 1,200 programs were considered for inclusion in the rankings, which used five factors to evaluate programs:
Engagement (courses that promote active participation between students and faculty responsiveness to student needs, including helping students to complete their degrees in a reasonable amount of time);

Faculty credentials and training (instructors with strong academic credentials);

Expert opinion (peer assessment)—a survey of high-ranking academic officials in the discipline evaluating a program's reputation;

Services and technology (programs that incorporate diverse online learning technologies to allow for optimal flexibility for students); and

Student excellence (accepting students with proven aptitudes, ambitions, and accomplishments).
This recognition follows a number of national accolades for IUP, including the fall 2022 U.S. News & World Report's recognition, for the twenty-ninth consecutive year, as one of the "Best National Universities" in the nation.
IUP is also one of only two public universities in Pennsylvania ranked as a "Top Public" university and is one of only 24 universities in Pennsylvania—both public and private—selected for the fall 2022 National Universities listing.
For more than two decades, IUP has been selected for the Princeton Review's "Best Colleges" guidebook and a number of other rankings for excellence.
IUP offers more than 160 academic degree programs, including more than 50 graduate programs. In addition, students can complete more than 65 minors—including a unique teamwork minor—and scores of specialized tracks and certificate programs, including certificates in athletic coaching, photography and digital imaging, popular music, and public history.
IUP continues to add state-of-the-art programs of study for its students. Its newest undergraduate majors are public health and environmental engineering, both in-demand careers in Pennsylvania and throughout the nation. With the addition of a PhD in business program, IUP offers 14 different doctoral degrees.
IUP has a longstanding commitment to research on all levels and in all disciplines. In 2021, IUP was selected as one of only two public universities in Pennsylvania and one of only 93 public universities in the United States selected for the "High Research Activity" designation by the Carnegie Classification of Higher Institutions of Higher Education.