In recognition of Indiana University of Pennsylvania's research commitment and success, IUP has been ranked as an R2 Doctoral University–High Research Activity (R2) by the National Center for Postsecondary Research's 2021 Carnegie Classification.
IUP is one of only two public universities in Pennsylvania and one of only 93 public universities with this ranking in the United States. More than 3,900 colleges and universities are included in the ranking system.
"The R2 ranking recognizes our institutional commitment to an infrastructure focusing on research at all levels and in all disciplines, as well as our strength as a public, doctoral research university," IUP President Michael Driscoll said.
"This ranking also reflects that we are working together, across disciplines, to meet the goals of our strategic plan by promoting the creation and dissemination of knowledge for the benefit of our students and society," he said.
"IUP students and their faculty mentors are doing research in almost every topic imaginable, often combining interests in the arts and humanities with the natural sciences in innovative projects like our STEAMSHOP, a university-wide academic makerspace for all disciplines. Recent research has ranged from the use of found objects to create art to studying the correlation of wastewater with illness in our own community to trying to find the key to understanding zebrafish organ regeneration," Driscoll said. "We are also proud of research projects in conservation biology and cyber security, which involve students at the undergraduate and graduate levels." 
The Carnegie Classification is the leading framework for describing the diversity of US colleges and universities. The tool is used by researchers, policy makers, and administrators, as well as for informing grant-making and federal and state funding of institutions. It is also the basis for the categories of annual rankings including U.S. News & World Report. The Center for Postsecondary Research is an independent research center within the Indiana University School of Education (Bloomington). The classifications are based on the design and reach of research and teaching programs. Going forward, the Carnegie Foundation for the Advancement of Teaching and the American Council on Education (ACE) will be collaborating on the next incarnation of the Carnegie Classifications, and for the first time, overall administration of the Universal and Elective Classifications have been brought together in a single organizational home at ACE.
An R2 designation is limited to universities that award at least 20 research-scholarship doctoral degrees and had at least $5 million in total research expenditures. During the 2020–21 academic year, a total of 110 students completed a doctoral degree through one of IUP's 14 doctoral programs, and IUP had $11 million in total research expenditures.
"The R2 designation is completely the right fit for IUP, and where we want to be," IUP Dean of the School of Graduate Studies and Research Hilliary Creely said.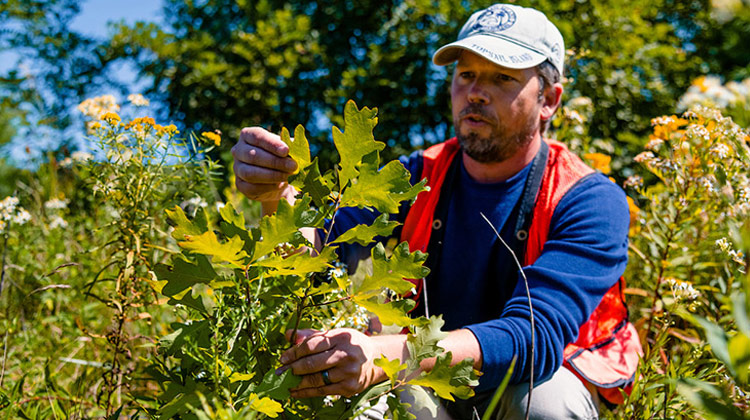 "IUP prioritizes research at all levels and disciplines, but that priority comes from our commitment to help our students succeed and to find their passion," she said. "We're focused on working with our students from the time they come to us as first-year undergraduates and through the doctoral level to provide a wide range of intellectual and professional opportunities that include research, with intensive mentoring and advising by faculty who are in the classroom," she said.
Annually, more than 400 students do some kind of research project. IUP provides $5.7 million in graduate assistantships, scholarships, and teaching associateships at the master's and doctoral levels to students during the academic year. IUP also allocates funding to student researchers at all levels through research grant competitions each semester, through awards that enable students to present their work at regional, national, and international conferences, and through "professional development" awards that support student participation in scholarly and creative activities that add to the student's professional development in a significant way. IUP will also help student researchers by funding costs associated with the publication of articles in scholarly journals.
"While we remain very proud of the work we do for our researchers at the graduate level, I think what sets IUP apart is our commitment—demonstrated through funding, programming, mentoring, and other institutional supports—to undergraduate student researchers and their faculty mentors. I think we are also different because we recognize that undergraduates often don't know how to approach their interest in research, so through our Office of Undergraduate Research we offer the resources and support that they need to be able to be a successful researcher, including building their confidence in their own abilities," Creely said.
Research at IUP isn't limited to work done for academic credit, she said, noting that IUP offers a number of opportunities for funded research for students that are outside degree requirements, that reflect a student's passion and interests.
For example, since 2015, IUP has offered a 10-week program during the summer months for IUP undergraduate students to do research in a field of their choice under the guidance of a faculty member. This program, Undergraduate Summer Opportunity for Applying Research (U-SOAR), is modeled after the National Science Foundation's Research Experience for Undergraduates programs. Financial support is available to qualified students to offset their expenses.
In addition to faculty mentorship, students in the program take advantage of seminars about teamwork, how to present research, and hear from distinguished IUP graduates who have insights into the importance of research. Past presenters have included Distinguished Alumni Award recipient Doug Kupas, Commonwealth of Pennsylvania's Emergency Medical Services medical director; and Murat Ozturan, director and chief technology officer at Microsoft Corporation.
As part of its commitment to research, to provide support and awareness, the university developed an Office of Undergraduate Research in 2019. The office assists students from all majors and at all levels to conduct and present their research.
Its services include leadership of USOAR, oversight of student research grants, travel awards, publication expenses, and professional development funding; faculty engagement and guidance with course-based undergraduate research experiences (CURES); leadership of the annual IUP Scholars Forum where over 300 students present their original scholarship each year; guidance on research ethics through a comprehensive ethics training; finding a faculty mentor (if students do not have one already); and connecting students to the IUP Applied Research Lab, which offers free data analysis.
As director of the office, Andrea Palmiotto, a faculty member in the Department of Anthropology, has as her mission to position IUP as a true leader in undergraduate research. She also is responsible for working closely with deans, department chairs, and internship coordinators and facilitating and encouraging and facilitating all types of student research and working collaboratively with offices on campus to promote research and offer new services and programs.
Effective in 2022, the office has oversight in helping students be prepared and apply for national and international scholarships like the Fulbright, the Goldwater, the Boren, the Ali-Zaidi Award, and others. Over the last three decades, students have won more than 150 of these national and international awards and scholarships. IUP faculty have another 60 Fulbright Scholarships to their credit.
For the past four decades, IUP has celebrated research with its annual Research Appreciation Week, which includes informational workshops for researchers and recognition of faculty and student research. This year's event is April 4–8.
A keystone event of Research Appreciation week is the Scholars Forum, held at IUP since 2006. The 2022 event is scheduled for April 6.
This day-long program, open to the community, mirrors the application process of national conferences, requiring an application and abstract evaluated by faculty reviewers. Presentations for outstanding research and creative arts are judged, and funded awards are presented to students.
Over 300 students participate in presenting their research or original creative arts projects at the annual Scholars Forum.
"Presenting research is a critical component of the research process, so this event is an extremely important tool in helping our students to develop success and find their voices as researchers," Creely said. "The Office of Undergraduate Research works closely with students to help them to be confident and successful as presenters, which is an important life skill for everyone and every discipline," she said.
An important component to IUP's success as an R2 university is IUP's Research Institute, an independent, nonprofit organization that partners with faculty and staff to provide administrative support at all stages of externally funded projects, Creely said.
As a nonprofit organization, the IUP RI expands funding opportunities for researchers and provides "cradle to grave" support—from faculty professional development in the grant lifecycle, finding funding opportunities, and research proposal development to award negotiations and post-award project management. It is the only entity of its type in the Pennsylvania State System of Higher Education.
IUP's RI also offers workshops and programming for faculty and students about how to do research, including a "PI (Principal Investigator) Mentorship Academy," a semi-structured boot camp for researchers or individuals interested in research.
To assist researchers, IUP has adopted PIVOT, a grant-seeking database that also enables IUP researchers to build profiles that facilitate the identification of potential collaborators. It also continues an ongoing investment in software to support researchers with institutional licenses for the programs that facilitate research.
"The R2-High Research Recognition is gratifying, and we've worked hard to achieve that status," Creely said. "But the real reward is that 'light bulb' moment, when a student who never thought that doing research was a possibility suddenly realizes that they have the necessary skills and knowledge to translate their curiosity into important new knowledge," she said. "It's powerful and transformative for our students, our faculty, and our university."