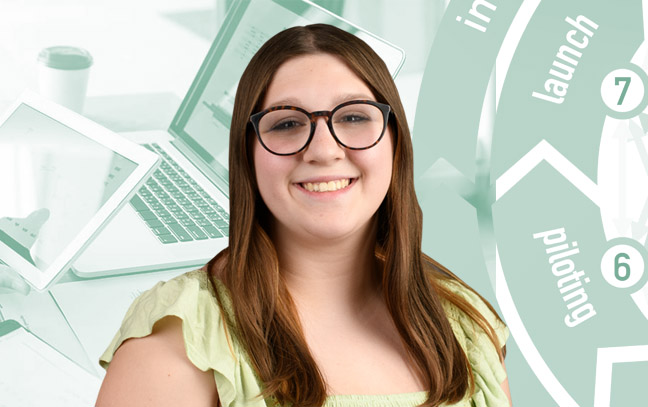 Master the Business World with a PhD in Business
With a PhD in Business from IUP, you'll be able to meet the growing demand for highly educated experts to teach in business schools around the world—or take on leadership roles in tons of industries.
IUP's PhD in Business lets you pick your own area of focus from areas like finance, accounting, entrepreneurship, HR management, international business, marketing, organization behavior, or supply chain management. As part of your PhD in Business, you'll study in-depth concepts and apply your research with the support and guidance of experienced faculty with a global perspective.
Why Get a PhD in Business from IUP
Our PhD in Business program is designed for working professionals like you, so you won't have to put your career on hold to pursue your degree. You'll likely complete the program in four years, and with our weekend classes and special schedule, IUP is the first year-round business PhD in Pennsylvania. With two courses each in the fall, spring, and summer semesters, you'll have the flexibility needed to work full-time.
The program will include two years of coursework, a comprehensive examination, and a dissertation.
The Eberly College of Business is part of only 5 percent of business schools worldwide accredited by the Association to Advance Collegiate Schools of Business.
What You'll Learn in IUP's PhD in Business Program
After graduating with a PhD in Business from IUP, you'll have:
In-depth knowledge and understanding of research and applications
Proficiency in applying quantitative and qualitative research methods
The ability to create scholarly work in both academic and business settings
The ability to integrate information from different business areas with the help of research tools
Imagine Your Future
Qualified professionals with business doctorates are needed to serve as faculty members at business schools around the globe, and Eberly College of Business at IUP specifically designed our business doctorate program to address this need—a need that you'll be well prepared to fill. 
But if academia isn't the path you want to pursue, a PhD in Business will set you up for tons of other possibilities. As a graduate of IUP, you'll be uniquely prepared for leadership roles in a variety of industries. You'll also be qualified for executive and research-focused positions or senior consulting roles where you can use the in-depth theoretical and practical knowledge you'll learn in school.
IUP's business doctorate reflects the tasks and challenges that today's business leaders face on a daily basis. Everything you do in school will connect to a real problem you'll face once you enter the working world, giving you the tools you need as a business leader in the 21st century.
Today, there are an estimated 103,400 employed postsecondary business teachers, and that number is forecasted to rise to 109,800 by 2031. 
Business professors are among the highest paid faculty in higher education, with a current average salary of $108,060.
Outside of academia, current average salaries for senior employees in business are comfortably above $100,000 nationally. Consider the average salaries for marketing managers ($158,280), financial managers ($166,050), human resources managers ($145,750), and operation specialties managers ($148,190).
Classes and Requirements
Your doctoral program will follow a detailed course schedule with two classes on weekends in six consecutive fall, spring, and summer terms.
For your first ten courses, your entire cohort will be together. They'll be broken down like this:
In three of these ten courses, you'll learn research design and quantitative analytic techniques commonly used in advanced business research.
Your other seven courses will provide advanced understanding of the major areas of business research.
In the second summer, you'll take six credits of seminar coursework in your selected focus area, which helps prepare you for dissertation research. At the end of the second summer, you'll take your comprehensive exams. After passing comprehensive exams, you'll form your dissertation committee and begin your dissertation research. You'll complete 12 credits of dissertation research before graduating.
Focus area options change based on cohort demand and faculty availability, and you'll be able to choose from some of the following:
Accounting
Entrepreneurship
Finance
Human resources management
International business
Marketing
Organizational behavior
Supply chain management
Full Academic Catalog Listing
The course catalog is the official reference for all our degree and course offerings. Check it out for a full listing of the classes available and requirements for this degree.
To complete your application for our PhD in Business program, you'll need to follow IUP's admissions requirements for graduate studies. The documents you'll need include:
A goal statement that outlines your reason for pursuing a PhD in Business and your degree objectives
A master's degree with at least one degree (bachelor's or master's) in business or closely related field
A resume that outlines your professional accomplishments to date
An online application in our admission system
Official GMAT or GRE scores, with GMAT preferred but GRE accepted
Official transcripts from all universities and colleges you have attended
Professional writing samples that highlight your writing and research skills
Three letters of recommendation from academic and/or professional sources
Once you've submitted all of the necessary materials, you may be invited to a candidate interview to determine the potential fit. Candidates who meet all the requirements will be admitted without the need for an interview.
IUP accepts applications for the PhD in Business program on a rolling basis. In other words: You can submit an application until shortly before the start of a new cohort, as long as space is available. However, it is important to plan for the time required to send your official transcripts and test scores.
In addition, demand for the PhD in Business program can be significant. We recommend submitting your application as soon as you make the decision to pursue the degree, which will help to secure your seat in the program before the cohort fills up. International applicants will need additional time to secure a US visa.
Convenient Location
As a student in our PhD in Business program, you'll take weekend classes at IUP Pittsburgh East. Located just east of Pittsburgh, the location is easily accessible from downtown Pittsburgh and surrounding areas. Free and convenient parking is available for all students. 
Student Resources at IUP Pittsburgh East
At IUP Pittsburgh East, you'll have access to a student lounge and a shared kitchen space. You'll also be able to use classrooms and computer labs with state-of-the-art technology that offer the ideal learning environment for doctoral students.
The location is directly connected to IUP's campus network, giving students easy access to extensive library services and a private network drive. Through the university's Virtual Private Network (VPN), you'll be able to connect to these resources from anywhere.
Accelerating Your Business Career
A PhD in Business can level up your career in a variety of ways. Traditionally, most students earn this degree to become tenure-track professors in business schools around the globe. However, a variety of industries have also begun to prize PhD graduates in senior leadership positions.
Our program's applied curriculum and focus area options will prepare you for leadership roles across multiple fields.
With the knowledge and experience gained in your PhD studies, you'll have the power to transform your organization and industry. As a result, you can accelerate your career, benefiting you and your organization for years to come.
Costs and Financial Aid
We understand that budget plays a major role in whether you decide to pursue a PhD. We've broken down for you how much it costs to earn your PhD in Business, as well as several financial aid opportunities to help you afford your doctoral degree.
PhD in Business Costs
IUP charges tuition costs for graduate students on a per-credit basis. For the 2020–2021 academic year, PhD in Business tuition and fee costs were approximately:
$923 per credit for in-state residents
$1,312 per credit for out-of-state students
$1,396 per credit for international students
Ultimately, you'll pay for 48 credits for the PhD in Business program. Learn more about IUP's graduate tuition and fees.
Financial Support Opportunities
We want to help you afford IUP's PhD in Business, so we offer annual graduate assistantships to our students.
Each year, we select a number of highly qualified and interested students in the PhD in Business program for these graduate assistantship awards. Awardees will support faculty and administrators at the Eberly College of Business. Currently, the awards are:
A partial tuition waiver and per-semester stipend
Remote work, with no on-campus requirements
If you're interested in pursuing an award, you should complete our graduate assistantship application in addition to your graduate school application.
Keep in mind that your employer might reimburse all or part of your tuition if the Business PhD is relevant to your work. You can download the Employer Tuition Reimbursement Form on our website.