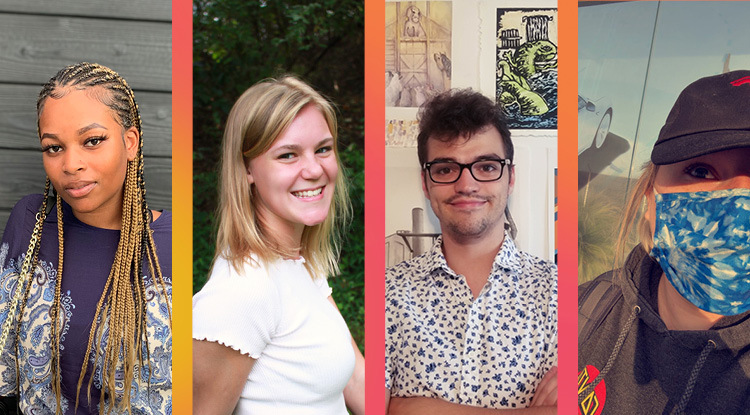 During her freshman year, if you told Kaitlyn Walsh that she would someday be an intern at Tesla, she would never have believed you.
Yet, that's where she was last spring—and it led to a job offer.
"Working at Tesla was like my dream job, and now I'm doing that," said Walsh, who graduated in May 2021 with a degree in Safety, Health, and Environmental Applied Sciences and now works for Tesla in Fremont, California.
It's a job she was ready for, thanks to IUP.
"Especially in my senior-level classes, I was taught how to be a real-life safety professional," she said. "The professors would push us outside our comfort zones."
Walsh said her internship was a good transition into the working world as she saw things she had learned in the classroom first-hand.
"Now, I run into those things they taught us every day. It's almost like taking things I learned and copy-pasting them into my job."
Commitment to Hands-On Learning
IUP student internships take many directions—from traveling across the country as an intern for the Hurricane Junior Golf Tournament to accompanying the Westmoreland County Coroner at autopsies and crime scenes. Students have interned with Disney, with the Steel City Bobcats minor league football team in Pittsburgh, with NASA, with the Hershey Medical Center, and many more sites. It's all part of IUP's commitment to hands-on learning.
One intern made a photo documentary while on a research ship near Alaska. Another studied primates and small animals in the wilds of Madagascar.
Sometimes, students stay close to home or campus, continuing jobs or taking classes while doing their internships.
Number One Senior in Accounting at a Big-Four Firm
Attilah Ali is doing an audit internship in Philadelphia this summer for Ernst & Young (EY), one of the Big Four accounting firms.
"EY assigned me to a team, and we have a huge client who manufactures health care equipment," she said. "I attend team meetings, client meetings, and I assist the team in control testing. This internship is helping prepare me for my career as I work directly with EY professionals and clients in the field I plan to work in."
Ali graduated in May 2021 with a BS degree in Accounting and is an early-admission MBA graduate student at IUP. She recently received the Outstanding Senior Award for Accounting at IUP.
"My accounting and statistics courses at IUP were extremely helpful in preparing me for my internship," she said, adding that one of her professors was also extremely helpful in her career.
"Professor Kim Anderson has written all my recommendations in the past two years. This includes recommendations for scholarships and recommendations for jobs and internships, such as my internship with EY."
Before graduating in May, Ali was the president of IUP's student chapter of the National Association of Black Accountants, Inc.
"I had a good IUP experience, and my degree and time in organizations have opened up countless opportunities to me."
IUP's student chapter for NABA is relatively new to campus. It was started a few years ago by Atiyah Gardner '19, who learned about the organization while doing her internship through the Washington Center.
The Washington Center, in cooperation with the IUP Career and Professional Development Center, helps students arrange internships. Usually they are in Washington, DC, though this past year there are more remote situations.
Graphic Arts Student Explores Career
Gavin Schucker, a Studio Art major with a graphic design focus, is one of the IUP students who is doing an internship this summer through the Washington Center. He's working remotely from Indiana, Pennsylvania, for a marketing and communications agency on assignments like layouts, website designs, and a logo.
"So far, I've felt very prepared," he said. "It's a big confidence boost. As a student, you want to know if what you're learning is going to apply, and it did."
Schucker, who is going into his senior year in the fall, said he didn't start college right after high school but was encouraged by co-workers and friends later to apply to IUP and the Cook Honors College. He likes the way the Department of Art and Design teaches students about other forms of art beyond their focus.
"In sculpture class, I enjoyed learning to weld, but making things in a 3-D space was difficult for me," he said. "In graphic design, there's a 3-D modeling class. It makes you think differently. The sculpture class definitely helped with the 3-D modeling class."
Schucker, who guided the graphic design club for two years, said he's seen the professors and staff in the Department of Art and Design go "above and beyond, time after time" for students.
"I needed a letter of recommendation to apply for the internship and asked a professor," he said. "Tony DiMauro was a huge help. They said his letter of recommendation was so good it tipped the scales for me."
He discovered through the internship that he likes the variety of working in an agency environment.
"Design is all about visual communication and problem solving," he said. "With new people, every time there is a new problem, a new design, a new way to communicate visually in the design. One of the things about art is how much of a personal journey it is. My next favorite piece is the next thing I make."
Multiple Internships, Multiple Campus Activities
Erin McGrath, who just finished her sophomore year, is also in Indiana for her internship. She's doing an accounting internship at S&T Bank, four days a week. She's also working one day a week, and a few Saturdays, at her job giving tours of campus for the Admissions Office.
Her summer internship, which is in the credit department and will continue into the fall, is not the first internship McGrath has done. While in high school, she interned in the Carroll County, Maryland, comptroller's office.
It's also not her last internship. She's already lined up an internship for next summer, between her junior and senior year, with the public accounting firm BKD. She first connected with BKD in a Sophomore Summit activity she learned about through the Accounting Department, which holds a career and internship fair.
In addition to adding a third internship, she plans on adding a double major in finance soon.
McGrath had been very involved in high school activities and was happy to find she could continue that at IUP if she managed her time well. She is on the cross country team and the track and field team and is in the Cook Honors College and RUF, a campus fellowship organization, in addition to giving campus tours. She's also the Chief Compliance Officer for the Student Managed Investment Portfolio for IUP.
"I chose IUP because the business college was really good," she said. "Honestly, it's surpassed what I was originally expecting. I love IUP."