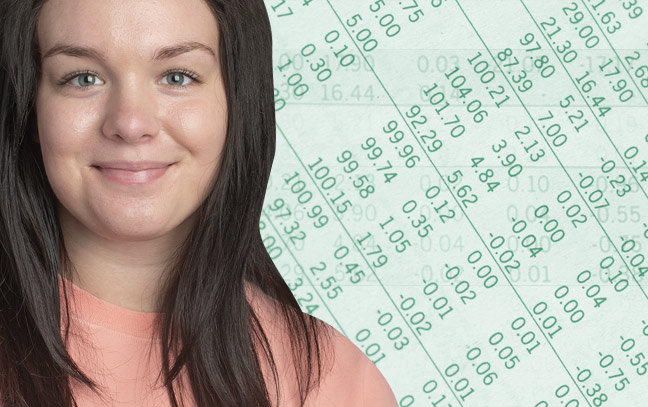 Determine Your Financial Future with a BS in Accounting
With a BS in Accounting from IUP, you'll be in high demand because all businesses need accounting. 
An accounting system is a key element that helps organizations compete in the global market. You'll learn how to utilize data analytics and visualizations. As an accounting professional, you'll have a hand in controlling the organization's assets, managing its financial planning, and making high-impact decisions for the company's future. 
What You'll Learn
You'll get a balanced education that sets you up for success in the accounting world. Your professors at IUP will focus on real-world lessons—ones you can carry with you after you graduate.
Imagine Your Future
Your future in accounting is undeniably bright. Demand is high. By 2026, there will be 1.5 million accountants and auditors in the United States—people in super stable positions earning high salaries.
With a BS in Accounting, you'll have plenty of options beyond becoming an accountant. If you're looking to explore, you can go on to work in a variety of fields, like forensic accounting, financial reporting and analysis, internal and external auditing, tax preparation and consulting, accounting information systems and data analytics, and public and private accounting. You'll also have options to work in government or nonprofit organizations.  
On average, accounting managers report some of the highest job satisfaction in the United States.
Just a few of the jobs you'll be qualified for with your accounting degree include:
Accountant
Accounting analyst
Accounting clerk
Accounting manager
Accounts payable clerk
Accounts receivable clerk
Assistant controller
Audit manager
Bookkeeper
Business analyst
Chief financial officer (CFO)
Controller
Cost accountant
Director of finance
Financial analyst
Internal auditor
Senior financial analyst
Senior tax associate
Staff accountant
Tax accountant
Tax manager
Companies That Have Recruited IUP Graduates with Degrees in Accounting
Baker Tilly
Bank of America
BDO
BNY Mellon
CliftonLarsonAllen (CLA)
Cohen & Company
Defense Contract Audit Agency
Deloitte
Department of Defense
Enterprise Bank
EY
FedEx
First Commonwealth Bank
FORVIS
General Accountability Office
Grant Thornton
IRS - Criminal Investigation
JP Morgan Chase
Kennametal
KPMG
Maher Duessel
Maillie
PNC
PwC
RSM
Schneider Downs
Sisterson & Co.
S&T Bank
UPMC
Classes and Requirements
IUP's accounting major blends classroom experience with real-world expertise in a technological environment. Your professors will provide you with a well-rounded education that will send you into the working world prepared and confident.
On average, fewer than 30 students will be in each of your classes—classes taught by faculty members, not graduate students. You'll benefit from the first-hand experiences your professors have in the field, which they'll blend with theoretical and technical knowledge.
Classes You'll Take in the Accounting Degree Program
Some examples of classes you'll take include:
Advanced Accounting
Auditing
Business Statistics
Cost Accounting
Federal Tax I
Intermediate Accounting I and II
Full Academic Catalog Listing
The course catalog is the official reference for all our degree and course offerings. Check it out for a full listing of the classes available and requirements for this degree.
Anthony Maticic '19, Accounting, Economics
IUP's student-centric atmosphere and faculty went above and beyond to provide professional development and leadership opportunities that anyone could participate in.
Opportunities for Students While in School
Internships and Career Placement
If you're looking to get some practical work experience, IUP's Corporate Relations Office and departmental internship coordinators are available to help you find internship opportunities. Most internships available to you will be paid. Many could result in full-time job offers.
Student Accounting Association
You'll be encouraged to join the Student Accounting Association at IUP, which organizes field trips to companies and invites in-the-field accounting professionals to speak at its meetings. SAA hosts the yearly Accounting Career Day, which is a large-scale career fair at IUP in the fall, as well as a recognition dinner in the spring. Both events will give you networking opportunities with accounting professionals and companies, letting you learn, grow, and make connections for the future. 
NABA and PICPA
You'll be able to join IUP's National Association for Black Accountants chapter and attend events held by the Pennsylvania Institute of Certified Public Accountants.
Institute of Management Accountants
You'll be able to join the Institute of Management Accountants (IMA) chapter and have the chance to earn scholarships awarded each academic year for the Certified Management Exam. You'll also have access to study resources.
Study Abroad
You'll have the opportunity to study abroad in many countries.
Professional Certifications Available in the Accounting Field
Certified Financial Forensics Accountant (CFF)
Certified Forensic Accountant (CFA)
Certified Fraud Examiner (CFE)
Certified Global Management Accountant (CGMA)
Certified Government Financial Manager (CGFM)
Certified Internal Auditor (CIA)
Certified Management Accountant (CMA)
Certified Public Accountant (CPA)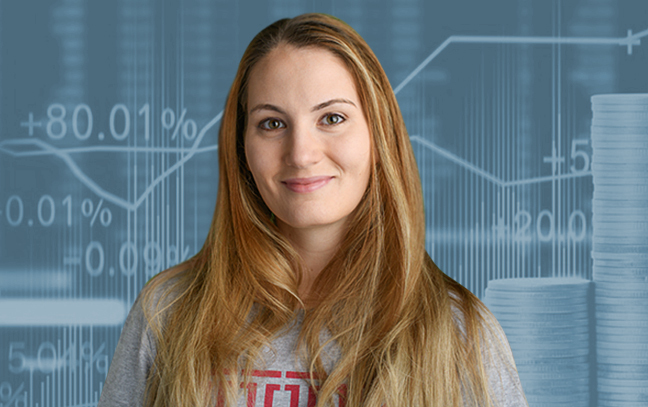 Accounting Minor
If you're looking to round out your skills with accounting knowledge, an Accounting Minor is a great option to make you stand out. You'll learn the basics of accounting, and get set up for work in businesses of any size.
Full Academic Catalog Listing
The course catalog is the official reference for all our degree and course offerings. Check it out for a full listing of the classes available and requirements for this degree.
Accreditation
The BS in Accounting program at IUP achieved supplemental accreditation by AACSB International in March 2023. AACSB International is the premier accrediting body for business programs in the world. Less than 5 percent of business schools have AACSB accreditation, and less than 1 percent of accounting programs worldwide have the additional accounting accreditation by AACSB. This accreditation is an endorsement of the quality of the accounting program and the qualifications and dedication of the accounting faculty.