Atiyah Gardner '19
Accounting Major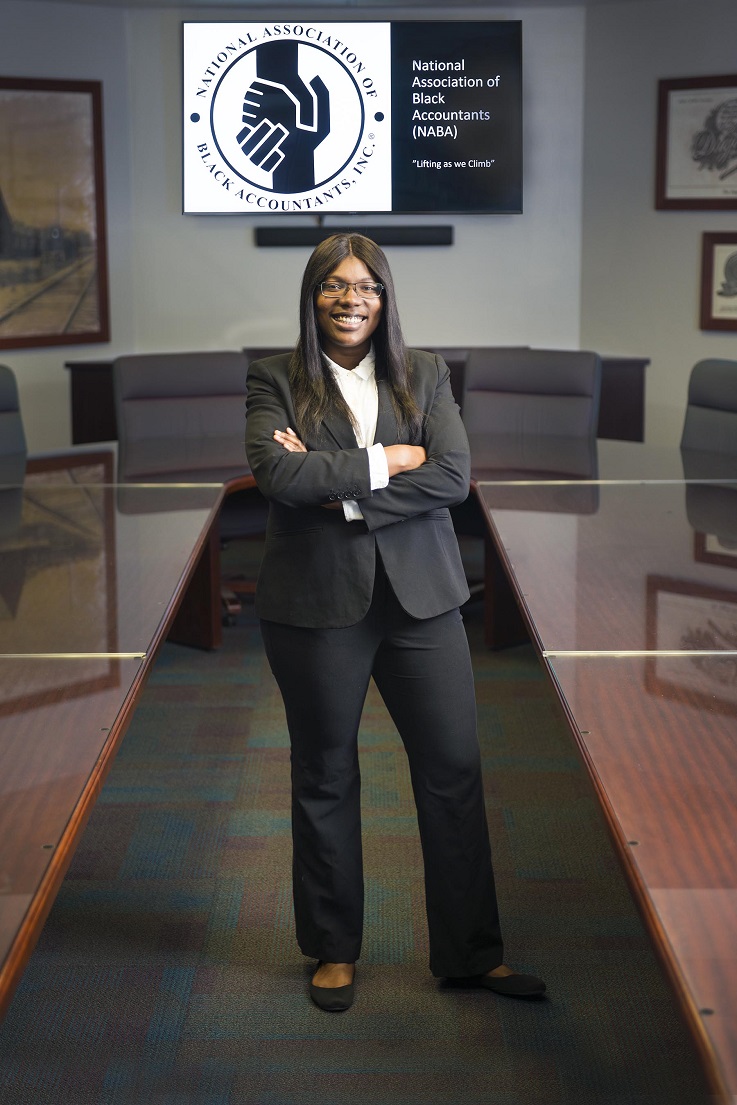 "I grew up on Diamond Street in Philadelphia, just a few blocks from Temple University. Although I grew up close to a college, I did not grow up around many people who had a college degree. I always heard that everyone should go to college, but I had serious doubts about whether attending college would be in my future. My family could not afford college, and a lot of people doubted me, which made me doubt myself. One of my elementary teachers told me that I would never get anywhere in life. Those words hit me hard, but they also motivated me to turn my life around and work hard to improve my grades. I knew that I was meant to achieve more than what Diamond Street had to offer and that there was a world of opportunities awaiting me in college.

"So, I worked hard, throughout middle school and high school. During my senior year, I started to apply to colleges, and my top choice was IUP. The beautiful campus facilities, the outstanding reputation of the Eberly College of Business, the ideal distance from home all made IUP the perfect choice for me. When I received my IUP acceptance letter, I was thrilled that I had been offered a full Board of Governors Scholarship. My hard work had finally paid off!

"Throughout my four years at IUP, I took advantage of numerous opportunities: joining clubs, networking with professionals, and volunteering around campus. I could not believe everything IUP had to offer. I attended Student Accounting Association meetings and field trips, networked at career fairs and Business Day, joined the swim club, volunteered for Take Back the Night and Into the Streets, completed one summer internship, and founded a new student organization (National Association of Black Accountants). I am grateful to IUP for making so many fantastic opportunities available to me, opportunities that enabled me to develop leadership skills and to gain confidence. Through these experiences, IUP helped complete my transformation from that doubt-filled girl living on Diamond Street to a confident woman ready to advance in my career.

"I am very proud of the fact that I am the founder and president of the IUP chapter of the National Association of Black Accountants. I got the idea to bring a NABA chapter to IUP during my 2018 summer internship with the Washington Center in Washington DC, where I heard about NABA for the first time. NABA was created in 1969 by a group of nine African-Americans who were concerned about the unique challenges and limited opportunities faced by black accountants. Although NABA has existed for 50 years, no one had ever established an IUP chapter. I learned about the many worthwhile opportunities that NABA provides to both accounting students and accounting professionals, and I was excited about the prospects of bringing those opportunities to IUP by founding a NABA chapter.

"When I returned to IUP after my internship, I immediately began to contact some of my fellow classmates and asked them if they wanted to help me establish a NABA chapter at IUP. Everyone I talked to was just as excited about this idea as I was. Like me, they saw the growing need for an organization like NABA that would create networking and mentoring opportunities for black students majoring in accounting and business-related fields. One of the roles of NABA is to connect students with professionals, including guest speakers. NABA would also help to foster camaraderie among the IUP black accounting students and to provide us with opportunities to develop critically important skills such as public speaking, problem-solving, leadership, and team building.

"The process to obtain new organization recognition' at IUP is very involved. It took a few months to get everything together. Finally, in December 2018, NABA was recognized as an official IUP student organization!

"Soon after that, we came together for the first time as an official student organization. We shared ideas regarding the short-term and long-term goals of NABA. We decided that we want to hold campus-wide workshops on issues such as personal finance, insurance, taxes, credit scores, etc. We also want to bring a student-lead Volunteer Income Tax Assistance (VITA) program back to the Indiana community. We would like to work with the Student Accounting Association to invite a black accounting professional to campus to speak to all interested accounting majors. We also want to reach out to underclassman accounting majors to join NABA and to find students interested in taking on the officer positions next year.

"Creating an IUP NABA chapter is something that I am very proud of. Founding the IUP chapter and serving as its first president has really benefited me by enhancing my skills in the areas of leadership, time management, and teamwork as well as learning how to create, organize, and promote events. I hope that NABA will serve as a means for current black accounting majors to come together to support one another and to offer important services to Eberly, the wider campus, and the Indiana community. I also hope that it encourages black high school students who are interested in majoring in accounting or any business area to want to come to IUP. "

Following graduation, Atiyah will start her career with Deloitte as a Government and Public Risk and Financial Advisory Services consultant in Arlington, Virginia.