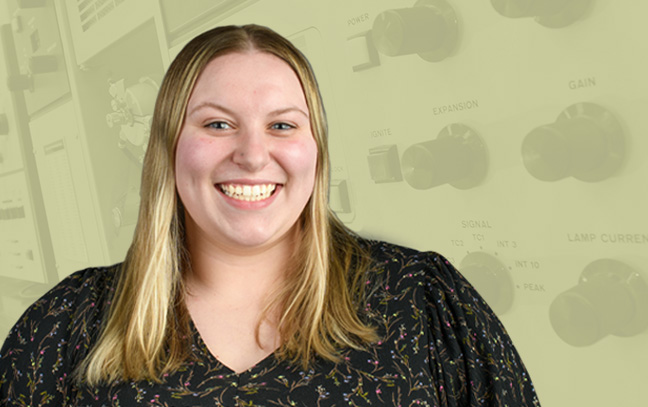 Prepare to Lead the Way in Workplace Health and Safety
Change and innovation are accelerating in every industry, creating increased demand for safety science professionals who have the knowledge and skills to help businesses protect workers, property, and the environment.
In IUP's Safety, Health, and Environmental Applied Sciences BS program, you'll learn how to play a key role in the prevention of worker injuries, illness, and fatalities. You'll also build your leadership skills to competently create change that results in better workplace productivity and business performance.
Jobs in the safety sciences offer many opportunities for growth and advancement. Through classroom and lab instruction and summer co-op experiences, you'll develop the critical skills, knowledge, and confidence to lead safety sciences change in corporate and industrial settings.
As a professional in the safety sciences field, you'll take the concepts, ideas, and actions you learn and apply them to:
Accident prevention
Construction safety
Emergency preparedness
Environmental regulations
Ergonomics and body mechanics
Fire safety
Industrial hygiene
Infectious diseases
Personal protective equipment (PPE)
Safety management
In addition to the bachelor of science program, the Safety Sciences Department also offers an 18-credit safety, health, and environmental applied sciences minor.
National Reputation for Successful Graduates
Our bachelor in safety, health, and environmental applied sciences is recognized nationwide as a source of well-prepared graduates who are ready to enter the field. The program:
Is nationally accredited by the Applied and Natural Science Accreditation Commission (ANSAC) of ABET.
Meets Board of Certified Safety Professionals (BCSP) requirements as a Qualifying Academic Program (QAP), giving you the opportunity to earn your Graduate Safety Practitioner (GSP) designation upon graduation.
Has Institute of Hazardous Materials Management (IHMM) approval, which prepares you to earn your Associate Safety and Health Manager (ASHM) credential upon graduation.
Provides opportunities for you to secure co-ops, internships, and employment at our annual Safety Sciences Career Fair.
National, regional, and local scholarship opportunities are available.
Imagine Your Future
A career in safety sciences is highly diverse, with job opportunities in almost every business sector, including:
Academia
Aerospace
Chemical and pharmaceutical industries
Construction
Consulting
Government
Health care
Insurance, oil, and gas
Product and food manufacturing
Service industry
Transportation
Utilities
Graduates of IUP's Safety, Health, and Environmental Applied Sciences BS program have been employed by national and multinational companies such as
Alcoa
Amazon
American Red Cross
Anheuser-Busch
Cargill
Chevron
Cornell University
Duke Energy
ExxonMobil
General Motors
Georgia-Pacific
Hershey
Honda
Liberty Mutual
Lockheed Martin
Merck
NASA
OSHA
Owens-Corning
PADEP
Pepperidge Farm
Samsung
SpaceX
Tesla
U.S. Steel
Virginia Tech
Westinghouse
Student Organizations Build Experience and Confidence
Your transition from IUP student to working safety sciences professional begins with your participation in student organizations. These organizations are designed specifically to nurture your learning, growth, and confidence:
The American Society of Safety Professionals (ASSP) is an international organization that offers scholarships and professional networking and career development opportunities.
Ladies of Safety is an IUP student organization focused on preparing students for entry into the profession and continued career success.
Rho Sigma Kappa is the Safety Sciences honor society that recognizes outstanding academic performance and leadership.
Career Opportunities in Safety, Health, and Environmental Applied Sciences
As a safety sciences professional, you'll have diverse career paths to choose from across multiple industries. After graduation, you may be qualified for job titles such as:
Compliance Officer/Coordinator/Regulatory Advisor
Corporate Safety Director
Environmental Specialist
Ergonomist
Health, Safety, Environmental Specialist/Coordinator/Technician
Industrial Hygienist
Loss Control Manager
Manager of Occupational Health
Occupational Health and Safety Specialist/Coordinator
Process Safety Manager
Risk Manager
Safety and Health Manager
Safety Consultant
Safety Engineer
Safety Trainer
Classes and Requirements
Your classes will focus on occupational exposures and how to protect people, property, and the environment. Principles of safety, hazard prevention management, and other classes will help you develop the critical skills and knowledge you'll need to succeed in this important field.
Your education will be based on hands-on learning and instruction from professors who share their extensive industry experience. You'll also have access to co-op and internship opportunities that prepare you to confidently make the leap from student to working professional.
What You'll Study
First, you'll build a solid math and science foundation in the classroom and in labs. Following your freshman, sophomore, and junior years, you'll have access to summer cooperative (co-op) field experiences where you can refine your skills in real-world settings.
In your senior year, you'll complete an internship that has the potential to lead to employment upon graduation. Internship eligibility is based on completion of all major requirements and at least a 2.0 GPA in both your major classes and overall cumulative ranking.
Graduation Requirements
When you successfully complete the program's required classes, liberal studies classes, and electives totaling 120 credits, you will earn a bachelor of science degree in safety, health, and environmental applied sciences.
Full Academic Catalog Listing
The course catalog is the official reference for all our degree and course offerings. Check it out for a full listing of the classes available and requirements for this degree.
Vision and Mission Statements
Safety Sciences Vision Statement
We will be the premier institution for education and research and the program of choice for industry partnerships in the global safety, health, and environmental profession.
Safety Sciences Mission Statement
The mission of the Department of Safety Sciences at Indiana University of Pennsylvania is to prepare highly qualified individuals for careers in the safety, health, and environmental (SHE) profession, to conduct SHE research, to provide a foundation for leadership, and to develop industry partnerships to further enhance the profession.
The following are the educational objectives for the Safety, Health, and Environmental Applied Sciences BS program.
During their first five years upon graduation, graduates working as safety, health, and environmental professionals will demonstrate/communicate abilities to:

anticipate, identify, and evaluate hazardous conditions and practices to manage overall risk,
develop risk control methods, procedures, and programs and understand how they impact the organization,
implement, administer, and advise others on risk controls and risk control programs, and
measure, audit, and evaluate the effectiveness and continuously improve risk controls and risk control programs.

Graduates are prepared to continue their professional growth and the integration of new knowledge into their profession.
Graduates are prepared to act in a professional and ethical manner.
The following are the student outcomes for the Safety, Health, and Environmental Applied Sciences BS program.
At the time of graduation, students will have gained knowledge in the following areas:
environmental, health, and safety fundamentals
physiological and/or toxicological interactions of physical, chemical, biological, and ergonomic agents, factors, and/or stressors with the human body
anticipation, identification, and evaluation of potentially hazardous agents, conditions, and practice
fundamental exposure assessment techniques (both qualitative and quantitative)
environmental, health, and safety data interpretation including statistical and epidemiological principles
development of hazard control designs, methods, procedures, and programs
accident/incident investigation and analysis
industrial and construction safety
legal aspects of environmental, health, and safety practices
environmental, health and safety program management
hazardous materials/waste recognition, control, and remediation
air pollution fundamentals and control technologies
water pollution fundamentals and control technologies
environmental regulations and permitting processes
environmental sampling and measurement methodologies
Additionally, students will be able to:
identify, formulate, and solve broadly defined technical or scientific problems by applying knowledge of mathematics and sciences and/or technical topics to areas relevant to the discipline.
formulate or design a system, process, procedure or program to meet desired needs.
develop and conduct experiments or test hypotheses, analyze and interpret data and use scientific judgment to draw conclusions.
communicate effectively with a range of audiences.
understand ethical and professional responsibilities and the impact of technical and/or scientific solutions in global, economic, environmental, and societal contexts.
function effectively on teams that establish goals, plan tasks, meet deadlines, and analyze risk and uncertainty.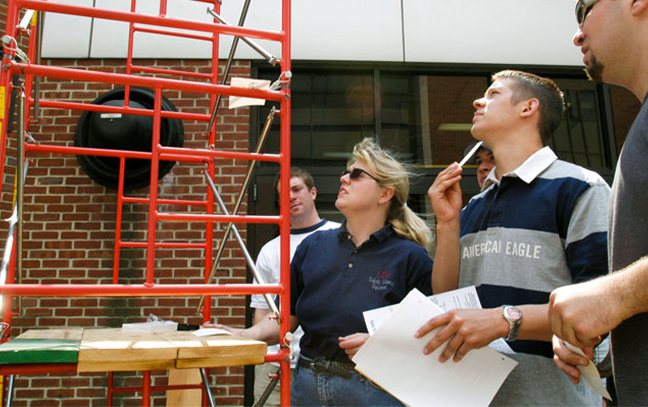 Safety Sciences Internship Program
Internships give you the opportunity to gain practical experience in the field. From developing communication skills to learning what it takes to become a leader, when you pursue an internship, you will
Learn more about yourself.
Build communication skills.
Develop your professional potential.
Internships can also give you a competitive advantage when it comes to landing your first full-time position.
Learn More about Student Internship Opportunities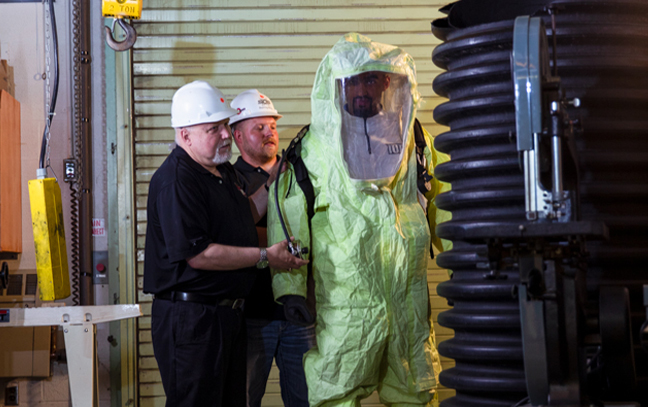 Cooperative Education Program
You can apply classroom lessons and lab instruction in real-world situations through cooperative education experiences (co-ops). When you participate in a co-op, you will:
Learn more about your specific interests in the field.
Gain opportunities to professionally network and develop crucial industry contacts.
Show your level of commitment to the field, which can lead to full-time employment.
Learn More about the Cooperative Education Program
Pennsylvania OSHA Consultation Program
The Pennsylvania Occupational Safety and Health Administration Consultant Program at IUP offers on-site safety evaluations at no cost for small, high-hazard businesses across the state. This helps them avoid workplace injury, illnesses, and potentially costly OSHA citations and penalties.
You'll observe firsthand how consultation faculty
Identify and evaluate hazards at all types of businesses.
Correct these issues by applying OSHA's health and safety standards.
The safety evaluations provide you with access to industry expertise and resources. Opportunities like job shadowing and on-site experiences give you practical, real-world insight into the safety services profession.
The PA OSHA Consultant Program at IUP has been in place since 1983. IUP is the officially designated agency in Pennsylvania.
Learn More About the PA OSHA Consultant Program at IUP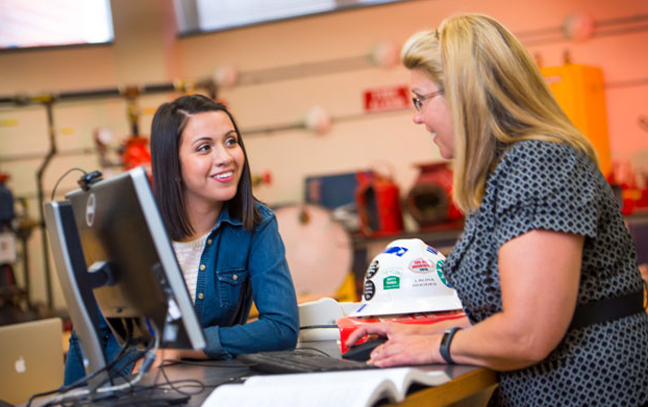 Hiring Our Students
We are proud of our students. And we've built relationships with numerous industry employers who value the passion, intellect, and commitment of our graduates. You can benefit from these relationships through access to cooperative educational experiences, internships, and employment.
At IUP, we understand that your ultimate goal is to secure a rewarding job that serves as the foundation for continued career success. We have the connections to help you get to your goals.
Advisory Board
The Department of Safety Sciences Advisory Board advises on our undergraduate and graduate programs and internship program. Committed to improving our education programs, advisory board members meet to discuss current trends in the profession and how these trends may affect curricula, faculty research, graduate placement, and the development of resources that can benefit students.
Board members represent many industries, including construction, manufacturing, transportation, oil and gas, insurance, health care, utilities, consulting, academia, and the service industry. The board's mission is to advance the educational objectives, student outcomes, mission, and vision of the Department.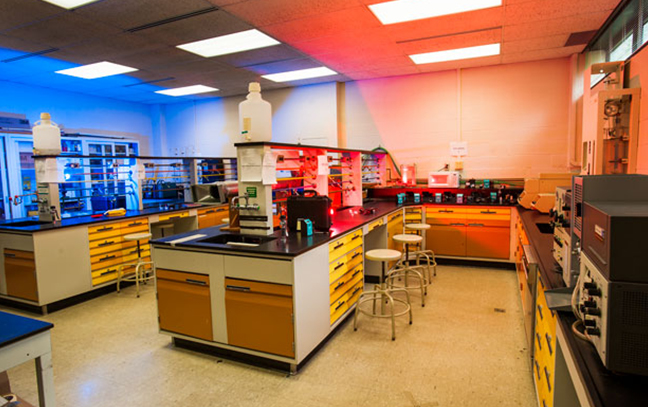 Rho Sigma Kappa Honor Society
The Alpha Chapter of the prestigious Rho Sigma Kappa honor society was established at IUP in 1993. It continues today to recognize high academic achievement, leadership, and exemplary character in the safety sciences profession.
Qualifying members are recognized at graduation and join the ranks of lifetime members who contribute to the advancement of professionalism in the field.
Faculty
The faculty in the Safety Sciences Department have varied backgrounds with experience in industries such as insurance, oil, chemicals, textiles, energy, explosives, steel, consulting, and manufacturing.
Learn More about Our Faculty
Minor in Safety, Health, and Environmental Applied Sciences
The minor in safety, health, and environmental applied sciences consists of 18 credit hours in occupational safety, health, and environmental sciences courses as identified below. The minor in safety, health, and environmental applied sciences has improved job opportunities for students in public health, environmental engineering, biology, criminology, human resource management, international business, and others.
Full Academic Catalog Listing
The course catalog is the official reference for all our degree and course offerings. Check it out for a full listing of the classes available and requirements for this degree.