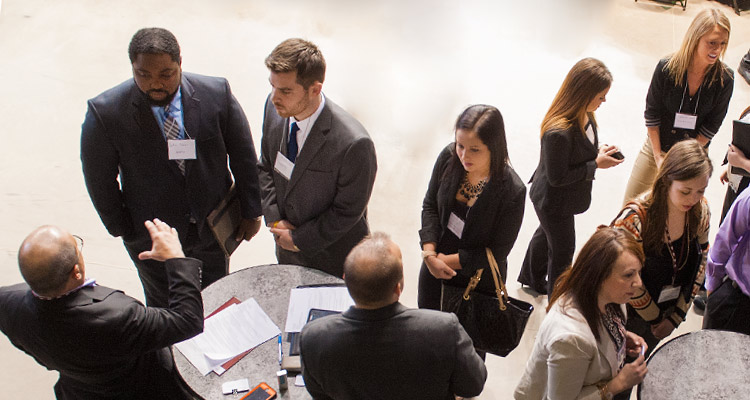 Students at Eberly's Business Day talk to employers. Additional career fairs are also held on campus.

The Eberly MBA program builds you up professionally—deepening your expertise in your field, giving you additional knowledge to move your career in new directions, and expanding your network—it all happens here.
Add Experience through Business Outreach Centers
Our On-Campus MBA students consistently win national awards, working in teams on business case studies through the Small Business Institute in our Management Services Group. Case study projects involve businesses such as the Jimmy Stewart Airport and Indiana Regional Medical Center.
Our business outreach centers give you opportunities to add experience in areas such as facilities planning, business research surveys, social media marketing, accounting systems, operations management, and competitive analysis—helping you move up in your field or change your career path.
The six centers and institutes in the MSG contribute to the economic vitality of the region while offering you the chance to gain professional experience through business consulting projects or paid internships.
If you are interested, you'll meet with the MBA advisor, Professor John Lipinski (lipinski@iup.edu), to discuss your goals and the opportunities you may be interested in so that a good match with a local business can be pursued.
Campus-Based Resources in the Management Services Group:
Industry Visits Connect You to Executives, Alumni

Industry visits, an important element of our On-Campus MBA program, bring real-world scenarios into your studies and provide opportunities for networking. A recent trip took students to the largest global Amazon facility, which is located in Columbus, Ohio. Students talked with executives, making connections that added to their professional networks.
Expand Your Network, Gain Global Contacts
Through this group, you'll develop your alumni network and interact with professors to gain management experience with a global outlook and social conscience. A strong network can pay off throughout your career by opening doors to good-paying job opportunities.
You'll gain cross-cultural and international perspectives on business issues through this student group. Use your global perspective to boost your marketability with employers in this country and around the world. IBA fosters world diversity and friendship among its members, encouraging members to have a global outlook and to explore the world of diverse cultures with enthusiasm and respect.