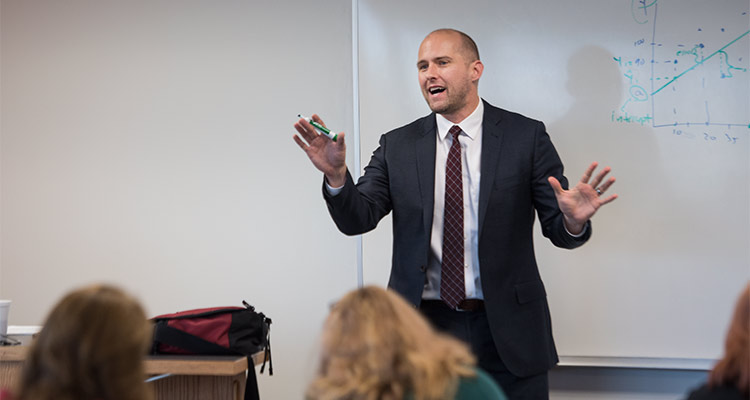 MBA Curriculum Designed to Make You Competitive
You'll take a series of integrated MBA business courses to prepare you for leadership in a global, competitive environment. Take advantage of our broad-based curriculum to move your career ahead.
MBA Curriculum Requirements
Students entering the MBA Program must have completed four undergraduate-level prerequisite coursesBasic Accounting, Microeconomics, Probability and Statistics, and Finance. If you haven't taken these courses, they can be conveniently completed with online modules.
The MBA degree requires 10 courses for 30 credits:
Management Accounting
Data Analysis and Decision Making
Managerial Microeconomic Applications
Organizational Analysis
Management Information Systems
Financial Management
Operations Management
Marketing Management
International Business
Business Policy
Optional Concentrations or Specializations
(On-campus only at this time)
You can specialize by choosing a concentration in a wide range of business areas. You can also choose electives from topics such as business statistics, finance, human resources, supply chain management, and other areas. All concentrations/specializations may not be available for Executive MBA students. Specialization requires three courses for nine credits.
Professional Accountancy
Marketing
Information Systems
Finance
Human Resource Management
International Business
Supply Chain Management
See the graduate catalog for current course descriptions.