Each suite-style residential building has space that can be reserved by faculty, staff, and student organizations.
Note that there are no summer reservations for housing spaces. Reservations for the fall semester will open up at the start of fall semester in late August.
Anyone with an IUP login can sign in to 25Live and request a reservation. You can choose Housing Locations from the availability grid and hover over the room to see details. This includes housing outdoor spaces such as basketball and volleyball courts.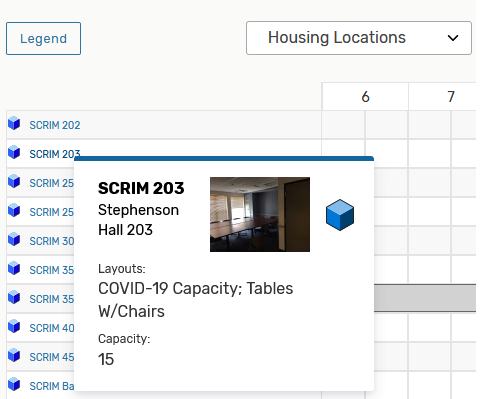 The
Federal Copyright Act (Title 17, United States Code, Public Law, 94-553, 90 Stat. 2541)
governs how copyrighted materials, such as movies, may be utilized publicly. Neither the rental nor the purchase or lending of a DVD or Blu-Ray carries with it the right to exhibit such a movie publicly outside the home. Title 17, Section 101 of the US Code outlines that showing a work publicly means "to perform or display it at a place open to the public or at any place where a substantial number of persons outside of a normal circle of a family and its social acquaintances is gathered." Showing a movie in a residential living space lobby, lounge, or hallway would be considered a public performance and requires a license to be legal.