Maria Newton '18
International Business and Spanish Majors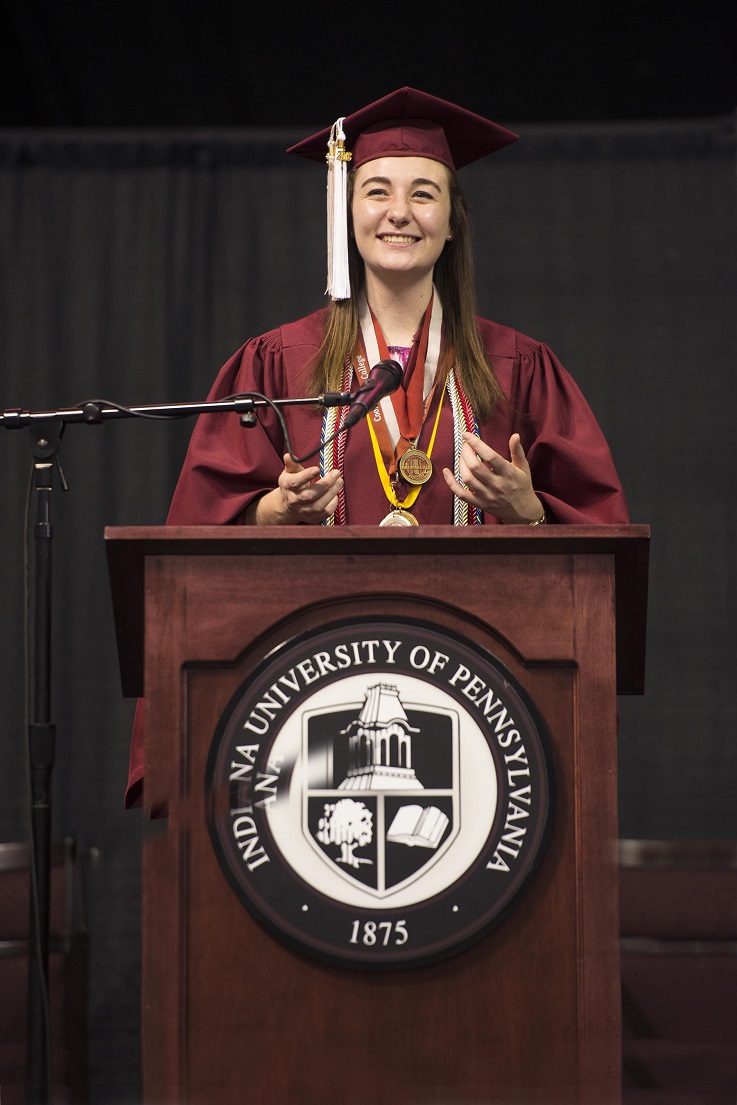 "People always tell you that you can be and do anything, but spreading my wings at IUP actually showed me that I could. You get confidence and support from everybody around you, and the opportunities provided truly help you discover both who you are, and who you want to be.
"It's impossible to put into words how much your college experience impacts your life. Thinking back on my time at IUP, I am overwhelmed by all of the memories, friendships, challenges, and emotions that have shaped and molded me into the person that I have become today.
"I came to IUP as a first-generation college student from a small town in the Allegheny National forest. I had no idea what my journey was going to look like, I only knew that I wanted to take advantage of every opportunity that came my way.
"Before my time at IUP, I had barely left Pennsylvania. The next thing I knew, I was signed up for a 550-mile backpacking trip across Northern Spain...
"Since freshman year, I have been all over the world. I spent a summer in Costa Rica, two weeks in India, and went back to Spain during my junior year for an entire semester in Europe. I've meditated with monks at a Buddhist retreat in Vermont, attended a leadership conference in Washington, DC, organized and led a volunteer trip to Nicaragua, and and even worked for Wall Street.
"While those experiences have been unforgettable, and have shaped me tremendously as a person, my heart has also grown 10x while spending time in Indiana, what now feels like my second home.
"This campus has given me the best support system, and the best four years that I could have ever asked for. In each of my classes, I found a professor truly passionate about what they were teaching, and different friends to inspire me with their own experiences. I was a member of the Cook Honors College, as well as a student in the Eberly Business Honors Program, both of which, along with my Spanish classes, brought me peers who shared my drive to succeed, my interests, and my passions.
"I became a member of the IUP Ambassadors in the spring of my freshman year. I was already in love with this school, and to be a part of such a prestigious group of peers, all sharing the same sense of IUP pride, was so rewarding. Within the group, I got to build lasting relationships with students from all backgrounds, as well as the faculty and staff members who oversee the entire function of the university day in and day out.
"The IUP Ambassadors, as well as the professional business fraternity, Phi Gamma Nu, were the two organizations where I truly dedicated myself outside of the classroom.
"I chose to come to IUP because it seemed like a place where you could come from any background and truly make something of yourself. When I read success stories from students who were already here, I wanted to be just like them. As a first-generation student, I wanted a school where I could take advantage of great opportunities without having to pay a fortune, and with IUP, I got more than I could have ever imagined."