Dominique Sgobba '19
Human Resource Management and General Management Majors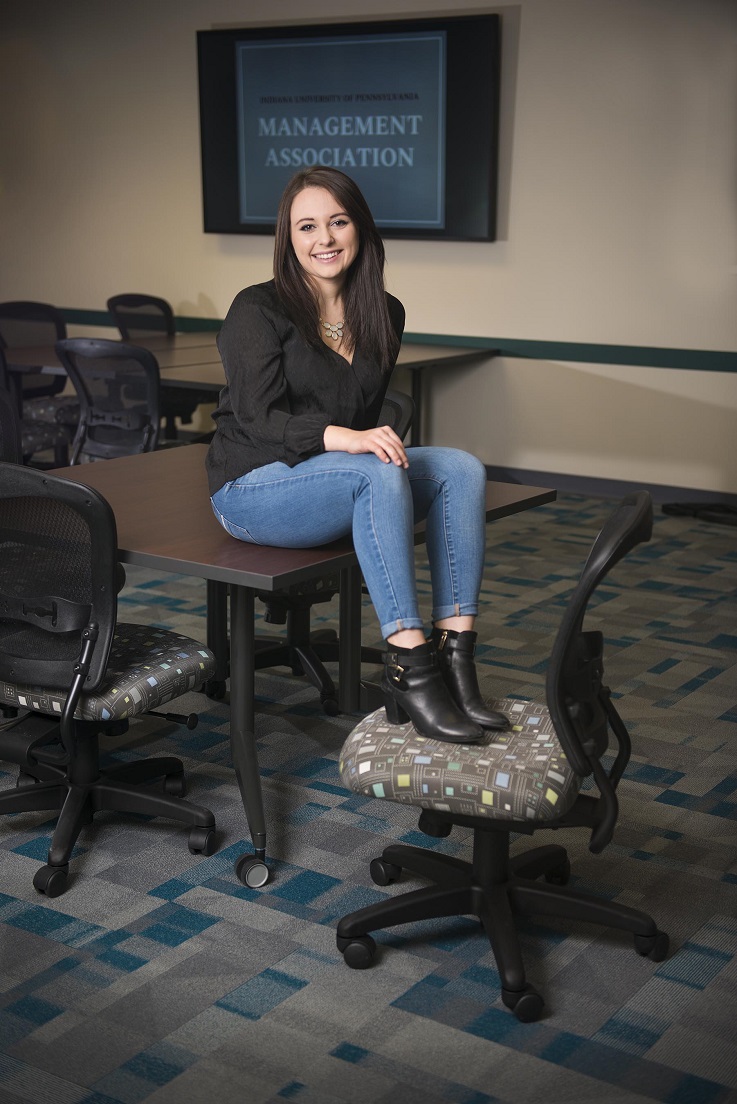 "I initially pursued my college education with the intent of learning about my major, and I am fortunate to have gained an extensive and well-rounded knowledge regarding human resources and business management over the years. However, because I chose IUP, I am able to walk away with something that I value even more than my education in the classroom: a unique insight into the human experience. Through my involvements and interactions with the faculty and students at IUP and, more specifically, Eberly College of Business and IT, I have come to learn that it is the relationships we build with those around us that are truly the most essential elements for a successful and fulfilling future.
"A few years ago, at home in Scranton, Pennsylvania, I entered my senior year of high school in a struggle to find the right major and university for me. As I studied my way through my classes, I changed my mind on what I wanted to do when I grew up' almost every day. I considered a few different colleges and paths, but IUP, with the Cook Honors College and Business Honors Program, stood out as the most fitting option for my goals and plans after graduation. I certainly did not expect to fall in love with the school, the people, and be given the opportunity to discover and nurture a passion that I had no idea would be such a meaningful facet of my life.
"One thing I was aware of as I embarked on my education at IUP was that I was eager to begin my career as soon as possible. With a few extra credits from high school and the help of an excellent advisor, I found out that I was able to receive my degree in three years. Although I spent a little less time at IUP than most students, it was a constant whirlwind of learning experiences that have taught me so much more than I could have asked for, not only about my field of study, but about myself. The Business Honors Program took me to New York City, Washington DC, Pittsburgh, and, most recently, India, and provided me with priceless relationships with students, faculty, and alumni around the world that have served as essential influences on my journey.
"In just three years, Eberly College of Business and IT has become my home. After spending almost every day in the building, each person and experience I have encountered has acted as a stepping stone to discovering my own mission and values that define who I am today. Through the numerous organizations, diverse courses, and professional opportunities that Eberly has offered me in my time at IUP, I have recognized my passion for mentoring and guiding others, which drives my commitment to making a positive impact in each company and community I come across.
"The activity that had the greatest impact on me over the years was my position as president of Management Association (MA). The first semester of my freshman year, my roommate and I discovered MA at IUP Day and decided that joining would be a great addition to our education in management. Since then, I have dedicated my time to rebuilding the club into a flourishing organization with a very bright future. Over the past year, I have brought in several keynote speakers and organized numerous professional development events to benefit students, some of which include Six Sigma Yellow Belt Training, a Sheetz Distribution Center tour, and two resume workshop collaborations between Management Association and the Natural Science Department. Although my involvement in MA has allowed me to grow both personally and professionally, my true satisfaction comes from the thought that something I did gave other students relationships, connections, and experiences that hopefully will stick with them as they move on to the next step in their lives.
"Beyond MA, I definitely kept busy in my time at IUP as a member of the Cook Honors College, cohort leader in the Business Honors Program, philanthropy chair of Phi Gamma Nu, and student worker for the associate dean. I had the opportunity to bring students together from various Eberly organizations to give back to the community at Into the Streets each semester and to host several blood drives through Geisinger. I contributed to the planning of a Women's Leadership Trip to Washington, DC, which gave female students the opportunity to network and learn about becoming a leader in today's world. My favorite project, which I helped to coordinate at IUP this semester, was a Microsoft Excel workshop for students to strengthen their skills in the application and make them more attractive to employers as they enter the workforce. Through these involvements on campus, I have met so many amazing people that have helped me grow and learn both in the classroom and beyond. I am so grateful for the experiences and lifelong friendships that I gained through my education, and I hope to continue my involvement with IUP in many years to come."
After graduation, Dominique will move to Pittsburgh and work as a contract professional for Bechtel Plant Machinery, Inc. in Monroeville, Pennsylvania.