Julia Nitchman '19
Marketing Major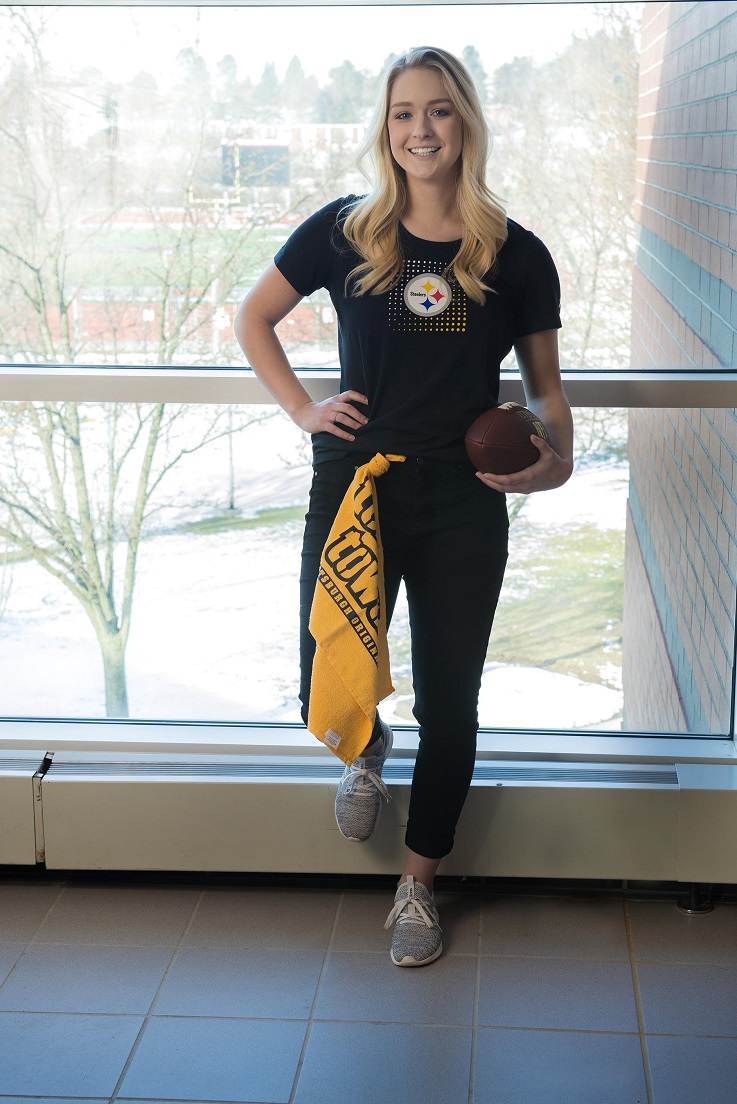 "The Eberly College of Business and IT provided me with endless opportunities that facilitated my development into a young business professional. My time spent at IUP allowed me to gain leadership experience, knowledge in all facets of business, and remarkable connections with students, faculty, and alumni. Due to the opportunities and support IUP provides students, I have been able to achieve my goals and more.
"I attended high school at Franklin Regional in Murrysville, Pa. At this point in my life, I knew I wanted to attend university to earn my bachelor's degree in business at an AACSB-accredited business college. While touring universities within the Western Pennsylvania area, Indiana University of Pennsylvania immediately stood out to me. IUP was not only AACSB-accredited, it also offered a lot opportunity for students to diversify themselves in preparation to enter the competitive workforce following graduation. I found the Business Honors Program one of the most attractive qualities IUP offered to eligible students. The program offers a holistic approach to learning through challenging curricula, independent research, networking opportunities, and travel.
"Since making the decision to attend IUP, I have gained a lot of experience that enabled me to receive a job offer prior to my three-year expedited graduation. Majority of my experience was gained through getting involved in student-led organizations, gaining leadership experience, obtaining three internships, and acquiring a vast amount of knowledge in each facet of business. My job as a student employee at the Assistant Dean's Office in the Eberly College played a critical role in my college career as well. During my time spent working in this office, I planned the Business Honors Program development trips to Pittsburgh, Washington, DC, and New York City. I also organized semi-annual meetings and special events. Other than coordinating trips and events, this job also gave me the opportunity to work with recruiting prospective students, which I was very passionate about. Student recruitment involved speaking to students applicable to join the Business Honors Program through phone calls and emails, as well as speaking at open houses and admission events. I was able to tell students and their families about my experiences from IUP and how the Eberly College well prepared me for life after graduation.
"During my first two years spent at IUP, I fully immersed myself into several student-led organizations to gain the required experience to intern with the Pittsburgh Steelers. My involvement in the American Marketing Association, College of Business Student Advisory Council, IUP Ambassadors, and Sigma Kappa Sorority well prepared me for the fast-paced world of sports marketing. As a marketing intern for the Pittsburgh Steelers, I contributed in the execution of promotional game-day activities along with events such as the Gatorade 5k Race and the 2018 Steelers Style events. All of these experiences have equipped me to take on life after college. I am looking forward to giving back to IUP and current students throughout my career."
Following graduation, Julia will work as a management associate with United States Steel Corporation in the Industrial, Service Center, and Mining Commercial Entity.