Logan Feronti '17
Marketing Major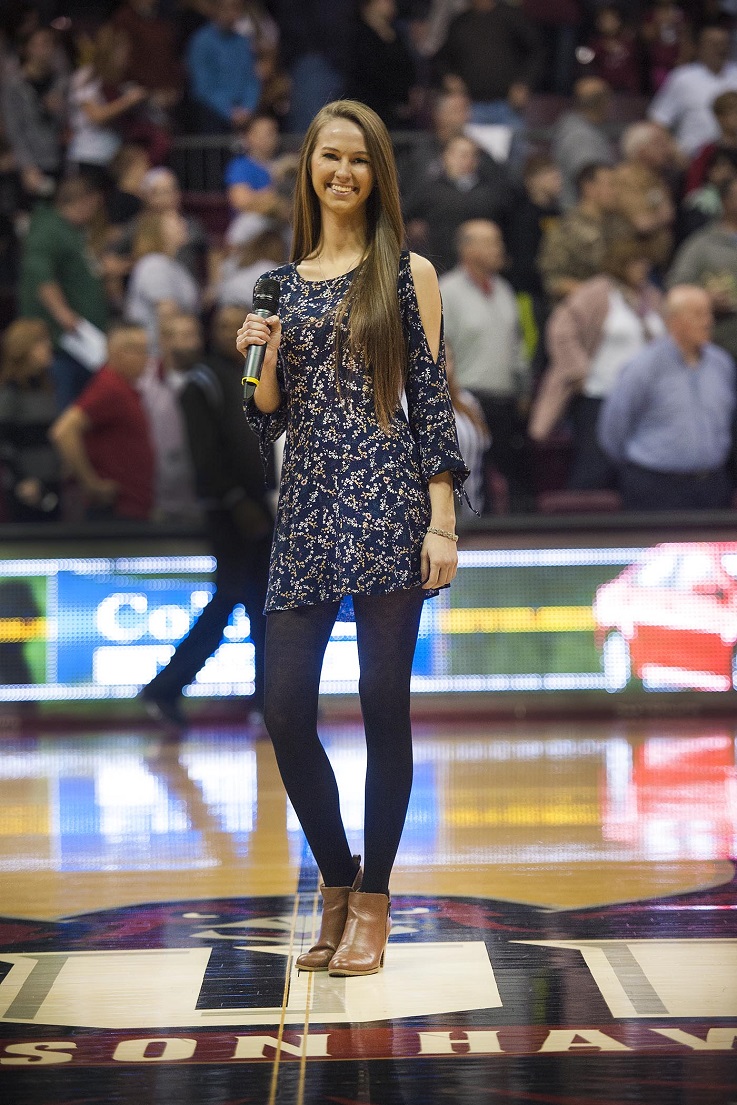 "All of your life you are asked, what do you want to be when you grow up?' I always prayed that I would be able to answer that question knowing that what I wanted to do would positively impact myself and others. I am able to say that the education and opportunities Eberly gave me has lead me to be able to do just that. I have learned and grown from the most influential students and faculty and, because of the Eberly College of Business and IT, I know exactly what and who I want to be when I grow up.

"I am from Ridgway, Pennsylvania, a very small town with three stoplights. As a young girl, I aspired to be on Broadway. I traveled all over the country to audition at colleges to attend a musical theater program. I auditioned at IUP and fell in love with the campus immediately.

"I received an offer from the Cook Honors College at IUP, which meant I would be the recipient of a very generous scholarship if I decided to attend IUP. I knew that I would be paying my way through college so this scholarship enticed me even more to go to IUP.

"My college selection was IUP and it was honestly the best decision I have ever made. As you can see, I am no longer a musical theater major though. As I began the program, I realized that I had a passion for the business aspect of being a performer. Such as, the marketing of yourself and being aware of the business deals that take place.

"I was do drawn to the ins-and-outs within the business world that I decided to pursue a degree in marketing in the Eberly College of Business. I have never been happier. I still had opportunities to audition and perform without being a musical theater major, and now I had the opportunity to expand my knowledge in one of the largest growing fields in the world.

"An extracurricular activity that I am involved in is that I sing the National Anthem at the majority of university sporting events and presidential events. I sing at as many of the men's and women's basketball games that I can. I sang the National Anthem for the 100th anniversary of ROTC and at graduation.
"This activity has benefited me in a multitude of ways. My career is going to put me in front of many people that I do not know and I am going to need to have my nerves at a minimum to be able to sell my product to the customer and to make the customer feel comfortable in my presence. I have to do that when singing. The National Anthem is a very difficult song to perform because everyone knows it and it is very meaningful. I have to be composed in front of complete strangers and deliver it as flawlessly as possible to the audience.

"Through this activity, I have met people that I may have not met otherwise. Two of those are the president of IUP and the director of Corporate Sales for the KCAC. I had an internship with the director of Corporate Sales because of meeting her after a performance. That internship led to a job offer.

"The culture in the Eberly College of Business and Information Technology is unlike any other. It provides you every opportunity to grow as a student and businessperson. I was able to discover a true talent of mine, which is working in sales. I have been able to build a network with some extremely influential people who are helping me with my pursuit of a career upon graduation.

"My life would not be on the track that it is if it were not for the Eberly College of Business. I am so incredibly thankful!"

After graduation, Logan was offered a graduate assistantship for her MBA at IUP.