Walter Smith '12
Accounting Major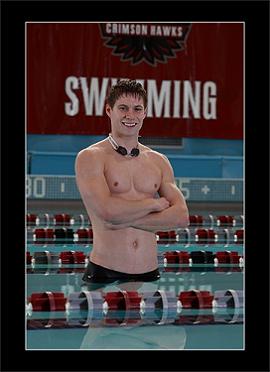 "As a student not quite sure about what I wanted to do, IUP and Eberly helped me find a track that was best for me. My experiences in Eberly and on the IUP swim team allowed me to discover my true potential in all aspects of life. I am a better person, mentally and physically, because of everything I have learned from the people of Indiana. My lifelong friends and unforgettable experiences shaped me into the leader I have become. Coming to IUP has been the best decision I have ever made."
My name is Walter Smith and I am from Annandale, Virginia. I graduated from Annandale High School in 2008. When doing my college search, I wanted to go to a school where I could be on a varsity swim team and be challenged academically. I found out about IUP and decided to look more into it. The school seemed to be a perfect match on paper. After visiting, it became my top choice.
I talked to the head coach, Chris Villa, and he allowed me to walk onto the swim team. After consistently dropping time throughout my first season, I earned the Rookie of the Year award and a partial scholarship.
I have been a member of the men's varsity swim team since my freshman year and have fully participated all four years at IUP. My active participation has forced me to be disciplined throughout my college career, managing time between swim practices, competitions, and academics. The swim team allowed me to make lifelong friends in a town where I knew no one coming in as a freshman. The bond that I share with these swimmers is something that I cannot describe. We spend so much time together that I consider them family. It is an experience I would not trade for anything else.
The organization has benefited from my participation. I am one of the top point scorers every year and a role model to the underclassmen. This year, in my senior season, I was voted by my teammates to be team captain, a position I am honored to have.
My successful academic performance also keeps the average GPA high. In the Fall 2010 semester, the men's varsity swim team had more 4.0 GPAs than any other male varsity team at IUP. I was one of those 4.0 students and very proud to be a part of such a successful group. We continue to do well in both athletics and academics.
I originally came to IUP to major in Mathematics, but, after my first semester I decided that it was not for me. I had some interest in business, so I switched my major to Finance. Still unsure about my major, I took my first accounting course in Eberly and I knew that it was the best track for me. Again, I switched majors, but now I couldn't be more pleased. The transitions went smoothly and, with the help of my advisors, I was able to stay on track to graduate in four years. The staff at Eberly was extremely helpful every step of the way.
One of my best moments was the Fall 2010 semester. After changing majors twice, I needed to take 18 credits to stay on track to graduate in four years. I had to manage this with full participation on the men's varsity swim team, which included up to 20 hours of practice per week and numerous competitions. With all this, I was still able to achieve a 4.0 GPA and personal best in-season times. It was one of my best achievements at IUP.