Management Information Systems Major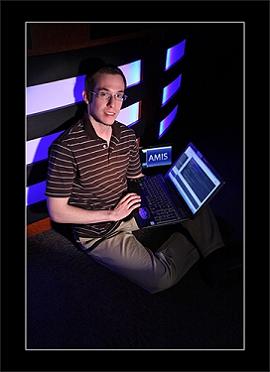 "The Eberly College of Business and IT has provided me with the opportunity to receive a broad-based education. I feel prepared to start my career in MIS because of the outstanding professors who go beyond expectations by offering real life business acumen in a highly relevant and modern technical field."

I come from a town with no traffic light. Fairfielda town named for its eponymous fair fields and, frankly, not much of anything else. Coming into my senior year of high school, I had lots of ambition in the business and IT fields and wanted to go somewhere where I would be able to explore these fields further, in a diverse environment with an international orientation. While I may have looked far beyond the reach of Pennsylvania, the Mid-Atlantic region, or the east coast, I visited IUP in October 2007 and was very impressed with the Eberly College of Business and IT. I found a dynamic environment which instilled in students business rhetoric while still giving gratuitous attention to individual majors.

I started at IUP in the Fall of 2008 and gradually began to fit inmaking friends, taking "core" classes, and exploring student organizations. I have been involved with Phi Eta Sigma since March of 2009 when I was inducted and with AMIS, a departmental organization for MIS.

Phi Eta Sigma focuses of four main areas: academic performance, community involvement, career development and social events. I have been secretary and president of the society and am currently senior advisor. As secretary, I developed a sophisticated website for the organization which allowed us to significantly increase our membership participation and interest. The website was expanded since I released it in February 2010 and has since been sold to other student organizations. The system is currently marketed as a commercial on-demand software product.

As President of Phi Eta Sigma, I reorganized our activities committee and organized a major badminton tournament as a charity event for a local nonprofit organization, Four Footed Friends. We performed many other community service events, such as delivered holiday cards to seniors, cleaned up a local highway, and participated in the Into the Streets community day of action. For my efforts, I received a national scholarship. As senior advisor, I advise the president and the executive committee on proposed activities and administration.

As I progressed to my senior year, I had grown fond of the Eberly experience. I was impressed with the open door policy of many professors and their willingness to give guidance and advice along the college pathway.

I have always put in my best effort, whether it was through classes, organizations, or business. Now that I am in my senior year, I have been a president, vice president, and secretary of the organizations I previously explored. The experience I received at Eberly has already helped me greatly and will no doubt help me along the way in my future. I'm looking to replace those fair fields with big city lights soon.

Aaron is currently a software developer for Distributed Information Technologies, Inc. in Johnstown, Pa. (as of Spring 2014).