Andrew Weigold '12
Business Education Major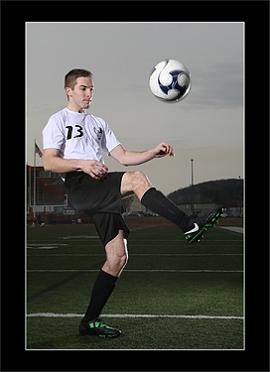 "Every opportunity presented to a person in life is theirs for the taking. As a student at IUP and as a member of the Eberly College of Business, I have learned to grasp and hold onto every opportunity that has been sent my way through my knowledge gained in classes and in my teaching experiences in the classroom. As a future teacher, my motto is to give what you have to someone else, because the information you possess may spark someone else's love of learning."
As my senior year at Kiski Area High School came to an end, I started to apply to different colleges. I am originally from Export, Pennsylvania, which is 40 minutes east of Pittsburgh. I knew that I wanted to stay local, but was unsure of which school I would choose.
After getting accepted to Indiana University of Pennsylvania (IUP) and visiting the campus, I knew that it would be a great fit for me. The campus is local and beautiful. I knew other students enrolled at IUP, and the school has a great teaching program. I was originally enrolled as a Math Education student, but soon realized that math was not my forte. After searching for a major that was right for me, I selected Business Education.
Business Education seemed to be the best choice because I love to use technology and I knew that I wanted to help students learn new and exciting information in the classroom. Three and a half years later, I know I made the right choice. Having the vast amount of business and education classes has broadened my view on Business Education as a field and as a profession.
At IUP I have been involved in several organizations and clubs. One extracurricular activity I have been heavily involved in is the IUP men's soccer club. I started my involvement with the club my freshman year. I was fresh out of high school varsity soccer and itching to play some more of the sport I had played since I was five years old.
Early in the second semester of my sophomore year, I tore my meniscus playing in a game. I, unfortunately, had to have surgery and did not play my junior year. This year was a rebuilding year for the team. We needed new members, jerseys, and opponents.
Throughout my senior year, I acted as the secretary, but was most involved with the club and organizing functions. I organized tryouts, practice times, ordered jerseys, and organized and collected money for an indoor league. I am proud of the IUP soccer club and expect it to grow in the next few years with proper leadership and hard work.
As a student here, my experiences have been extensive. I have traveled to conferences, been involved in numerous clubs, built a website for a company, and much more. I have thoroughly enjoyed my experience at IUP and am thrilled to be a candidate for this award.