Matthew Wilking '12
Accounting and Finance Major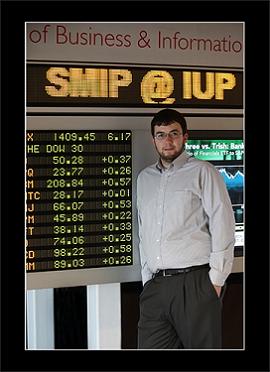 "I got married to Eberly and IUP at age 18. We have had our fights, grievances, long nights, and hardship, but I love it. The experiences and memories that come from our work together, one-time shots in India, New York, D.C., and the knowledge we have shared together is something I will always treasure. Without this marriage, I would not be going where I am in life, and I would never make it without the support. I knew this was the right choice from day two, and I hope it lasts for thousands more."
I was born in Williamsport, Pa., and moved to the greater Pittsburgh area in 1998. Growing up, I never planned on attending college, mainly due to my grades throughout high school. I enlisted in the Marine Corps at 16 and planned to make that my life. Through some other events, I ended up in college. I originally went to Capital University on an Army ROTC scholarship before I came to IUP. I transferred after I decided the Army was not a place I wanted to be.
I came to IUP as a fourth generation student and member of the community. My great grandfather taught social studies and history at IUP, my grandfather taught biology, and my grandparents, parents, aunts, uncles, brother, sister, and cousins all went here. My grandparents, parents, and sister all met and got married at IUP. I had a vested legacy interest in IUP that I didn't want to miss out on. While there is no financial incentive to be a legacy student at IUP, the personal connection was what made me love the university.
Eberly was another unexpected course for me. I have always wanted to open a restaurant, and it was my goal after military service. Naturally, I wanted to go to culinary school. Another interest fell into the realm of architecture. Both were majors I would have taken before business, but at Capital neither was offered. So, looking back now, what I originally thought was a settlement turned out to be a significant life change I won't regret. I took business classes at Capital as a finance and economics major and figured the enjoyment I had in those classes would not steer me wrong when I transferred to IUP.
My greatest enjoyment and contributions are in the realm of the Student Managed Investment Portfolio (SMIP). I have been a participant member of the organization since Fall 2009 when I transferred. Since then, I have gone through the ranks of members to now being the chief investment officer and leader of the organization.
What it has given me is the greatest ideal of where I would like to be in life. Through the combination of SAA, SFA, and SMIP, I have gained the understanding of what balance I want to pursue. I want to get my CPA, CFA, and CFP, and work with helping people plan for retirement. SMP showed this to me through the work I have done in analysis and valuation for the portfolio. I understand the balances needed to make investments work and what keys there are to managing risk and return. This is crucial when it comes to a person's hard-earned money they will rely on for their retirement.
I have contributed to SMIP by helping the foundation and my fellow students. By providing the returns outlined within the bylaws of the organization, my classmates and fellow investors have allowed SMIP to help the foundation grow for future use gaining valuable insight and experience. For my fellow classmates, the experience I have learned has allowed me to help them understand finances better and tutor them for a greater chance of success in their course work.
Since transferring, I have made countless friends and professional relationships for the long term. I have worked with a largely diverse population that is non-existent in the majority of western Pennsylvania, and have gained a greater crosscultural experience. I look forward to contributing and developing Eberly and IUP for the future both during and after my stay here.