International Business and Economics Major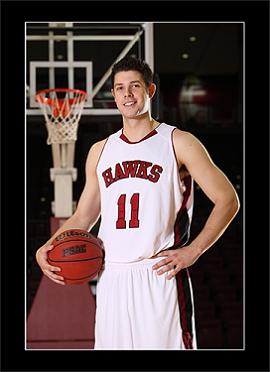 "By taking advantage of all the opportunities presented to me by IUP and the Eberly College of Business and IT, I have been able to gain a world of valuable knowledge and develop a unique skill set that will undoubtedly help me succeed in the competitive global business environment."

My name is Ethan Robinson, and I'm a senior at IUP pursuing dual degrees in International Business and Economics. I grew up in Gales Ferry, Connecticut. After graduating from high school in 2006, I did a prep year at the St. Thomas More School in Oakdale, Connecticut, where I played basketball in hopes of securing an athletic scholarship to help me pay for college. Thankfully, my hard work paid off when the IUP men's basketball head coach, Joe Lombardi, recruited me to come play for the Hawks. Although the basketball program drew my attention to IUP initially, the combination of the Robert E. Cook Honors College and the Eberly College of Business and Information Technology convinced me that IUP was my dream school.

IUP made it possible for me to pursue a number of unique academic opportunities. In May 2009, I spent a month travelling through Turkey and Cyprus with the Honors College Senior Synthesis course focused on archaeological ethics and the political relationship between the two countries. To say I learned a lot would be an understatement, as the trip opened my eyes to two countries vastly different from my own.

The Honors College also made it possible for me to study abroad in Spain for the academic year 2009-2010. The Fall semester I took part in an International Business program in Alicante. By the second semester, I had improved my Spanish to the point that I could enroll in a full Spanish immersion in Granada. My year abroad was incredible, and I will be forever grateful to IUP and the Honors College for affording me the opportunity.

I also took part in the Honors Program in the Eberly College of Business, which helped me secure a summer internship at Brookfield Global Real Estate in New York City. Working at Brookfield for the summer gave me valuable insight into the world of business and taught me how to be successful in a corporate environment.

I am on the men's varsity basketball team at IUP, which has been an amazing experience. The huge time commitment to the team on top of my rigorous academic schedule helped me become a disciplined student and conscientious time manager. The basketball program also helped me become an effective leader, as I have served as the men's basketball representative to the Student-Athlete Advisory Committee since my freshman year and was named team captain for my senior season. The highlight of my experience thus far with the Crimson Hawks came last season when we won the conference tournament for the second straight year.