Graduate Biology Programs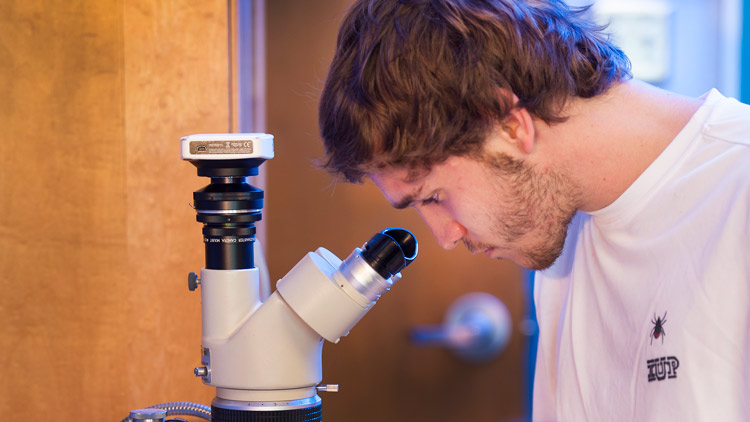 Embrace the Expanding Reach of Biology
Expanding your career opportunities is an inherent part of IUP graduate biology studies. Many destinations await you in medicine, private industry, government, and higher education. Your MS experience may also provide a ladder to doctoral studies.
Grow your capacity for knowledge with independent research and presentations while keeping an eye on your ultimate goal. Choose among four main areas of engagement: ecology and conservation biology, organismal biology and physiology, cell and molecular biology, and science education.
The MS in Biology allows you to prepare for a PhD program, acceptance to a medical, dental, or veterinary school, or employment in the public or private sector. Your graduate degree will also train you for an academic career or jobs that are expanding in the workforce, according to the U.S. Bureau of Labor Statistics.
The MS in Biology, Accelerated Track is ideal for you if your goals are ambitious and you are a self-starter. It's designed for highly motivated undergraduateswith a career interest in the biological sciences. It's accelerated because it leads to the MS degree with approximately one year of post-baccalaureate study as opposed to the two years usually required in the traditional track.
The IUP Difference
Placement success. IUP's diverse professors have a wide reach. As a result, they have enjoyed success in helping MS students find positions with employers and win acceptance to doctoral programs.
Community college employment. Look for teaching jobs at community colleges that value the IUP MS graduates.
The IUP faculty. With over 30 full-time biology faculty members who bring a breadth of scholarly knowledge and practice experience, this is one of the largest departments at IUP. Deeply committed to educating their students, these professors conduct a wide variety of ongoing research and service programs associated with the department.
Fieldwork opportunities. As a graduate student in biology, you have a variety of options for gaining hands-on experience in the field through classes, summer programs, and faculty research.