Your Research Opportunities
At IUP, research isn't just something you get from your textbook. You can also get it out in the field. Spend time in a stream, in the woods, in the lab, or in the planetarium. Research and compile data. Draw conclusions and share what you discover.
Professors have included hundreds of students in research projects. Study ticks in Pittsburgh-area parks, Warbler habitats, ocean-floor core samples, archeological finds in Cyprus, ancient fossils brought back from China, local historical excavations, and more.
Many students do their own research on a variety of topics in a variety of majors. Choose what you want to study and then present your findings at our Scholars Forum. You may even go on to present your research at professional conferences like five of our Geography, Geology, Environment, and Planning students, who recently presented their research at the annual Pennsylvania Geographical Society meeting.
Talk to your professors or the dean's office of your major to learn more about opportunities in your field.
Read more about student research
New Challenges, New Opportunities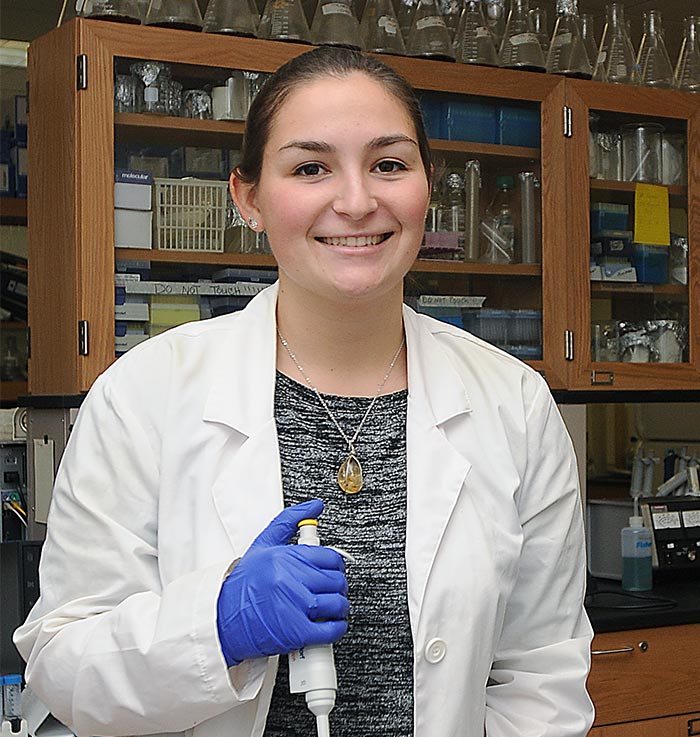 Anna Manges
, an Honors College student who is majoring in biology with a geology minor, was selected for a prestigious Goldwater Scholarship based on her research, which she started as a freshman working with a biology professor. She has researched both the Lyme disease risk from ticks and the water mite parasitism of mosquitoes.
Summer Research: Challenging, Exciting, Independent
"The research experience has been challenging yet exciting. It's precisely what I wanted. I thoroughly enjoy how independent I can be as a researcher and how my advisor challenges me to think about various concepts that could impact our reaction outcomes, such as possible alpha-proton elimination or substitution. I'm learning how to use Gas Chromatography and Mass Spectrometry systems to analyze the contents of the reaction samples I collect. It's a very powerful analytical instrument that can also be used in a clinical setting. While I am a Medical Technology major, Chemistry has become my recent scientific obsession."
Curtiss Harbin, student researcher with the Leblond Lab at IUP for summer 2021, transferred to IUP after obtaining an Associate of Science degree in Biotechnology with honors.