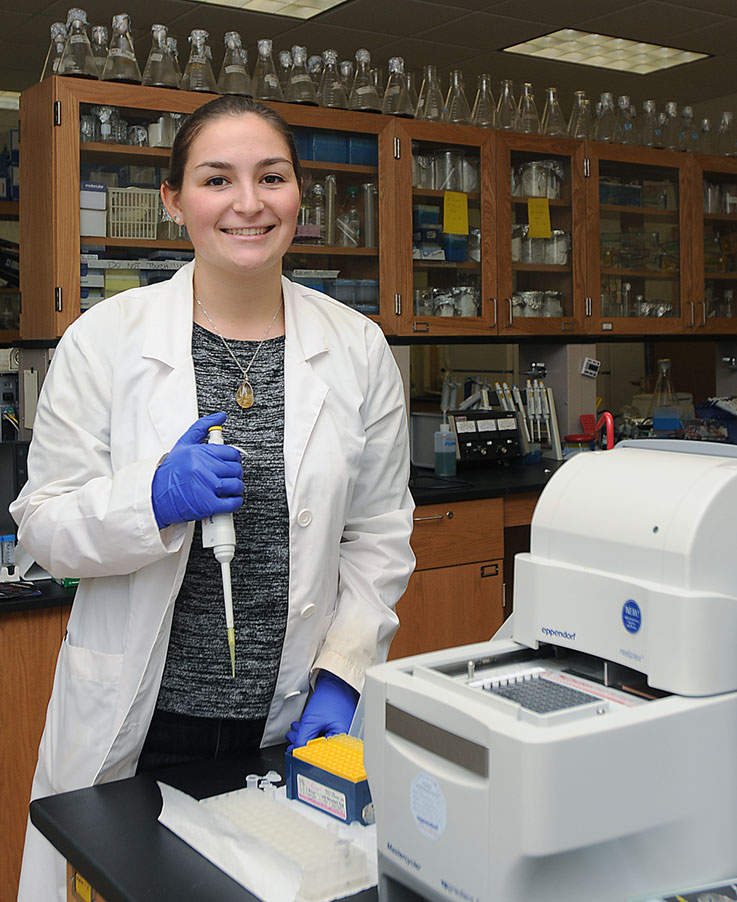 Anna Manges, a senior biology major and geology minor from Indiana, has been selected for a Goldwater Scholarship.
Manges is IUP's ninth Goldwater Scholarship recipient. She is the only student from a Pennsylvania State System of Higher Education university selected for this honor. More than 1,200 natural science, engineering, and mathematics students were nominated for the 2019 awards.
The Goldwater Scholarship, which was first awarded in 1989, honors Senator Barry Goldwater and was designed to foster and encourage outstanding students to pursue careers in the fields of mathematics, the natural sciences, and engineering. It is the preeminent undergraduate award of its type in these fields.
The Goldwater Scholarship will cover Manges' tuition for the 2019–20 school year.
Manges, a student in the Cook Honors College, started work with biology faculty member Tom Simmons as a freshman, joining Simmons' vector and disease ecology team of researchers examining blacklegged ticks (arthropods known to carry Lyme disease) and Lyme disease risks. Simmons nominated Manges for the Goldwater.
"Anna's impressive combination of academic and research accomplishments, coupled with her record of community service in public health, made her uniquely qualified for consideration of a Goldwater Scholarship," Simmons said. "Anna is the first student that I have nominated for this award in my close to three decades at IUP."
Manges worked with Simmons and with Deanne Snavely, dean of the IUP John J. and Char Kopchick College of Natural Sciences and Mathematics, throughout the year-long process, along with faculty advisors Megan Knoch and Robert Major.
"Anna Manges is an intelligent, insightful young scientist dedicated to creating a more sustainable world for all of us," Snavely said. "It was my pleasure to work with Anna during this application process."
"I would really like to thank Dr. Simmons and my other advisors as well as Dean Snavely," Manges said. "They spent a lot of time working with me, not only on the essays required through the process, but talking with me about options for my future. None of these awards would be possible without them."
Manges says she's looking at different graduate school options, but has not yet made a decision.
The Goldwater Scholarship follows a number of recognitions for Manges' research and scholarship.
The Northeastern Mosquito Control Association selected Manges for the 2018 Jobbins Scholarship for her work examining acarological Lyme disease risk in Pittsburgh regional city parks. Her work, "Ticks in the Burgh: Acarological Lyme Disease Risk in the Pittsburgh Regional City Parks," includes collection and testing of ticks at Pittsburgh's four regional city parks to determine the density and distribution of nymphs as well as the infection prevalence of the Lyme disease spirochete.
The Jobbins Scholarship follows Manges' 2018 Outstanding Undergraduate Student Research Award from the Pennsylvania Vector Control Association.
"I am fortunate to have Anna as a member of my team," Simmons said. "Because of her aptitude for research and strong work ethic, in just two years Anna has made significant contributions to advance our understanding of Lyme disease risk in western Pennsylvania. With two student research awards from professional associations, one published article in a scientific journal, and another in the works, it's been very rewarding for me to watch her grow as a scholar."
Manges, daughter of Vicki Stelma and Charles Manges, is a 2016 graduate of Indiana Area High School. She also is the recipient of the Samuel Mitrovich Scholarship for the Advancement of the Biological Sciences; won an award in the poster competition at IUP's Women in Mathematics, Science, and Technology event; and is a dean's list student. She is a member of the Student Philanthropy Council and Phi Eta Sigma National Honor Society.
Manges has been an active presenter on the team's blacklegged tick and Lyme disease research and is the lead author of "First Record of Aedes albopictus (Diptera: Culicidae) and Second Record of Aedes japonicus (Diptera: Culicidae) Parasitized by Water Mites (Acari: Hydrachnidiae) in North America," which discusses water mite parasitism of the Asian tiger mosquito and Asian bush mosquito. Simmons and Pennsylvania Department of Environmental Protection Vector Management scientist Mike Hutchinson are co-authors of the paper, which was published in the July 2018 issue of Journal of Medical Entomology.
Manges and other student members of Simmons' laboratory also have presented community outreach programs on Lyme disease risks to local Girl Scouts and to the Indiana County Friends of the Parks organization. Work by Simmons, Manges and students Nate Peters and Emily Welch were recently featured in an extensive article by PennLive about the current state of affairs of tick and tick-borne disease research in Pennsylvania: "Ticks and Lyme disease: The problem no one's really doing anything about."
Simmons and Manges are currently working on a manuscript about the research project for a professional journal.
Manges joins previous IUP Goldwater Scholarship winners Aaron Seidel (geoscience), 2018; Kara McClain (nursing), 2016; Dan O'Hara (geoscience), 2013; Kelsi Lindblad (biology), 2010; Elizabeth Paladin Jeffries (chemistry), 2007; Kristin Juhasz (biology and anthropology), 2006; Thomas Baker (chemistry), 2004; and Brigid Mooney Rotigel (mathematics), 2003.
Goldwater Scholars have impressive academic and research credentials that have garnered the attention of prestigious post-graduate fellowship programs. Goldwater Scholars have been awarded 92 Rhodes Scholarships, 137 Marshall Awards, 159 Churchill Scholarships, 104 Hertz Fellowships, and numerous other distinguished awards like the National Science Foundation Graduate Research Fellowships.