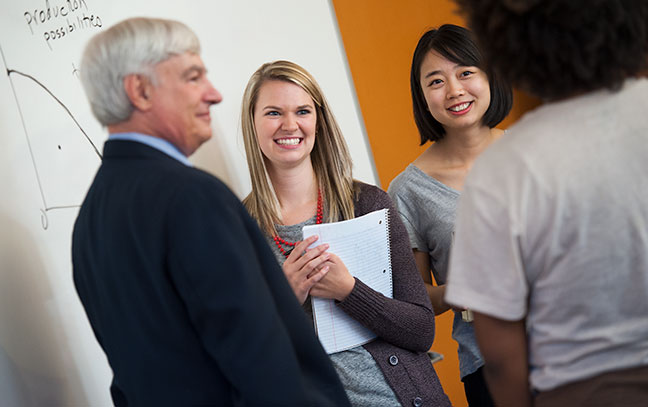 Go Global with Money Expertise
You've heard it before—money makes the world go round. Economic stability affects every business, government, community, and family. The world needs skillful, thoughtful leadership in the world of finance—leaders like you who can negotiate the fine line between finance and its related fields, like banking, real estate, and insurance. Mastering financial skills will make you a global citizen—and you'll have tons of influence and impact. 
A BS in Finance will set you up for all kinds of career paths, so that you can plot a direction based on your unique interests. Opportunities in the financial services sector will only continue to grow—just like the many directions you'll be prepared to pursue after graduation.
Why Major in Finance at IUP
At IUP, you'll have access to a wealth of expertise from your professors, who'll give you the real-world knowledge you'll need for success. You can also gain hands-on experience through internship opportunities, the Student Managed Investment Portfolio, and the Bloomberg Certification. 
What You'll Learn
Expect to build up your analytical and decision-making skills, which are so necessary in the fast-paced, competitive world of finance. With a Bachelor of Science in Finance, you'll be able to:
Decode financial data to assess risk
Define the equity market, the bond market, and the derivatives market
Explain the global financial environment
Understand how corporations are run and how financial markets work
Use financial management concepts and tools to make complex investment decisions
Imagine Your Future
A Bachelor of Science in Finance will open doors for you as you set out to start your career. With plenty of paths to choose from, you'll be prepared for roles in banking, corporate and personal financial management, insurance, investments, and so much more.
You'll also be eligible for jobs within the federal government, like roles at the FDIC, Federal Reserve, Treasury Department, or Internal Revenue Service.
Career Options with a BS in Finance
Broker of stocks, bonds, and commodities
Credit analyst
Financial planner
Insurance agent
Project manager 
Real estate agent
Wealth management, investment, or credit officer
Similar Occupations
Budget analyst
Financial examiner
Insurance underwriter
Personal financial advisor
Securities, commodities, and financial services sales agent
Classes and Requirements
As a finance major, you'll learn to manage high-stakes situations that can have global consequences. You'll learn skills and strategies to fully understand and work within the many interlocking global financial systems. Blending technical skills and economic principles, your classes will give you the full picture of the world of finance.
Some examples of classes you'll take include:
Accounting Principles I and II
Business Statistics
Corporate Finance
Financial Analysis Using Electronic Spreadsheets
Financial Institutions and Markets
Fundamentals of Finance
Insurance and Risk Management
Principles of Investments
Principles of Macroeconomics
Principles of Marketing
Principles of Microeconomics
Production and Operations Management
Full Academic Catalog Listing
The course catalog is the official reference for all our degree and course offerings. Check it out for a full listing of the classes available and requirements for this degree.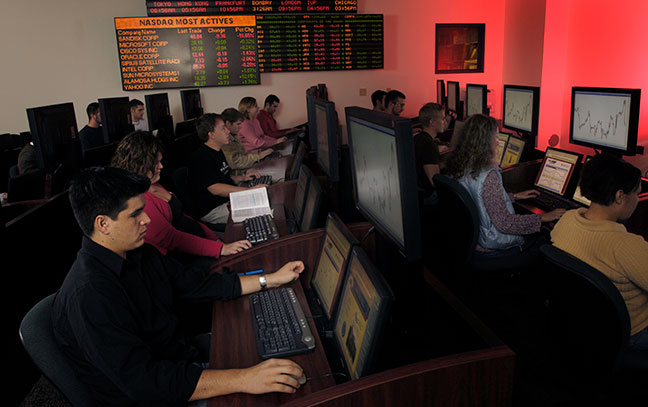 Student Managed Investment Portfolio
The Student Managed Investment Portfolio (SMIP) will give you the opportunity to have real financial impact. You and your classmates will work together to help manage real assets. You'll have oversight and guidance from the Foundation for IUP, and you'll come away with hands-on experience using real money. Putting experience like this on your resume will make you stand out in the job market, because you will have already gained hands-on experience directly in the field of finance.
Credits and Experience
You either can take SMIP as an official 1.5-credit course or as an extracurricular opportunity. No matter which path you choose, you'll be invited to lectures with engaging experts and take on assignments that mimic the real world. You'll come away with an all-around understanding of managing financial assets—one you can take with you right into the professional world.
Minor in Finance
A Finance Minor is a smart way to add a very marketable skill to your resume, and it is especially helpful for Business majors. You'll gain a well-rounded understanding of the financial world, and you'll be able to show an ability to manage money and solve financial problems. 
Full Academic Catalog Listing
The course catalog is the official reference for all our degree and course offerings. Check it out for a full listing of the classes available and requirements for this degree.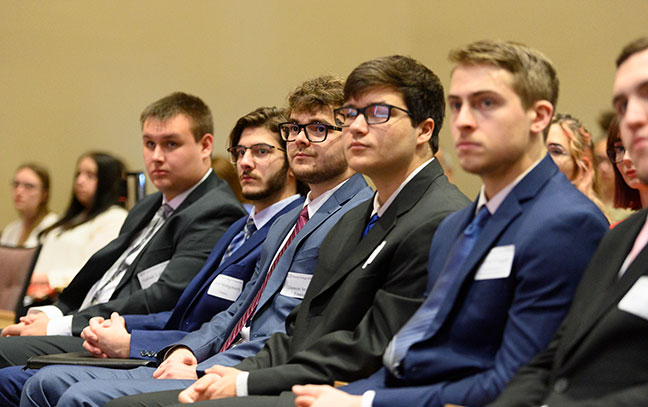 Eberly Business Honors Program
You'll have the opportunity to truly shine in the Eberly Business Honors Program. As a member of the program, you'll follow a specialized curriculum and participate in leadership development trips to Pittsburgh, Washington DC, New York, and international destinations.
You can also study finance as a student in the Cook Honors College at IUP.
Full Academic Catalog Listing
The course catalog is the official reference for all our degree and course offerings. Check it out for a full listing of the classes available and requirements for this degree.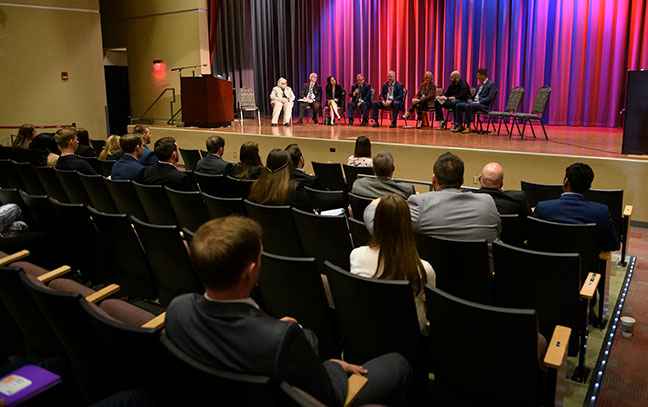 Student Organizations
Student Finance Association
The Student Finance Association represents students like you who are studying finance at the Eberly College of Business. Participating in SFA provides opportunities to network with fellow students, learn more about the field from alumni and other guest speakers, and potentially gain leadership experience.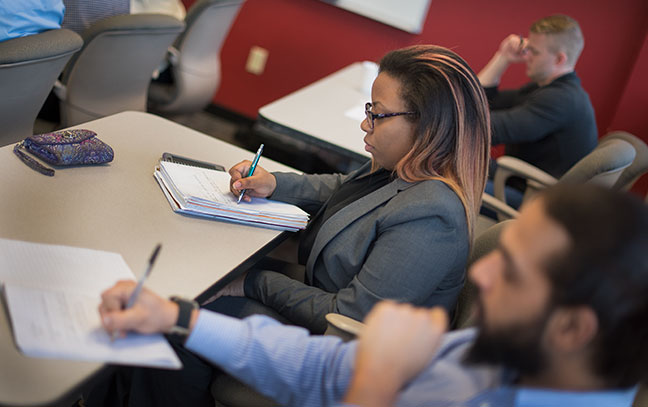 Path to Graduate Degrees, Professional Degrees, and Professional Certifications
With a BS in Finance degree from IUP, you can also pursue many different higher degrees and professional certifications. Some examples include:
JD (a law degree)
MS in Finance
MBA
Professional certifications (CFA, CFP, and more)
Internships
As a finance major, you may choose to take on an exciting internship to gain even more real-world experience. You might intern with local employers here in Indiana, or spend your internship in Pittsburgh or Washington DC. You may work with either the Eberly Corporate Relations and Internships Office or the IUP Career and Professional Development Center for help identifying internship opportunities.
During your internship, you'll also complete readings and research papers under the careful guidance of a faculty supervisor.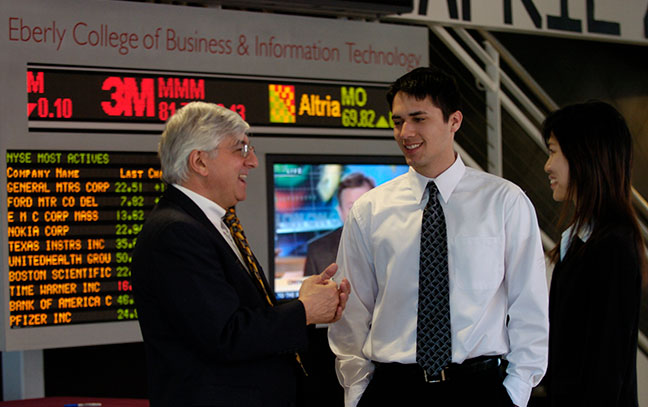 Facilities
At IUP, you'll have access to our state-of-the-art facilities that keep pace with the fast-moving world of finance. 
You can meet your friends and study in the Eberly atrium—where one wall hosts a continuously updated display of stock prices. Stop by the Mackey Family Charitable Trust Financial Trading Room, which features 44 Intel Xeon-based workstations and a data wall to provide up-to-the-minute financial information. You'll also have access to a Bloomberg Terminal, one of the most powerful financial tools available.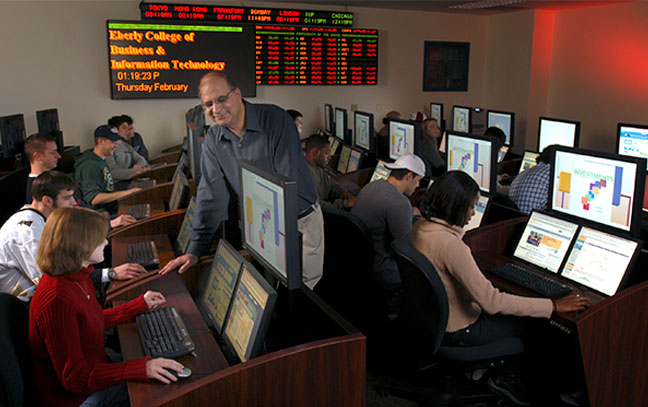 Bloomberg Certification
As an IUP finance major, you'll have access to the Bloomberg computer lab and Bloomberg Software—which is exactly what financial pros and investment firms use around the world. You'll learn to master the software, and you can pursue a Bloomberg Certification to add to your resume.