Division of Academic Affairs Services for Students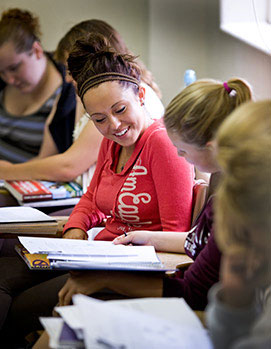 The Division of Academic Affairs assists students with progressing through their academic program(s). The following is a list of links and documents students may find useful throughout their time at IUP.

Academic Programs

Graduate Catalog
General and special departmental degree requirements for IUP's master's and doctoral programs.

Liberal Studies
All students are required to complete between 43 and 51 credits to satisfy the university's core curriculum requirement.

Undergraduate Catalog
A listing of programs, courses, university information, policies, and graduation requirements for undergraduates.

Student Resources

Academic Success Center (ASC@IUP)
ASC@IUP is a hub connecting students with IUP's array of curricular, cocurricular, and other support services that promote student success and well-being. It is a one-stop, one-click resource that responds tot he needs of the university community.

Grade Appeal
Policies, procedures, and forms for students who wish to appeal a grade issued to them on the grounds of either discrimination, capricious evaluation, or error.
Per-CreditTuition Model
This tuition model launched in fall 2016 and pertains only to undergraduate students who domicile in Pennsylvania.

Student Policies

Academic Integrity
Information regarding the policy, procedures, and sanctions associated with Academic Integrity violations.

Academic Policies
A listing of policies related to academic course work, programs, and personal information.

Computing Policies
A listing of polices, guidelines, and procedures for the use of technology at IUP.

Financial Aid Policies
A guide to understanding student rights and responsibilities along with federal guidelines relating to financial aid.

Social Equity Policies
IUP's sexual harassment, affirmative action, and nondiscrimination policies.