The Native American Awareness Council presents many educational events throughout the academic year. Some of the events for 2015-16 are described below.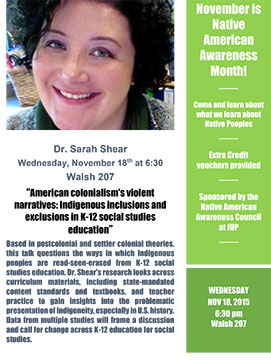 November is Native American Awareness Month and, in celebration of the history and culture of the region's Native Americans, events took place on campus which were free and open to all members of the community.
On Wednesday, November 18, 2015, Dr. Sarah Shear discussed "American Colonialism's Violent Narratives: Indigenous Inclusions and Exclusions in K-12 Social Studies Education." Based in post-colonial and settler colonial theories, this talk questioned the ways in which indigenous peoples are read/seen/erased from K-12 social studies education. Dr. Shear's research looked across curriculum materials, including state-mandated content standards and textbooks, and teacher practice to gain insights into the problematic presentation of native peoples, especially in U.S. history.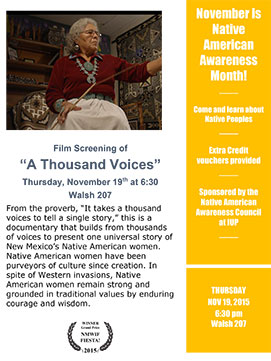 A film screening of A Thousand Voices was shown on Thursday, November 19, 2015. From the proverb "It takes a thousand voices to tell a single story," this documentary builds from thousands of voices to present one universal story of New Mexico's Native American women. The film shows that Native American women have been purveyors of culture since creation and, in spite of Western invasions, they remain strong and grounded in traditional values.
Students visited the Smithsonian's National Museum of the American Indian in Washington, D.C. on April 9, 2016. The NMAI cares for one of the world's most expansive collections of Native American artifacts covering the entire Western Hemisphere.
On May 1, 2016, NAAC sponsored the Allegheny River Dancers in their performance for the Indiana Borough Bicentennial Celebration. The group also held a question-and-answer session and discussed their cultural traditions of their regalia, lacrosse, and original boundaries of the Allegheny territories, which included Indiana.