Annual events to promote academic diversity and raise community awareness of the Hispanic culture include fall and spring social gatherings. These events are open to the entire campus community.
As part of their Hispanic Heritage Month events in October, the Council presented a movie forum featuring the Spanish film Tambien la Iluvia (Even the Rain). This event was held on October 11, 2017, and included a post-film discussion by all student, staff, and faculty members in attendance.
A special recruitment event, Latino Aspiration Day, took place on April 6 and 7, 2018. Latino students from the Philadelphia area were on campus and participated in various activities hosted by the IUP Office of Admissions.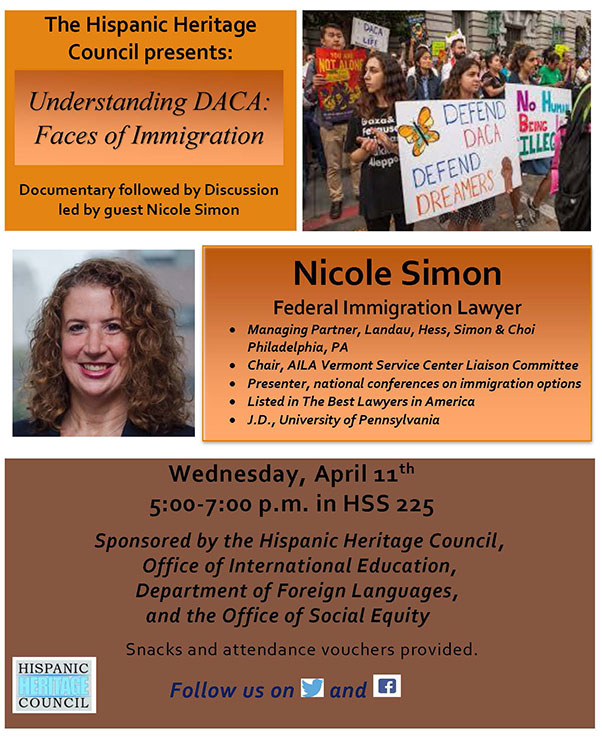 On April 11, 2018, federal immigration lawyer, Nicole Simon, presented a discussion on "Understanding DACA: Faces of Immigration." This event was open to the entire IUP community. Simon is the managing partner in the Philadelphia law firm of Landau, Hess, Simon and Choi. She presents nationally on business and family immigration topics, and lectures on immigration options for foreign national students, as well as university physicians and researchers. This event was co-sponsored by the Office of International Education, the Department of Foreign Languages, and the Office of Social Equity.
For further information on Hispanic Heritage Council programming, please contact Marjorie Zambrano-Paff at Marjorie.Zambrano-Paff@iup.edu.