Annual events to promote academic diversity and raise community awareness of the Hispanic culture include fall and spring social gatherings. These events are open to the entire campus community.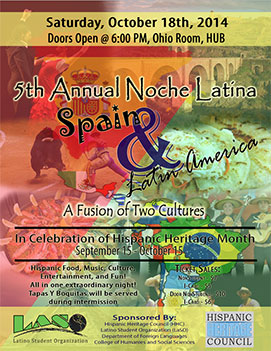 The fifth annual Noche Latina celebration was held on Saturday, October 18, 2014. This year's theme was "Spain and Latin America: A Fusion of Two Cultures." The evening included Hispanic food, music, and entertainment.

Auditions for the entertainment portion of the evening were held in September. All students, faculty, and administrators were welcome and encouraged to audition. The evening celebration also featured professional dancers from Costa Rica.

As part of the Noche Latina celebration weekend, the campus community was also invited to El indigente, presented on October 20 and 21, 2014. This play was performed by actors from Costa Rica, entirely in Spanish.

In addition to the Hispanic Heritage Council, these events were made possible by the Latino Student Organization (LaSO), the Department of Foreign Languages, the College of Humanities and Social Sciences, and the Office of Social Equity.