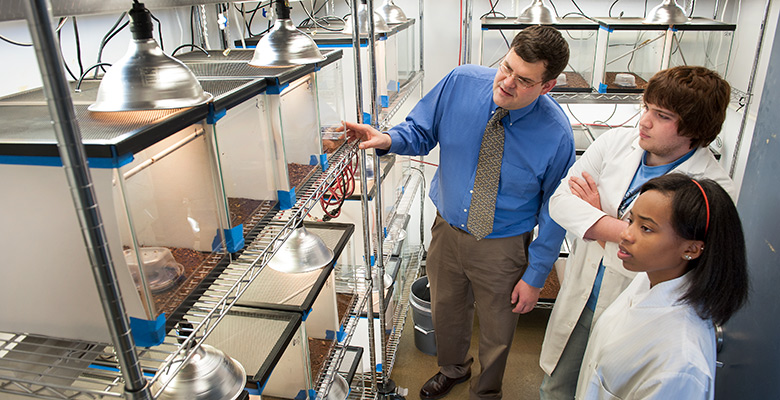 BRINGING FACULTY, STUDENTS, RESEARCH TOGETHER - Professor William Farrell, who has an interest in behavioral endocrinology and behavioral neuroscience, works with student lab assistants, who help with his research on the neural, endocrine, and experiential regulation of social behavior using green anole lizards (Anoliscarolinensis) as a model organism.

Develop your critical thinking and logical decision-making skills
There is tremendous diversity in psychology careers. While psychology is often associated only with the diagnosis and treatment of mental health issues, it's also very much an academic field that is applied across a broad range of daily life and work.
As a psychology major you will have the skills to understand basic statistics and research design that you can use in many different work settings.
You will develop your critical thinking ability and sharpen your skills for making logical versus emotional-based decisions. And you will have the necessary academic training to pursue higher degrees in psychology.
Why psychology?
The study of the human mind and behavior analyzes what we do every time we think, interact with others, and try to make our way through life.
At IUP, you can explore many directions of interest: From child psychology to industrial or organizational psychology, from clinical to experimental, from forensic to physiological-the paths are numerous.
The world needs psychology majors
Psychology is applied to many areas of life. With a BA in Psychology your range of career options is almost limitless-from working in personnel to running a rape crisis center to helping people with death and funerals to seeking a higher degree. 
The IUP Difference
Psychology practicum . Students receive academic credit while acquiring "hands-on" experience in psychology by working within a variety of community agencies, institutions, businesses, and industrial settings located within 500 miles of Indiana.
Psychology faculty . With 25 full-time professors who bring a breadth of scholarly knowledge and practical experience, this is one of the largest departments at IUP. Deeply committed to educating their students, these professors conduct a wide variety of ongoing research and service programs associated with the department.
Spirit of collaboration rather than competition . Both undergraduate and graduate students tell us that there is a strong spirit of collaboration, rather than a sense of competition, among students and among professors. Assistantship dollars are spread around and professors get excited about research being done by their colleagues. Students say they share ideas, encourage each other, and reach out to freshmen.
You can sign out labs to conduct your research . You are encouraged to explore ideas that interest you, and we have the facilities to help you do it. Whether you assist a professor with his or her research or take on most of the project yourself in an independent study mentored by a supervisor, you'll find our facilities are excellent. With your faculty supervisor's approval, you can sign out lab space to conduct your research.