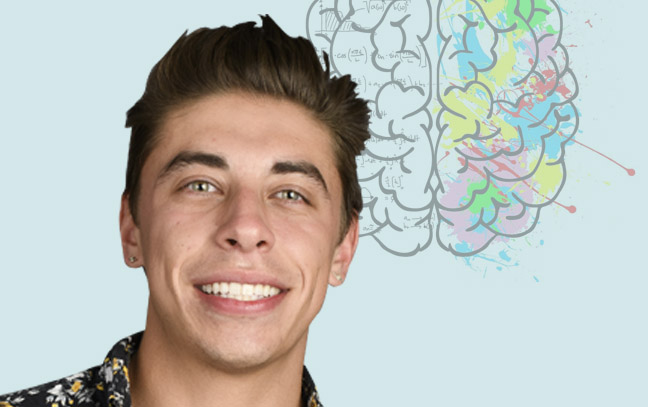 Study the Science of Human Behavior and Mental Processes
You're curious about why people behave the way they do. You want to know more about the thought processes and range of personalities that impact our responses to life's opportunities and challenges. In IUP's Psychology BA program, you'll study the science of psychology and philosophies of human emotion and behavior to understand yourself—and how you can best understand, interact with, advise, and support others.
Why Major in Psychology?
Emphasizing a broad scholarly foundation, the BA in Psychology program will give you academic and practical insights into psychological inquiry. You will also gain an understanding of current concepts in the science of behavior and mental processes. There are many interesting directions your degree may take you, including:
Conducting further research into the science of human behavior.
Uncovering the intellectual similarities between human and nonhuman animals.
Working toward a counseling career.
A psychology degree can give you a world of opportunity. This degree serves as an effective springboard into a master's or doctoral program in psychology, as well as many graduate programs in related fields.
Once you grasp what makes people tick, you'll be better equipped to understand the complexities of human behavior in any professional or social setting.
What You'll Learn
Psychology is a science. Everything we know about human behavior and mental processes comes from scientific research. As a psychology student at IUP, you'll explore material from various study topics. You'll learn how to design, conduct, and evaluate research for meaningful analysis.
Choose the Specialization That Supports Your Interests
You'll choose between two specializations so you can focus on the area of study that interests you the most: Applied Psychology or Psychological Science.
Coursework in applied psychology centers on applying the study of psychology to counseling and related fields. Consider this specialization if your goal is to try to help people resolve problems and lead more fulfilling lives. A required internship also provides real-world experience before you graduate.
If your goal is to deepen your overall knowledge about one or more areas in psychology, choose psychological science. In this specialization, you'll study advanced-topics courses that focus in-depth on critical issues in the field.
Imagine Your Future
Psychology is ranked among the top six most popular majors in the US. This is because a psychology degree offers you many opportunities both within and outside of the field of psychology. You'll learn how to better understand human behavior in the workplace and in everyday life.
When you study psychology, you gain important transferable skills that employers are looking for:
Communication and interpersonal skills
Critical/analytical thinking
Goal setting
Leadership and teamwork
Time management
Writing and presentation skills
Whether you choose to continue your education with a master's or doctoral degree in psychology or related area of study, or go on to work in another related field, a BA in Psychology from IUP will help you succeed.
 Training in psychology prepares you to work in a diverse set of related fields, including the below:
Business
Criminal justice
Education
Marketing
Medicine
Social work
Career Opportunities
IUP's BA in Psychology alumni work in career fields that include:
Education settings
Human resources
Mental health counseling
Research
Social work
Classes and Requirements
Our bachelor's in psychology curriculum emphasizes a scaffolding of learning experiences. Classes build on earlier classes to create a foundation for later coursework.
You'll start with a set of introductory and core courses to gain a basic understanding of the scope of study in the field of psychology. A two-semester sequence of research design-and-analysis courses is required. You'll take a senior seminar course where you'll pull together what you've learned throughout your major.
If you excel in the BA in Psychology program, you'll have an opportunity to complete the Psychology Honors Program during your junior and senior years.
Full Academic Catalog Listing
The course catalog is the official reference for all our degree and course offerings. Check it out for a full listing of the classes available and requirements for this degree.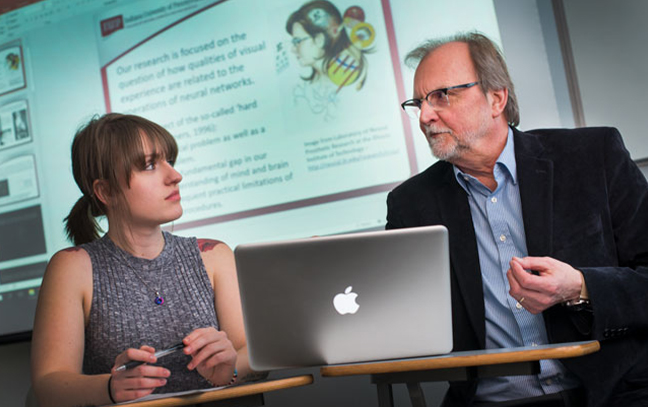 Psychology Honors Program Enriches Your Experience
Go deeper in your studies in IUP's Psychology Honors Program. To qualify, you must have:
At least a 3.2 quality point average (QPA)
Completed or enrolled in the first Psychological Research class (PSYC 200)
Ideally, you'll apply to the honors program during your sophomore year—applications are open only once a year. Once accepted, you'll:
Complete 12 honors-level course credits as psychology electives during your junior and senior years.
Take two seminar courses offered only to students in the Psychology Honors Program.
Work closely with a faculty member to complete an independent-study research project and paper.
The Psychology Honors Program will help you prepare even more effectively for graduate school by sharpening your research, writing, and oral presentation skills. You'll be recognized for your commitment to your studies at the Psychology Department graduation, and your transcript will reflect your honors class designation.
Full Academic Catalog Listing
The course catalog is the official reference for all our degree and course offerings. Check it out for a full listing of the classes available and requirements for this degree.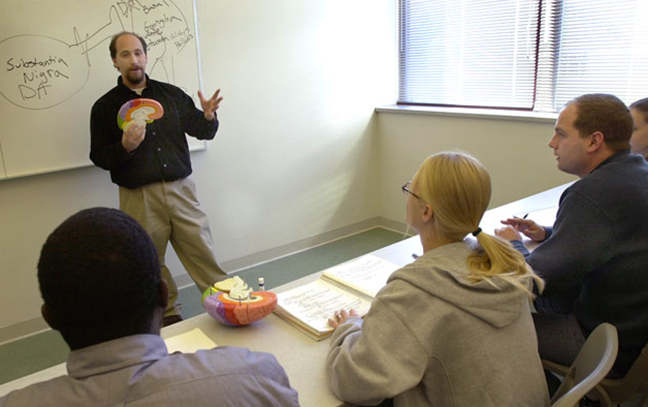 Add a Psychology Minor
Psychology is one of the most popular minors at IUP. Adding a minor shows future employers the emphasis you've put on education and your future. Even if you're majoring in a different discipline, consider a psychology minor to help you better understand human behavior in the workplace and everyday life.
The minor offers flexible coursework so you can choose courses that match your interests. If your major requires psychology courses, you can apply up to six credits from your major to the psychology minor.
Full Academic Catalog Listing
The course catalog is the official reference for all our degree and course offerings. Check it out for a full listing of the classes available and requirements for this minor.
Get Involved in the Psi Chi Psychology Club
Joining departmental clubs and student organizations at IUP is a great way to add to your college experience and boost your résumé. Participation in volunteer activities and leadership opportunities looks great to potential employers.
The Psi Chi Psychology Club lets you get involved with the Psychology Department, make new friends, and feel at home as a member of our community.
While Psi Chi is an international honors society, our chapter also functions as a club and everyone is welcome. Meeting topics often include:
Professional development
Panel discussions about graduate school and career opportunities
Service-learning activities
Contact Psi Chi faculty advisor Stephanie Davis for more information at stephanie.davis@iup.edu. 
Get Hands-On Skill Building with an Internship or Practicum in Psychology
Add real-world value to your coursework by adding an internship or research practicum to your schedule. The IUP Psychology Department has relationships with businesses and agencies throughout the Indiana area and elsewhere. Your participation will be welcome and rewarding.
A practicum is required for the applied psychology specialization. A practicum is optional for the psychological science specialization and the Psychology Honors Program. If you're interested in going on to graduate school, participation in a practicum is highly encouraged.
Get Involved in Student Research
Research is essential in psychology. You can get involved in a research project while working on your major. You can do this through:
The Psychology Honors Program
A research practicum
Volunteering
Feel free to reach out to our Psychology Department faculty members to see if they have openings for students in their research projects.