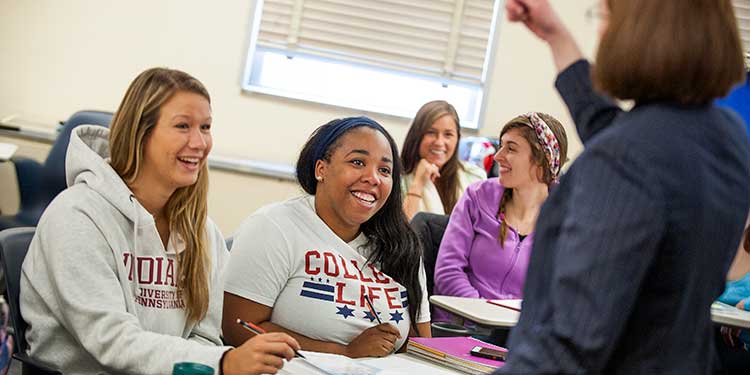 Important Details as You Prepare for College
There are some helpful things to know about your academic status as you begin your college journey.
Good academic standing is a cumulative GPA of 2.0 or higher.
If your cumulative GPA is below 1.99, you are placed on academic probation.
Academic honors is a cumulative GPA of 3.25 or higher.
As an IUP student, you are responsible for the following to ensure your academic success:

Referring to your course syllabus to understand grading and attendance policy for each class
Homework assignments
Keeping track of grades
Keeping a calendar
Communicating with instructors
Working with your academic advisor
Reading policies in the Undergraduate Catalog
Academic Resources
The University: Structure
Policies governing IUP are passed by the Council of Trustees. The university itself is run by the president with the provost (vice president for Academic Affairs) and the vice presidents for Administration and Finance, Enrollment Management and Communications, Student Affairs, and University Advancement.
The academic component of the university is comprised of the Eberly College of Business, the College of Education and Communications, the College of Health and Human Services, the College of Arts and Humanities, and the Kopchick College of Natural Sciences and Mathematics. Each college houses academic departments which, in turn, offer a major or majors. Each college is run by the dean and associate dean or assistant dean. Departments are run by chairpersons.
The University: Requirements
A minimum of 120 credits are required to graduate. A credit is generally comparable to one hour of classroom time. Every student will take a minimum of 43 credits in Liberal Studies courses. Additionally, each student will take approximately 30 to 80 college and/or major credits toward graduation. Students must maintain at least a 2.0 (or C) average in order to remain in good standing and to graduate. (Some departments may require a higher grade point average.)
Note: You may view the Undergraduate Catalog online. Be sure to read the "Academics Policies and Requirements for Graduation" sections. Not doing so puts you at risk of not graduating. Review the section about your major, too. You are considered responsible for seeking out and knowing this information. Retain the Undergraduate Catalog throughout your attendance at IUP. Be sure to check for updates to policies annually.