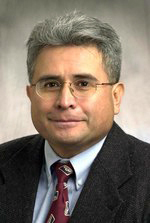 Dr. Victor Garcia is a Distinguished University Professor at IUP and the director of the Mid-Atlantic Research and Training Institute for Community and Behavioral Health (MARTI).
Since his arrival at IUP, Dr. Garcia has continually initiated research projects on transnational Mexican populations in the United States. To date, Dr. Garcia has sought and received close to $2 million to carry out research among farmworkers and transnational populations in Pennsylvania, Michigan, California, Texas, and Mexico. Federal agencies such as the Census Bureau, National Institutes of Health (NIH), and the U.S. Department of Education have contributed to these funds.
Dr. Garcia's grant activity also includes serving as a grant reviewer for the NSF Graduate Research Fellowship Program, the Ford Foundation Diversity Dissertation and Postdoctoral Fellowship Program, and two NIH study sections: Community Influences on Health Behavior and Health Disabilities and Equity Promotion. Dr. Garcia is also a member of the National Hispanic Science Network on Drug Abuse.

Dr. Garcia's ethnographic research on transnational Mexican farmworkers in Pennsylvania remains a critical source of information on this population and has brought him recognition as a leading researcher. Since joining MARTI in 1997, Dr. Garcia's research has focused on issues of alcohol and drug addictions. His findings on transnational farmworkers and substance abuse have been published in several major peer-reviewed journals, including: Journal of Rural Health, Signs: Journals of Women in Culture and Society, Human Organization, and Open Anthropology. Currently, he plans to move forward with a new line of related researchexamining the use of religious-based treatments, such as juramentos and AA modalities (migrant-specific AA traditional groups, fourth and fifth step groups, and 24-hour groups, or anexos), among transnational migrants.

Dr. Garcia's work also includes Latino recruitment and retention at the university. His publications on this important subject include the book Barriers Faced by Hispanic Students Transferring from Community Colleges to University: An Ethnographic Approach and, most recently, the article "Expandiendo la tradicin de ngel Palerm: estaciones de campo, etnografa, reclutamiento y retencin de estudiantes latinos" (Continuing the ngel Palerm Tradition: Ethnographic Field Schools, Ethnography, and Latino Student Recruitment and Retention).
Perhaps the most challenging, yet rewarding recruitment and retention activity for Dr. Garcia, has been developing and implementing Caring About Latino Student Achievement (CALSA). This retention program was initiated three years ago and is the first of its kind in the Pennsylvania State System of Higher Education. Designed to assist Latino students in adjusting to university life and to provide them with assistance with their academic work, the program has experienced much support and success.

As a professor in anthropology, Dr. Garcia teaches courses on Latin America, Latinos and Latin American Diasporas, and Ethnographic Field Methods. He also has taught ethnographic research at both Mountain View College (Dallas County Community College District) and the University of Texas at Dallas. In addition, Dr. Garcia has taught ethnographic field methods at the Tech of Monterrey in Irapuato, Mexico, and conducted an ethnographic field school in Guanajuato, Mexico.