Eileen Mountjoy
In 1907, another new mine opened in the county, five miles south of Indiana, on the extended line of the R&P Railway. At the time of the plant's founding, Adrian Iselin Jr., a Swiss investment banker of New York City, was the Rochester and Pittsburgh Coal and Iron Company's chief investor. Therefore, the new mine and town were christened Lucerne after the lovely Swiss city of that name. Within 15 years of its opening, Lucerne, with three mine openings, steel tipple, and central power house was known as one of the largest and most complete coal mining plants in the United States.
At first, the town of Lucerne followed the pattern set by R&P's earlier company towns in Jefferson County. The houses at Lucerne, like those built at Ernest in 1903, were constructed by the Hyde-Murphy Company of Ridgeway, Pennsylvania. At its peak in the mid-1920s, Lucerne contained 50 single houses, 195 double houses, a doctor's office, company store, and a large steel grandstand to accommodate the crowds who came to see the Lucerne ball team in action. In addition to the miners' houses, there was also a group of "officials' houses" called "The Shaft," located just off the present highway behind 84 Lumber.
Pete Yanity, a resident of Lucerne since 1914, came to the town from Ernest. "We brought our cow with us, tied behind the wagon," Yanity recalls. "I'm afraid my brothers drove the team too fast, though, because we had to leave the cow with a farmer for a few days until she recovered from the trip." At first, the Yanity family rented company house #86, "up on the hill," but later moved to "Yankeetown," the area adjacent to Homer City, where houses were privately owned. At present, Yanity and his wife live in house #5, "where the bosses' houses were."
"This was always a nice, friendly town," Pete says. "on weekends, everyone in the neighborhood would buy a keg, and we'd go from house to house, tapping the kegs as we went. We had a lot of fun. We had a movie theater, and it cost 15 cents to get in. Every Saturday night everybody went to see the latest installment of the serial. There were always a lot of Italians in Lucerne, and they played 'bocce,'a game like bowling, and 'morra,' which means 'throwing fingers.' In a game of 'morra,' two men, at a signal, shoot a hand forward, extending one to five fingers. Each player simultaneously calls out a guess at the total number of fingers extended by both. The losers at bocce and morra had to buy rounds of beer for the winners."
Baseball was popular at Lucerne as it was in all Indiana County mining towns during the 1920s and 1930s. "I was in the Local 2428 band," says Pete Yanity, "and we played at union meetings and also at baseball games. Lucerne and Ernest were always rivals. Once in the early 'thirties, we played a game here against Adrian that went 18 innings. George Matty was the pitcher, and we had the Zentner boys on our side, so naturally we won, three to two. There were between two and three thousand people here at Lucerne for the game that day!"
In April, 1908, the tracks of the Indiana Street Railway reached Homer City, linking the residents of Lucerne with surrounding communities. From Indiana, the line entered Homer City through Yankeetown; it then paralleled the Indiana Branch of the Pennsylvania Railroad as far as Rugh. Lucerne travelers who used the streetcar climbed aboard at "Brickley Station," near the Pennsylvania Railroad crossing. In the fall of that same year the trolley line was extended to Graceton, and in 1909, to Josephine and Blairsville.
Arrival of the trolley greatly lessened the town's original sense of isolation. "We could leave town to shop if we wanted to," recalls one retired miner's wife. "It cost ten cents to ride to Indiana and 20 cents to ride to Blairsville. And, although the company store liked us to shop at the company store, there were at least a dozen little stores in Yankeetown, and we could walk down there, or the clerks would come up to Lucerne to take orders.
Lucerne youngsters, like coal town families in other areas, attended a company-built grade school. Yankeetown children attended classes at the "Risinger" School in Center Township. A Roman Catholic Church, St. Louis', was built in 1914; the structure, now modernized, is still in active use. In later years, a Protestant denomination held services in a second-story room of the mine office. Despite the size of the community, however, the cemetery at St. Louis' has remained small. "In the old days, a lot of people didn't believe in burying here," one resident explains, "because the mines are right underneath, and people were afraid the bodies would fall through the workings."
Lucerne, due to its rapid development, was not without some of the violence common to mining towns before World War One. By 1915, over 1,500 men worked at the Lucerne mines. Most of the miners lived at Lucerne, while others commuted by streetcar from surrounding communities. Inevitably, some friction occurred as widely divergent groups and individuals, many only newly immigrated to America, came into contact in crowded and unfamiliar surrounding.
"Once," a retired miner remembers, "the company had a night watchman who was a real bully. He took advantage of everyone he could. But one day he went too far. As usual, the watchman tried to leave the Lucerne barbershop without paying for his haircut. This time, the barber had all he could stand. He pulled out a gun and killed the guard with a single shot." Old newspaper files on Lucerne also show a case in which two men drew firearms over a flock of chickens, and a sensational 1913 slaying in which the murderer, eventually captured in a New York steamship office, successfully eluded police for days by hiding in one of the Lucerne mines.
In spite of these isolated incidents, Lucerne like all of Indiana County's mining towns, is best remembered for a closeness and sense of cooperation among its residents. This was particularly evident during the years of World War One, when coal town families, many as yet without citizenship papers, embraced the war effort with matchless enthusiasm. As the conflict in Europe intensified, the spirit shown by Lucerne miners was often noted in the Indiana Evening Gazette. "The men who are employed at the mines of Lucerne have made patriotism a real issue," stated one edition, "and those of their fellow workmen who refused to contribute to worthy causes such as the Third Liberty Loan and the Red Cross are barred from work until Americanism becomes dominant in their natures." In one example of patriotic fervor, a man who declined to give a donation towards a new American flag was surrounded by a large group of his brother miners and was made to salute the Stars and Stripes each morning and evening under threat of "a one-way trip to a nearby pond."
Early in 1918, the mining families at Lucerne began a Liberty Bond drive, and by April $30,000 worth of bonds had been subscribed. By the end of the month, Lucerne was on a "non-stop run," and a slogan, "Every Miner a Bond-Holder," was adopted. Through the joint efforts of R&P officials and union leaders, Lucerne miners, by the middle of May, had subscribed to an amazing $70,000 worth of bonds. "The honor flag," stated the Gazette, "goes to the tipple men, of which there are 120. After totaling the figures, 1,500 persons, mainly residents of Lucerne, forgetting political and religious differences, paraded through that town and Homer City accompanied by a 35-piece band. Several miners carried a banner proclaiming, "We Are Patriotic." Altogether, it was a noble aggregation and possessed of much significance."
Late in May, the excitement continued with a parade and rally for the Red Cross, and an evening edition of the Gazette carried a story about the "stirring" events:
Yesterday morning the people of Lucerne participated in a fine parade through the streets of Homer City and vicinity, and thence to Yankeetown. The parade was led by a mounted Grand Marshall, followed by Sheriff H. A. Boggs and three state constables who were speakers of the day. Music was provided by Professor James Colonna's band. A huge American flag was carried by sixteen young ladies from Lucerne, dressed in Red Cross costumes.

The leaders among the young ladies were crowned with Liberty crowns and draped in flags of the allied nations. Then came a group of children in white, and a long line of sturdy miners. The parade halted in the square in front of the Lucerne company store. Short appeals were given for the support of the Red Cross, and Peter Terraro translated into Italian. The meeting closed with rousing cheers for Old Glory, the Red Cross, and the people of Lucerne. The flag girls, assisted by the miners with caps and hats, collected $217.40 more for the Red Cross.
Subsequent patriotic assemblies at Lucerne, held throughout the years of World War 1, included a rendition of "Keep the Home Fires Burning," by visiting New Jersey bagpiper Major McIntosh, speeches in Polish, Hungarian, and Slavic, a flag raising by the "Tipple Department," and the "Machine Department," clean coal campaigns, and memorial services for those killed in the fighting "over there." In the waning months of the war. Lucerne was awarded a 100 percent Liberty Loan flag which represented a commitment of nearly $73,000.
Due to World War I, U. S. coal requirements rose drastically, and the miners of Lucerne worked in three continuous shifts to meet the challenge. By 1917, there were three openings at the site with a total daily capacity of 6,000 tons, or 150 railroad cars, of coal. The first opening, a drift, extended north of the tipple. Another opening, not far from the first, extended south, while the third opening was a shaft one-half mile west of the tipple. The shaft extended an estimated 180 feet straight down until it reached the coal seam. After being underground, the two-ton wooden cars were hauled by electric motors to the main headings, where as many as 50 cars were coupled together for haulage to the tipple. Coal from the shaft opening was raised by a steam hoist, which easily handled the loaded the cars, and was designed so that while coal was being brought to the surface, two empties were lowered into the mine at the same time. With this arrangement it was possible to handle six cars, or 12 tons of coal, per minute.
At the tipple, nine cars were dumped onto a feeder, delivered into shaking screens, and sized for distribution to one of four picking belts, "Boney pickers" removed slate and sulfur from a steady stream of coal destined for markets as far away as upper New York State and Canada.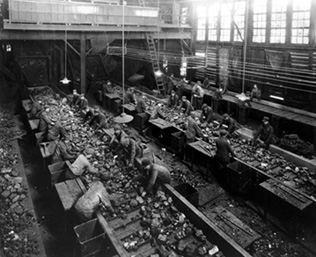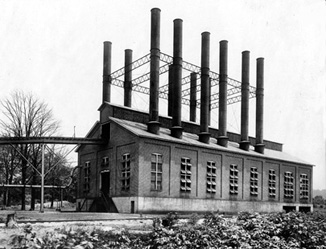 Over the years, countless men worked at Lucerne, on the tipple, in the yards and shops, and underground. Many are remembered with affection or respect by co-workers who still live in the area. There is but one name among them all, however, which is most universally recalled: "Motorcycle John." This individual, whose last name is uncertain, worked in and around the Lucerne mines during 1930's. "Home" for John was an unused transformer station near Cherry Run. The cement block structure, only about 10' by 12' in diameter, was somehow converted into a satisfactory domicile despite the dirt floor and obvious shortcomings.
Enjoying his wine a little too well, the sometimes coal miner grew a few vegetables behind his residence which, after being absent from a work a few days, he carried a chip basket as a friendly bribe for the mine foreman. As only the most hard-hearted boss could resist John's pleas to be reinstated, the repentant bachelor, known as a hard worker when he was sober, was usually given a lamp and allowed underground.
John's most sensational exploit gave him his nickname of "Motorcycle." Unable, due to his less that steady work habits, to afford a car, John usually commuted to the mines on a small motorcycle. One day, on his way to the mine office to get his paycheck, John picked up a hitchhiker who gingerly perched on the back of vehicle and grasped John about the waist. As the pair approached the crossing at Homer City, John spotted a puffing locomotive coming fast. With a burst of speed, the motorcycle cleared the crossing just inches in front of the train. Breathing a sigh of relief, John, still facing forward, shouted to his friend, "That was a close one, hey buddy?" Upon hearing no reply, John turned around, just in time to see horrified bystanders standing around the body of his former passenger.
"Mitch" Sasala, who lives in Tearing Run, has memories of "Motorcycle John's" talents as a chef: "One evening, a buddy of mine and I stopped at John's shack to borrow some carbide so we could go night fishing," Mitch laughs. "And John insisted that we sit down at the table with him, because his dinner was almost ready. Well, my friend and I said we just couldn't stay, but John went back into his little cooking area and brought out his supper on a big platter. It was a roasted cow's head, with horns and staring eyes!" Fighting nausea, the two fishermen escaped from the scene, while John called after them, "Don't worry about taking my dinner from me; it's Okay! I cooked two of them!" Eventually, "Motorcycle John" disappeared from Indiana County, but he lives on in the memories of the men who worked at Lucerne before World War Two.
Miners who lived and worked like "Motorcycle John" were rare, however, and coal production remained of the utmost importance at Lucerne. But, among mining engineers across the country, it was the plant's central power house that attracted attention.
In 1899, electricity was introduced into the mines at Yatesboro operated by the Cownashannock Coal and Coke Company, one of the allied companies of the R&P C&I. Compressed air was still used at that time for pumping and coal cutting, but haulage at all R&P mines was rapidly converted to electric. In 1900, electric haulage systems were installed at Walston and Florence, two of R&P's Jefferson County mines. Adrian, Trout Run, and Eleanora, also in Jefferson County, and Helvetia, in Clearfield County, soon followed. Although these first electrical plants were small and relatively inefficient, they were considered modern for that era, and electric haulage soon proved vastly superior to animal haulage.
In 1903, a large power plant was constructed at Ernest, and the following year, at Iselin. But in a few short years, as mines developed and working places were farther from the power source, the losses in transmission became enormous. As mining in Indiana County expanded, R&P C&I officials decided to construct a central power station. The plant was built at Lucerne in 1910 and put into operation the next year. At the same time, several Goodman electric cutting machines were bought for Lucerne on an experimental basis. In time, all R&P mines were electrified, and both compressed air cutting machines and the lowly mule became part of the industry's past.
The original power plant at Lucerne consisted of two 25-cycle turbo-generator twelve 500 HP tube boilers, and a 2,500 cubic foot steam driven compressor. Gradually, individual power plants at the individual mines were discontinued, and by 1920 the Lucerne power house furnished electrical power to all R&P mines in Indiana County as well as to the Indiana Street Railway system near Lucerne. In 1922, improvements to the plant made it possible for the Ernest transmission line to be extended to Yatesboro in Armstrong County, and the individual power house there was also discontinued. In Clearfield County, a new central power house was built at Helvetia and transmission lines extended to the R&P mines in Jefferson County.
Blair Cummins of Indiana was with the Lucerne power plant almost from the beginning. When he began his career as a lineman in 1917, Blair rode the streetcar to work every day. Eventually, he spent a total of 40 years with the R&P before his retirement in 1957. As foreman of the crews who laid all the transmission lines from the central plant at Lucerne to the mines, Blair and his men often worked two months at a time without a day off. "We had a starting time but never a quitting time," he says.
As plans for replacing individual power stations with a central power plant were put into action, Cummins and his crew started out from Lucerne with teams of horses. Blair remembers those years "like it was yesterday." First, the lines were staked out by engineers. Then we went out to set the poles. When we laid the line from Ernest to Yatesboro, I had three teams of horses and thirty-two men. We cut the poles as we went; there was a lot of chestnut in those days. We paid the farmers for the trees, cut them in the woods, and skinned the bark off. They didn't last as long as we thought they would, though, and had to be replaced with cedar poles brought down from Oregon on the train.
"I always got along well with the farmers and seldom had any trouble. But once in awhile one of them would meet us at the edge of his property with a shotgun. Then we'd have to offer him a little more money," Cummins laughs. "The horses pulled the poles out of the woods for us. We hired the teams from farmers along the route; farmers were always ready to rent out a couple of horses, as we paid $3.00 an hour. That was even more than my men made," recalls Cummins.
"Once the poles were ready, we had to dig a posthole, by hand, six feet deep. We had one fellow, Pete Airgood, who was called 'Dynamite Pete,' because if there was solid rock where we wanted to put a pole, Pete blasted it out for us. Those old grainy chestnut poles were really heavy and it took a lot of men to raise one. We used pike poles to put them up - those were long poles with spikes on the ends of them - and a 'dead man', made like a cross, was used to hold up the pole until it was set. Usually there was a distance of 150 feet to 200 feet between poles, so we could get rested up a bit." Once the poles were in place, the crew also had to string the electric wires. "We just climbed up those poles like lumberjacks," Blair recalls, "with a safety belt and spiked shoes."
It took Cummins' crew six months to complete the line from Lucerne to Ernest. "Often, we were out on a line two or three weeks without ever getting home. We had a sleeping tent and a cook tent which was moved about a mile ahead of the job. Then we'd work a mile ahead of the tents and move them again with horses and wagons. They really fed us well, too. Joe Stadtmiller, I recall, cooked on the Yatesboro line, and Asbury Fleming cooked on the Iselin line."
Cummins also remembers some of Asbury's cooking: "A few of the boys made the mistake of asking Asbury if he could make vegetable soup, 'Sure:' says Asbury, and he got busy and made the biggest kettle of vegetable soup you ever saw. There were gallons of it. For three days he fed it to us, every chance he could; we really got tired of it. Finally, I threw an old rag into the soup and pushed it down to the bottom. The next time old Asbury came around with the soup, the rag came up in the dipper!
"I always had the best gang of men out on the line," Cummins says with pride. "They really knew how to work. Most were family men, and it was difficult for them being away so much, but there was no transportation in those days. Sometimes you never saw a man so mad - but that ended the times they played cards in the sleeping tent at night for a little recreation, but ordinarily they were too tired. And there was no drinking, either. Booze and electricity just don't mix. And we always had to work on Sundays. That was our big day because on Sundays the mines were shut down and the power turned off.
"We had to go out in all kinds of weather. Once they called me out in the middle of the night to go to Yatesboro. It was 23 below and with a stiff wind, and all I had was an unheated truck. Even though we dressed warmly, some of the men got frostbitten ears and noses. But we walked up the hill, repaired the line, and went home. You didn't quit work in those days because you got a little scratch. The only thing that ever stopped us was the signing of the Armistice! We were building the line to Cherry Run Dam when we heard the whistle blow. When we found out what was going on, we packed up our tools and went to Indiana to celebrate."
Once the ninety miles of lines were up, they had to be maintained. "We had a crew of linewalkers to check the lines," Cummins explains. One man I particularly remember was A.J. Baum. Every day, Baum walked those lines, miles and miles. Finally he dropped dead at work, walking the lines. "Most of our trouble came during hunting season, when some kid would get mad because he hadn't killed anything, and so he'd shoot off our insulators. Usually, we turned off the power when we did repairs, but if it was under 440 volts, we'd work it hot!"
"After the central power plant idea was underway, I had crews going in different directions, to Fulton Run, McIntyre, and Coal Run. The plant generated at 6,600 volts, but when the mines at Jacksonville were added on, all the lines had to be overhauled to carry 23,000 volts. Once we had completed the line to the mines, power had to be extended to the air shafts, to the fans, and to the hoist houses. Once in awhile, I had to go underground to repair pumps. And sometimes I had to go to the 'ole field,' to Adrian, Eleanora, or Trout Run. Then I'd stay at the hotel in Punxsy for a week."
Cummins' most unusual wiring assignment occurred in 1918 during the Spanish influenza outbreak. "They set up a hospital tent between McIntyre and Coal Run, and I was called out to wire the facilities for electricity. It was the most horrible thing I ever saw. They were carrying them in the front of the tent sick, and out of the back of the tent dead. I was afraid of catching it and I asked Doc Bowden what I could do. 'Drink lots of whiskey,' he said, and I did. I felt awful sick, but was only down two days."
In the 1940's, Blair Cummins was still going strong. "The R&P opened a strip mine in Jacksonville, and they had a big Marion shovel with a fifteen cubic yard bucket. It was electric and needed about a mile of cable, so we had to keep following the shovel with a pole line. And when the Lucerne coke ovens were built in 1952, we had to wire them too, because they were run by electricity."
Blair Cummins looks back with satisfaction on his 40-year association with the Lucerne power plant. "I never missed a pay," he says. "And I had wonderful men to work for: John Couser, Guy Kanable, Russ Guard, George Smith, Ralph Hunter, and Jim Wiley." Cummins' son Dick, undaunted by his father's experiences with frostbite and long hours, took over Blair's job when he retired, and stayed at the plant until the shutdown, when he accepted a position with the Indiana school district as superintendent of maintenance.
While Blair Cummins was responsible for all outside electrical lines from the Lucerne power house, John Cipollini was one of the men who supervised the operation of the plant itself. John, who was "born and raised in Homer City," still lives there. His father, who died in 1936, was a stonemason for the R&P C&I. "He built the foundations of the supply houses, retaining walls, and mine entries," says John. "He also helped build the coke ovens at Coral, Graceton, and Ernest, and then came to Lucerne as a repairman." Cipollini's father also helped construct the original power plant at Lucerne.
John Cipollini came to the power station in 1933 as mechanic and eventually became plant superintendent. John explains how the plant operated: "Basically, it was a matter of converting one form of energy to another. Coal, stored in 500-ton capacity bunkers on top of the plant, was burned in the firebox of the boilers to create heat which heated the water in the boiler walls until it became steam. The steam drove a turbo-generator to make electricity. The steam then went from the turbine into a barometric condenser that turned the steam back to water. This water was piped to the spray pond at Yellow Creek, aerated, and used again as cooling water. The water to make the steam came from Cherry Run Dam via a buried pipe line. Instead of being used directly, this water was heated by steam to an elevated temperature so that it didn't take as much heat to turn into steam. Later on, surface condensers were installed in the basement floor of the power plant, where steam was condensed and reused in the boilers.
"Power generated at the plant was 25-cycle, which meant that you could detect a slight flicker in the lights, but the people at Lucerne who used the power weren't conscious of it after using it a short time." Electricity from the plant was also, on one or two occasions, used for more than illumination. During the early forties, as company town residents were charged for coal but not for electricity, isolated cases were reported of inventive individuals who devised a means of heating their homes by wiring up a set of bed springs to an upstairs electrical outlet. If well insulated, the red-hot metal springs provided an adequate, though extremely dangerous, source of warmth in the winter.
With the passage of years, the Lucerne power plant underwent several changes to keep pace with advances in technology. "When it was first built," says John Cipollini, "the plant had twelve stacks, with a stoker-fired boiler under each stack. The original plant had only two turbo-generators, but when it became a central power system in the twenties, two more were added to handle the increase load. "In 1937 the plant was modernized by replacing a number of the old boilers with two large ones, building the first tall stack, and placing an additional turbogenerator in operation. Ten years later, two more turbo-generators were installed, and all switchgear replaced. At the same time, a second tall stack was put up to replace the original twelve smaller ones.
"During the 1940s, Ernest, Lucerne, Tide, McIntyre, and NuMine in Armstrong County were all in operation, so we had to keep everything in good working order. Of course, the whole plant was always in first-class condition, and although it was designed to burn non-salable fuel, there was very little smoke because the boilers were so efficient. The Lucerne power plant, much like our modern power stations, burned pulverized fuel. The whole operation really was a marvel for its day," Cipollini concludes.
While the power plant hummed, the R&P also made two other additions to the Lucerne complex. In 1947, plans were drawn up for a new cleaning plant, which went into operation the next year. The new plant had a capacity of 7,500 tons of raw coal per day. After cleaning and drying, the coal was loaded into railroad cars for shipment over both the B&O and Pennsylvania Railroads.
In 1952, a battery of 264 beehive coke ovens were built at Lucerne; Indiana County residents who traveled along Route 119 at night can recall seeing the ovens glowing red against the horizon. The coke made at Lucerne was of a superior grade, and in great demand for the blast furnace reduction of ore to pig iron. The ovens were sold in 1957 to Shenango, Incorporated, who operated the industry until October, 1972.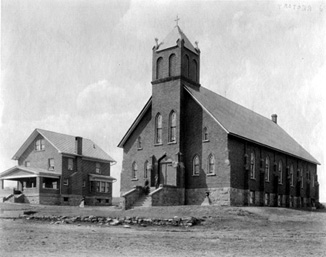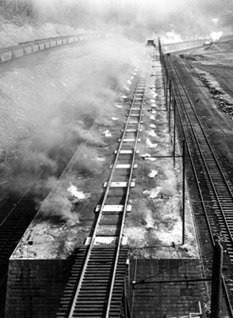 The Lucerne power plant, a wonder of electrical engineering for over fifty years, discontinued operating in 1964, as it was more economically feasible for R&P to purchase power from the Pennsylvania Electric Company than to rebuild and modernize the old system once again. Closing down required over a year, as mining operations had to be changed over from 25-cycle to 60-cycle power. Frequency changers were installed to handle the 25-cycle motors at the cleaning plant; these units were removed in 1974.
In 1969, the two tall stacks at the power plant were taken down, as they had become unsafe. Part of the first power house, built in 1910, still stands, as does the 1940 addition. The original mines at Lucerne are closed down too. The #1 mine shut down in 1929, #2 in 1943, and #3, which produced coal for sixty years, ceased operation in 1967.
Today, the site of R&P's "model plant" probably holds little interest for mining engineers. Piles of boney, a rusted tipple and cleaning plant, and two brick buildings are all that remain. But although the area's appearance has changed dramatically, the achievements of the men who built and operated the Lucerne mining plant form a proud chapter of Indiana County's past.