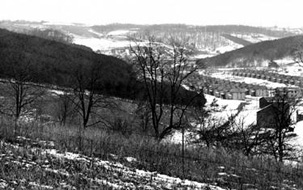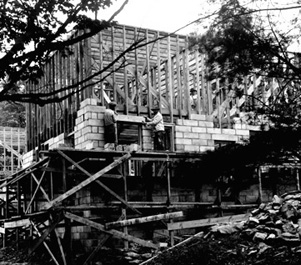 Eileen Mountjoy
Beginning at the turn of the 20th century, Indiana County entered an era of tremendous coal production. Tipples, coke ovens and boney dumps suddenly dotted the landscape, and strange new names appeared on county maps as towns like Gipsy, Iselin, Arcadia and Wilgus came into existence to house the ever-growing number of miners who poured into the area seeking work.
Local residents who journeyed out into the countryside in horse and buggy or using the steadily increasing passenger train connections soon became accustomed to seeing the neat rows of double and single houses, all uniformly painted, each with outhouse and coal shed at a predictable distance from the dwellings.
Indiana County's great mining boom lasted throughout World War One. During this period, Rossiter, Ernest, Lucerne, Barr Slope, Coal Run and many others were added to a lengthening list of new communities as both the Rochester and Pittsburgh Coal and Iron Company, the Clearfield Bituminous Coal Corporation and several smaller companies struggled to keep pace with the nation's demand for coal. The end of the war, and the return of peacetime conditions helped create the settings for one of the area's "model" coal towns: Commodore, built by the Clearfield Bituminous Coal Corporation (CBC).
The Clearfield Bituminous Coal Corporation traces its beginnings to the old McIntyre Coal Company of Lycoming County, Pennsylvania. In 1882, the corporation acquired coal lands in Clearfield County, and in 1903, in Indiana County as well. Within the next few years, the corporation's Indiana County field developed quickly. The CBC, however, was an unusual kind of coal company as it sold no coal. In 1898, the CBC charter was amended to prohibit the corporation from selling coal, and after that year, all commercial activity was discontinued. Accordingly, the corporation's mines became producers of "captive tonnage," and all coal mined was used solely as locomotive fuel for the New York Central Railroad.
By 1919, CBC mines in Indiana County were producing nearly three-fourths of the company's total output, and officers of the corporation, headed by President F.E, Herriman, Vice President John S. Fisher, and General Manager A.J. Musser, decided to relocate their main office building from Clearfield County to Indiana County. Early in 1920, the staff moved into the new building on Water Street. At the same time, the town of Commodore was planned and built. The close proximity of corporation officials, a relaxed post-war atmosphere and the improved technology available by 1919 combined to make Commodore a new type of coal town. Work on the mines, however, began just before construction of the town.
Alvie Lydick of Taylorsville was born in Cookport and has worked around the mines since he was thirteen. Alvie placed the first timbers in Commodore when the mines opened in the fall of 1919. He still remembers that experience: "We didn't have any machinery to do the work. All we used were picks and shovels, and a man named Obadiah Lockhard brought his horses and wagons to haul out the dirt and rock. Mines 1 and 3 were drift mines, and 2 was a slope. We just went right into the hill." Mrs. Ella Seanor of Indiana also recalls the opening of the Commodore mines in a very personal way: "My father, George Jaquish, supervised the opening of those mines. He also opened the mines Clymer for the CBC. He had his own office in Indiana, and engaged crews and foremen to do the actual work at the site."
The town of Commodore is located on Two Lick Creek, near the old coal town of Lovejoy. Paul ("Pluggy") Gill came to Indiana in 1913. When Commodore was built, he was the engineer who laid out the town. Later, he became Chief Engineer. He recalls that when Commodore was founded, the community at first had no name. "We just called it Pleasant Valley, the local name for the area. But soon, we named it for Commodore Vanderbilt, founder of the New York Central Railroad." Eventually, streets were named for the Vanderbilt family, for F.E. Herriman, president of CBC, for a latter vice president, H.B. Douglas, and for H.J. Hinterleitner, general superintendent. "I gave the name of Hinterleitner to the longest street, as he had the longest name," Gill recalls. Before construction of the new town, the Green Township location presented a sharp contrast to its later appearance. "There was really no town at Pleasant Valley," says Alvie Lydick. "Just a farmhouse or two roughly near where the company store later stood. "There was also a little sawmill there run by Sloan Buterbaugh and his family. They didn't sell logs commercially because there was no stream nearby large enough to float them. They just sawed up two by fours for local use."
Quite a few residents recall the only other business in old Pleasant Valley: Bill Switzer's General Store built around 1910. "He helped supply the crews who worked on the building of Commodore," notes Alvie, "before the company store was built." The Lovejoy train station, the one-room Pleasant Valley schoolhouse, built in 1873, and a few houses completed the number of original structures on the future site of Commodore. Construction of the town began late in 1919. Paul Gill remembers making up the blueprints for the community's streets. "It was just farmlands before, with a small lumbering business. We laid out the town with tape and transit. It was an awfully narrow valley to build in. "We brought in supplies on the Cherry Tree and Dixonville Railroad, which, at that time, was owned jointly by the New York Central and the Pennsylvania Railroads."
Present-day visitors to Commodore are still struck by the unusual cement block construction of the houses. "An Indiana contractor named John Klinglesmith suggested those blocks to the company," relates Paul Gill, "and he got a patent on them. Those blocks aren't hollow like the blocks you buy today. They're solid cement." Construction crews came largely from the ranks of Klinglesmith's own men, but others came from local farms.
Blocks were made at a plant located on the site of the present athletic field. Wooden forms were also made on location and used over and over again as mass production of blocks commenced. Lumber for the frames of the houses came from CBC's own mill at Clymer. An air space left between the blocks and final plaster created insulation. People who have lived in these houses for fifty years maintain that they are "cool in summer and warm in winter."
Work on the town proceeded with the speed customary in the development of coal towns. In September, 1920, Superintendent McCormick of the Clearfield Division of the New York Central Railroad and a large group of other officials came to tour the half-built town and "were much impressed with the buildings and the amount of work that had been accomplished in so short a time."
Construction at Commodore continued into the late fall of 1920. In October, a building committee for the New People's Bank of Commodore, composed of Charles Bence, A.J. Musser, Samuel Fyock, Peter Decker and John Wise, engaged a contractor to begin excavation on the foundation for a bank building. By December, work on the bank was underway. Within another 30 days, the Gazette announced that the new bank, under the presidency of S.I. McCullough of Indiana, was open and ready for business. In addition, A.C. Brothers, "a progressive young man with excellent training," was transferred from the County National Bank of Clearfield and given the position of cashier.
By January 1921, one hundred houses were completed and officials of the CBC stood back and viewed their creation with justifiable pride. The cement block dwellings, electrically lighted and with running water, were ready for the miners and their families at $14 a month. In the first few weeks of the new year, 45 families moved into the town. "A new, eighty-foot garage is nearing completion," reported the Gazette, "and there is also a planning mill, a good store, a post-office and a railroad station with both New York Central and Pennsylvania trains." Competition for jobs at the new location was keen. Many CBC men came from mines in the corporation's Clearfield County operations, while others who signed on came from the many smaller mines in the Commodore area. A local paper noted: "Houses are still being built daily at Commodore and there is eager demand for them before they are ready for occupation."
Miners' wives, formerly from coal towns built before or around the turn of the century, marveled at the wonders of convenience available at CBC's modern facility. Instead of the outhouses synonymous with coal town living, each home at Commodore was provided with a chemical toilet near the house. Homemakers at the new coal town also enjoyed the advantages of the community's location in the midst of fertile farmlands and orchards as "the worthy farmers sell fruit, butter, eggs and all sorts of provisions to the residents, and best of all, the prices are right. Just for example, good juicy roundsteak at 20 cents a pound." Sanitary facilities at Commodore, although more than adequate from the first, were remodeled again in 1924. "We converted chemical toilets into a sanitary sewer system and put them on the back porch," says Paul Gill. After consulting experts at Penn State, Paul proceeded with the new system. "It was only the third of its kind in the state," he says with pride. "We put one in at Barr Slope too, but it was smaller than the one at Commodore. Both systems are still in operation today. "It attracted attention even outside Pennsylvania - a coal town having sanitary sewer system at that time." Commodore's sewage treatment system also acted as a protection for the entire area as "we took a monthly checkup on the discharge to the creek." "The treatment system at our town helped protect the Borough of Indiana from typhoid," Gill explains.
As well as designing the handling of sewage at Commodore, Paul Gill also laid out the town's waterworks. "We built the dam and made the reservoir above the town." And, to safeguard the community's growing reputation for modernization, Paul built six single houses, separated from the rest of the dwellings and located near the sewage plant "on the Clymer side." In those houses lived six families who remained adamant in their intentions to keep cows. Residents of Commodore appropriately dubbed that end of Hinterleitner Street "Cowtown."
From the first, CBC officials took a personal interest in developments at Commodore. While the older corporation towns of Barr Slope and Sample Run were not neglected, many of the men from the office felt a special affinity for the town they had watched grow from farmland to mining community. Mrs. Janet Lundberg, who lives on Douglas Street, has this same feeling for Commodore: "I was born in Pleasant Valley, on a farm directly above our reservoir. I saw the town being built. I watched the streets being laid out on my way to classes at the old Pleasant Valley school." Janet Lundberg notes that all of Commodore's foremen, store managers and superintendents "lived right here in town with us, some of them in three large 'Bosses' Houses' on what could be called an extension of Douglas Street." One of these men, Fred Bass, is almost universally remembered. As mine superintendent, "Fred Bass kept law and order and liked the town to look neat. He even put on contests to see who could have the nicest yard," recalls Mrs. Lundberg. Another resident adds, "he made us pile the ashes from our furnaces in the back alleys. Then, the ashes were picked up twice a month." Mrs. Lundberg concurs: "The company planted trees on Vanderbilt Street and really cared how the town looked. Here in Commodore, the officials worked with the people and we were all very proud of our town."
Other "bosses" at Commodore are also remembered fondly. Most recall James ("Jimmy") Lamb, who had been a miner in England before he began his career as mine foreman at Commodore. Later, when Fred Bass died, Jimmy became mine superintendent. Still another favorite was D.C. Lefevre, simply called "Lefevre," who was outside superintendent. Paul Gill remembers Levefre with respect. "He helped keep the community attractive." Paul adds with a chuckle, "And he placed a fine on people who threw tin cans in the toilets." As the population of Commodore grew, social and community life developed. Soon the tiny Pleasant Valley Schoolhouse bulged with well-scrubbed pupils, and Mrs. Lundberg recalls: "We had to have school in two company houses. One of the teachers lived upstairs and we had classes downstairs. "Within a few years, the old white schoolhouse was torn down and the wood used to make garages."
By the end of 1921, still more space was needed, and the CBC built the Green Township High School, later enlarged. A church was also needed by the community, although many residents attended services in Cookport, Dixonville, or Clymer. In 1924, the men of Commodore, assisted by the CBC, used their few spare hours to cooperate in the erection of a non-denominational church. "But the Lutherans never joined in very well," says one man with a laugh. "They all went over to Punxsutawney." At present, the congregation is Methodist. Daily life at Commodore did not develop in quite the same way as that of turn-of-the-century coal towns, where lack of transportation created a need for a self-contained community. While early residents of Lucerne or Ernest rarely left their home towns, natives of Commodore "were always going somewhere else."
One long-time inhabitant of Commodore explains: "We had at least a few cars right form the first. We could go to Indiana or to Clymer without too much of a problem, except for the muddy roads in the winter." For those without cars, Mrs. Seanor says, "When I was a girl, the streetcar went from Indiana to Clymer every hour and a half. From there, it was only six miles out to Commodore. Plenty of people walked it." Another of Commodore's senior citizens agrees: "We had a close relationship with all the other nearby towns, especially Sample Run, Barr Slope and Clymer. There was another company store in Clymer, and we often went there to shop. Many of us had relatives in Dixonville or Cookport.
Availability of automobiles also helped contribute to Commodore's "new look." Paul Gill states, "When the town was built, we put up garages for some of the people." With so much coming and going, Commodore never required a movie theater, community hall or a string of independent grocery stores just outside company property. As the years passed and more and more families owned cars, actual residency in the town was no longer a prerequisite for Commodore miners. "By the 1930's," estimates one retired CBC official, "many of our men were commuting thirty or forty miles to come to work."
In spite of ready transportation, however, Commodore "natives" are quick to point out that their town was not lacking in community spirit. "We had a quiet town here,' one woman recalls, "but we had a lot of fun, too. We had card parties, and activities at church and at the high school. "When Mr. Patterson was principal, he organized minstrel shows and basketball games at the school. In the summer, we had a lot of picnics and hikes." In addition to the usual coal-town baseball team, Commodore also reflected the national passion for boxing evident in the 1920s and 1930s.
Commodore was fortunate, though, in having for its own "Billy" Harper, a professional boxer and wrestler who came to the town from Scotland by way of Punxsutawney. In his hours outside the mine, Billy taught the fine art of boxing to many of Commodore's young hopefuls, who, wide-eyed with hero-worship, hung on the pro's every word and gesture. As their skills developed, devotees of the sport constructed a small arena behind the fan house. There, "they really went at it," laughs Janet Lundberg, whose husband Augie was one of the top contenders.
Other home-grown entertainments had ethnic origins. One favorite, due to the large number of English and Scottish miners hired by Jimmy Lamb, was the old Scottish custom of "first footin'." In this activity, enacted after midnight each New Year's Eve, a couple would leave their house, go to a neighbor's, have a bite to eat and a drop to drink, and, accompanied by the second couple, proceed to the next home on the list. There, the two couples would be entertained by a third, and then all would move on down the street to the next-appointed stop. By the end of the ceremonies, usually around dawn, the group would have expanded to include nearly half the town, and several individuals who started earliest were filled with a great deal of holiday cheer. Community bands fulfilled an important function in mining towns, and Commodore was especially proud of its group. Organized in 1921, the band presented its first concert in January, 1922. In October of the same year, the ensemble presented a program in front of Indiana's old Moore Hotel. In a review of that performance the Gazette labeled the musical miners "one of the finest bands in Pennsylvania." A later group of entertainers also had its origins in Commodore. In the mid twenties, Tom Shaw, Paul and Jack Howorth, and Howard Lewis formed "The Black Diamond Quartet." When a fifth singer was required, George Howorth performed. Pianist for the quartet was 12 year old Jim Howorth, George's brother. After an early success in Commodore, the "Black Diamonds" soon gained out-of-town fame, and for many years traveled every other weekend to Pittsburgh, where they sang over KDKA from the William Penn Hotel.
Due to the date of its founding, Commodore missed the experience of providing a home for large groups of immigrants only recently arrived from Europe. A local newspaper commented that, at Commodore, the work force consisted of "American men, or if foreign-born, then good, Americanized citizens." In addition to the hiring of English and Scottish miners, many Czechs and Slovaks came to Commodore after learning both the English language and mining skills in older mining towns such as CBC's Peale, in Clearfield County, or in local mines near Chambersville and Marion Center. George Howorth came to Commodore when the town was almost completed. Like many others who eventually settled there, George was born in England, "near Wigan," and was already an experienced miner when he came to America with his parents. "The mines in England were all cage (shaft) mines," George observes. "They went at least 1,000 yards down. "My mother and dad had been in the U.S. once before. They had intended to go out to Wyoming, but my uncle George, who was to meet them there, was killed in an accident, so they returned east, and got as far as Pittsburgh. "My dad loaded coal along the Monongahala River, but there was a terrible explosion and they returned to England. "The second time they came to America," Howorth said, "they contacted relatives who lived at Lovejoy and worked on the building of Commodore as map makers and surveyors." George's family was well satisfied with their choice of a new home. "This town was CBC's pride and joy," says George. "It was a very modern community for its day, very clean and with running water and electricity."
Mrs. Lena Hughes is another Commodore resident who has been very happy with her town. "Oh, I like it," she says. "I know I wouldn't want to leave, and I've been here 54 years." Mrs. Hughes is best known for her role as "Mrs. Doctor," wife of one of Commodore's company doctors, Edgar Lee Hughes. Dr. Hughes, a graduate of State College at Philadelphia, practiced medicine for nine years at Helvetia, R&P's company town in Clearfield County. There, he met and married Mrs. Hughes, and in 1924 they decided to accept a new position at Commodore. Dr. Hughes was very popular in Commodore, but it is his wife who elicits fond memories among long-time residents of the town. "We always went to her with our cuts and bruises," recalls a woman who grew up in Commodore. "She was always so gentle." Mrs. Hughes is also credited with the delivery of more than two hundred babies in Commodore and in the surrounding countryside. "My husband taught me a great deal," says Mrs. Hughes. "I just loved taking care of people." Mrs. Hughes' talents as a midwife have left Commodore with a favorite anecdote from the "good old days." Once, when Dr. Hughes was out on a call, Mrs. Hughes was summoned to a home just in time to deliver a lusty, squalling infant. Some days later, the proud father came to the office to pay the five dollars customarily charged in obstetrical cases. But as Dr. Hughes held out his hand for the money, the miner shook his head slowly from side to side and requested to see Mrs. Hughes. As "Mrs. Doctor" stepped into the room, the beaming father presented her with a five dollar bill. "I come to pay you," the man explained. "Not Doctor. What he do?"
As well as acting as a physician's assistant during her husband's lifetime, Mrs. Hughes has remained one of the most beloved members of the community long after his death 35 years ago. Her son, Roger, is a doctor in Clearfield. "He was always carrying his father's satchel around," recalls his mother. Mrs. Hughes is also honored for a lifetime of activity in the Ladies' Aid of the church. "To this day," a friend confides, "we still call on Mrs. Hughes if we need to know how much potato salad to make for a hundred people."
An emphasis on peaceful living seems one of the main characteristics of CBC's "model town." Although in later years a saloon, first owned by a man known best as "Uncle Bill," existed in Commodore, there are neither memories nor newspaper accounts of disruptive behavior related to excessive drinking. In fact, the only significant crime ever committed in the town served only to increase community solidarity. On June 11, 1923, the Gazette revealed that A.C. Brothers, bright young cashier at the Commodore bank, was being held at the Indiana County Jail for alleged misappropriation of $20,000 from the institution's funds. Three days later, his neighbors in Commodore sent a communication to the newspaper for first-page printing: "The people of Commodore and Starford are very much in sympathy with A.C. Brothers, knowing him to be morally innocent. One thousand dollars is being raised to assist him in his trial, which will come up, no doubt, in September." The trial occurred, not in September, but in November, of 1923. At the proceedings, the former cashier entered a plea of guilty to charges of forgery, embezzlement and larceny. He received concurrent sentences of two and a half to five years and one and a half to three years. Even in the face of undeniable proof, however, "the citizenry of Commodore was loath to believe the young man guilty, owing to his standing in the community and the interest he has always shown in religious and civic efforts. Despite the seriousness of the charges against him, there is still a feeling of pity that his splendid natural abilities had been disturbed by his get-rich-quick ideas."
Although a serene community life and modern housing attracted many miners to Commodore, working conditions at the mines were, of course, of paramount importance. In 1923, 281 men worked in and around the three mines and produced a total of 338.59 tons of coal for the New York Central Railroad. Andrew Hudzick Sr., who lived in Commodore for many of his 84 years, has spent countless hours in the mines and declares he loved it underground. "If I could get around as well as I used to, I'd get in somewhere today!" he maintains. Andy started at the mines when he was 11 years old. "I was big for my age," he explains, "and worked in a country bank mine near Eleanora, in Jefferson County, every day after school until l0 at night." Andy remembers: "It was hard work, and we only got 17 cents a ton." After working in several small mines, Mr. Hudzick came to Commodore, and was well pleased with conditions there: "Old Fred Bass, as he was a good man - made his trip into the mines every week. And they were safe mines. I never had an accident. But I was careful: I always kept my timber up." Inside the mines, Andy worked as an electrician and, in addition to other jobs, was kept busy on the repair of the motors used to haul coal out of the mine. Each 35 HP motor weighed 400 to 500 pounds. "I was like a crane," he laughs. "The men of the outside loaded those things with chains and a hoist, and when it got to me, I'd unload it myself!" As an electrician, Hudzick worked long hours. "I never knew what Sunday was. But when I had to be underground an especially long time, Old Fred Bass always sent a lunch bucket in for me." Then he adds, a little wistfully, "Sometimes, I missed seeing the sun shine. But here in Commodore, I did all right for myself."
Keeping underground operations running smoothly required the combined efforts of many men. A.E. ("Shorty") Long of Indiana came to CBC in 1925, became mechanization engineer in 1931 and general superintendent in 1945. "Commodore was classified as a gassy mine," says Long, "and as such, all our miners had to wear electric lamps and self-rescuers, while at Rossiter, CBC's mine near Punxsutawney, the men used carbide lights."
In the early days, Commodore was mined by a combination of hand mining and early model cutting machines, "but in 1931, we started to mechanize. I began by making time studies. "We tried a succession of cutting and loading devices. We used some chain conveyors in the early thirties; the coal, though, had to be hand-loaded onto the conveyors. "We also had Goodman entry loaders - the men called them 'Dusty Jims.' Then, the Goodman people came out with a duckbill loader that picked up the coal without shoveling." Later, Long designed a flat-panned swiveling loading machine - "You put it under the cut before you shot the coal down. The coal fell onto a flat pan and was loaded automatically. This machine was known as the 'swbill.'" Eventually, Shorty's idea was adapted by the Goodman Company. As mechanization engineer, Long was consistently attuned to improvements underground. He designed 16 mobile conveyors and had them built in the Clymer shop. These machines were the forerunners of the innovative Joy shuttle car. With the combination of comfortable housing, concerned management and efficient mining methods, Commodore, throughout the first half of the 1920's, developed into one of Indiana County's most successful mining towns. "We had a real nice class of people ...," one man declares. "They came from all over the area. At one time, over 400 men worked here."
But by the late 1920s, the effects of widespread labor-management problems and the first tremors of the Great Depression reached mining communities across the nation. "Here in Commodore, we held on to our union longer than in some other towns," recalls a retired miner who lived through those days. "But the CBC just couldn't compete with non-union wages - and they had to start buying coal. "Then, the next thing you know, there were Coal and Iron Police in our town and the company shipped in strikebreakers. But my dad wouldn't leave. He said that if he had to mine coal non-union, he'd as soon do it in Commodore as anywhere else." Women of the town also felt the effects of the crisis. A miner's wife comments: "Just about the only trouble we ever had here in town was when the union was broken in 1927. Our whole life changed. "There was bitter resentment against those scabs, although nobody ever beat them up or anything. The ones with families moved into some vacant houses; they must have been desperate to come here. "I really pitied their children as all the town kids made their lives miserable." The introduction of strikebreakers into Commodore seriously disrupted community organization. "Before 1927, everybody knew everybody else," says George Howorth. As a strong union man from his boyhood in England, George still wonders, "I don't understand how anyone could come here to work without protection." At nearby Barr Slope, non-union miners lived in a "shantytown" guarded by State Police, known locally as "Pussyfoots." "Most of those troopers were just doing their jobs," states one miner's wife, "but others would turn into smart-alecks when they got into a uniform and onto a horse."
Gradually, Commodore men reluctantly went back to the mines to work nonunion. In 1932, a new union was formed, and the town "knitted together again." As the tension left the community, recreation again filled some of the leisure hours, and residents of Commodore once again enjoyed baseball, picnics and church activities. Annual first aid training sessions were also held in Commodore. In their white uniforms and black bow ties, the teams made an impressive sight and the meets were well attended. The mines at Commodore continued to produce coal for the New York Central Railroad until after World War II, when dieselization of most trains became standard. In 1950, 132,000 tons of coal were mined, some for station heating and power plant use. But by 1951, tonnage was down to 67,000. For most men, the mines at Commodore officially closed in August of that year. Shorty Long recalls regretfully, "I signed layoff slips for a total of over 2,000 CBC men. That was a terrible chore." For Andy Hudzick, work at Commodore lasted two years longer. "Until 1953, I worked underground taking out heavy machinery and preparing the mines for abandonment. Eventually, it will all fall in." Soon, the tipple was torn down, and the old motor barn and warehouse were sold to the Magas Welding Company. Foremen and store personnel, their services no longer required, moved away. At first, shock of the closing numbed the town. Some men found jobs outside the district and took their families away from the surroundings they had known for perhaps 30 years. On the vacant houses, the once-thriving flower boxes so beloved by Fred Bass slowly rotted and fell to pieces. With an air of finality, company maintenance crews boarded up the windows of the company store. Commodore, the "model town" of the Clearfield Bituminous Coal Corporation, seemed doomed to join the growing number of Indiana County ghost towns. But the residents of Commodore were not so easily daunted. To most, no other place "could ever be home."
As the houses were offered for sale by the CBC, many families who were able to find work locally bought their own homes. Others were ready to retire and were glad to remain where they had lived out much of their lives. "Now, people are trying to make their houses attractive again," remarks one old-timer with enthusiasm.
Efforts to recapture the community spirit enjoyed in the past did not stop with the purchase and repair of the houses. In the early 1970's residents of Commodore bought the old Clearfield Supply store from the CBC and transformed the building into the Green Township Community Center. Stripped of its huge sign and plate glass windows, the refurbished store now serves as the scene of wedding receptions, banquets and community entertainment's. If "Old Fred" Bass were alive today and returned to Commodore, he would find "his" town greatly changed. He would miss the long parade of tired miners coming out of the bath house at the end of each shift. If he walked past the company store, he would notice that goods and furniture were displayed in the windows no longer. And if he looked hard enough, he might find a house without a thriving flower box. But if he could see community residents busy working together to solve mutual problems, he would feel that the people who live there would still have many reasons to be proud of their town.