Dot Leader Instructions
The Table of Contents acts as a "roadmap" for your thesis/dissertation's readers. A well-organized, consistent table of contents is essential to making a professional presentation of your research and scholarly writing.

MS Word will generate the table of contents for you based on the chapter titles and section headings in your document. To learn more about this feature, visit Formatting Instructions and Instructional Videos to watch a short, 3-minute video.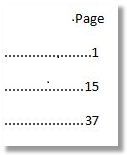 You can also create a table of contents manually, using dot leaders to organize the text and page numbers. Dot leaders are a row of dots that visually connect the chapter titles and section headings to their corresponding page numbers. Please note that IUP's Thesis-Dissertation Office requires the use of dot leaders for Tables of Contents (and Lists of Tables and Lists of Figures) that are created manually.

Follow the instructions below for creating dot leaders on your table of contents.

Word 2007

To create dot leaders, on the Home tab, click Paragraph, Tabs, and type the position where you want page numbers to begin (we recommend 6"). Then click Alignment - Decimal, Dot Leader - 2, Set and then OK.

On the page, type the chapter title or section heading, then press the Tab key. At the end of the dot leaders, type the page number. Do not use the default tab when spacing chapter titles and subtitles. These tabs must be set.

Word 2010 and Word 2013

Download the instructions for creating dot leaders in MS Word 2010 (note that the instructions are the same for Word 2013).

If you need more detailed assistance, please contact the Applied Research Lab at 724-357-4530, or e-mail iup-arl@iup.edu, to schedule personalized training.