IUP and the School of Graduate Studies and Research (SGSR) offer students a wealth of services during the thesis/dissertation writing process. Students can get help with the writing process, learn how to use popular computer software, resolve network and security issues, and acquire computer software at little or no charge.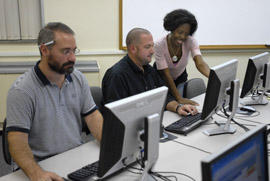 Campus-Based Support
IUP Writing Center: The Writing Center offers a variety of free services and resources to help students develop their writing skills. The Graduate Editing Service is available to those who want a review at any time during the writing process.
IT Support Center: Visit the support center's website to find out what software is available to students through the university. Software, including Microsoft Office and SPSS, is available to students at discounted prices or even at no charge.
Ihelp Service: A new service for reporting technology support problems. This service enables you to enter support requests twenty-four hours a day, seven days a week, without having to make a phone call. In addition, you can view the status of your submitted requests at any time.
Style Guides
Depending on their chosen field of study, most students follow one of the style guides below to cite research and format their thesis/dissertation. While some style guides are specific to the field of inquiry, students should verify with their departments the style guide to adopt.
Keep in mind that style guides focus on publishing in the corresponding organization's peer-reviewed journals. Their standards may differ from thesis/dissertation standards of the SGSR.