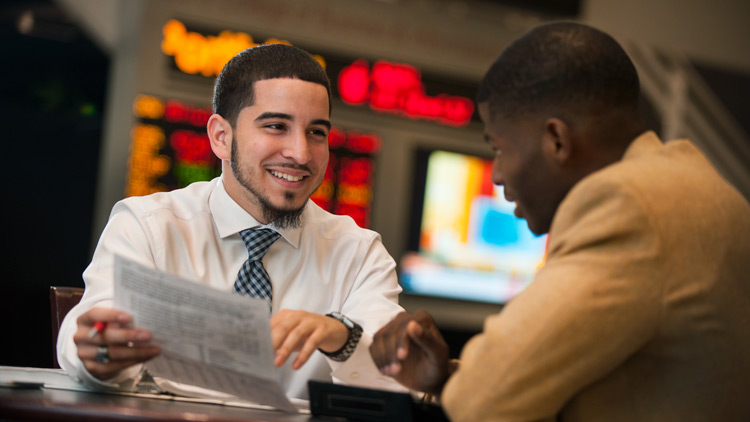 Go Global With Money Knowledge
Financial decisions are no longer local. Each financial choice you make may have global influence and legal implications. Manage the risk with a degree from IUP. As corporate and personal money management services grow more sophisticated, your skills will become more valuable.
A finance degree introduces you to a wide range of opportunities that reach beyond the obvious career choices. The undergraduate coursework delves into the exciting world of finance, insurance, and real estate. But it also may prepare you for a law or academic career.
Why Finance?
If money makes the world go around, your grasp of financial and legal issues will assure you an enduring career. Economic stability is a universal issue that has and will continue to affect every business, government, and family. Master these skills and you will become a global citizen whose influence and expertise has few limits.
The World Needs Finance Majors
Personal and corporate portfolio management is at the heart of a sound global economy. International currency exchange issues also play an important role as nations trade resources, such as commodities and services. Human necessities simply cannot be met without skillful, thoughtful leadership that can interpret the complex dance between finance, insurance, real estate, and law.
Expected Outcomes With an Undergraduate Degree in Finance
Expect to sharpen your analytical and decision-making skills, which are so necessary in the speedy, competitive environment of finance. The development of your financial problem-solving instincts will also help steer you toward a broad range of challenging career choices that may include advanced degrees, such as an MBA. Yet, post-graduate degrees are not required to gain entry-level positions in finance.
Most faculty members proved themselves in the financial arena before joining IUP. Their real-world knowledge will guide you to fulfill your finance career goals.
Internships allow you to earn academic credit while learning on-site from seasoned professionals.
Your training may lead to alternative careers as an educator, Central Intelligence Agency analyst, securities dealer, accountant, or financial planner.
The IUP Difference
Real-Time Trading Lab. If you think you have what it takes to become a professional trader, join the Student Managed Investment Portfoliogroup that manages $1,800,000 in real funds. The premium computerized lab available to you at IUP provides hands-on experience.
Simulated Trading Lab. Modeled on actual financial market trading floors, this "mock" trading group experience brings you as close as possible to real-time experience. Access to Bloomberg financial data gives you a window into the stimulating arena of moving money.
Savvy Faculty. Faculty members have been there and done that, yet they retain a zeal for teaching. Their mentoring provides strong guidance to any career you can imagine in this competitive field.