Small Business Management / Entrepreneurship Major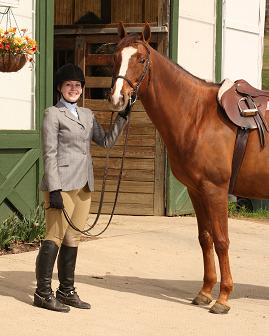 "Eberly creates many opportunities for its students, and its professors provide unique learning environments that help each individual student's needs and aspirations."
My name is Melanie Carl and I have lived in Indiana, Pennsylvania, for all of my life. I chose to stay in my hometown and continue my education at IUP for many reasons. My number one reason was my passion is riding and competing with my thoroughbred mare, Emmie. In fact, I chose to major in Small Business Management/Entrepreneurship so that I can someday run a show barn of my own.
I joined IUP's Equestrian Team during the Fall of my sophomore year here at IUP. I was placed into the highest level of competition available at our shows and quickly became a strong member of the team. My first year, I offered my opinions and insights about how the riders could improve their skills and place higher at the competitions. When we found ourselves in the predicament of choosing a new coach, I suggested the stable I ride and keep my horse at, Winterfield Farms. When the time came for elections of the new captains for the 2009-2010 school year, I was pleased to not only be nominated, but elected as captain of the hunt seat team. I want to bring awareness of the team to as many as possible, and I believe that if I am included in this student gallery I will be able to accomplish that goal.
In addition to being captain of IUP's hunt seat team, I also work at Indiana's Giant Eagle. I have been employed there for almost four years, and successfully worked my way up from being a cashier, to a service desk employee, to a coordinator in charge of the cashiers and packers, to a cash office employee where I deal with each day's incoming and outgoing transactions. I work anywhere between thirty and forty hours a week.
Even though I chose the Small Business Management/Entrepreneurship major because of my love for horses and competing, I have come to really enjoy the other facets of management and have imagined myself in more prestigious jobs.