Adriane Linn McGraw `10
Human Resource Management and General Management Major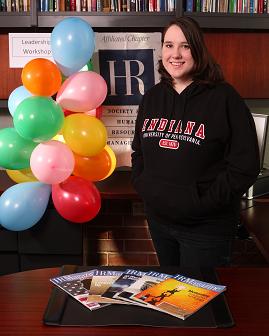 "As a student in the College of Business, I truly feel that I have been able to establish a firm network of individuals through my involvement in COBSAC, the honors program, and events such as Business Day and Table Talks. I have been able to meet fellow students that share my passion for business, and have learned the true meaning of teamwork. The opportunities and challenges presented by the College of Business have pushed me to new heights and have developed me as a scholar, leader, and an individual."

After graduating from West Allegheny High School, located near the Pittsburgh International Airport, I applied to attend IUP as a Business Management major and student of the Robert E. Cook Honors College. I chose to apply based on the accreditations of IUP and Eberly, as well as the closeness and care that seemed to be shared among faculty, staff, and students. Upon my acceptance to IUP, I was also asked to join the Business Honors Program. It was through the Eberly Honors Program that I truly grew as a person and a scholar. The one goal I had in entering college was to work to my fullest potential, and, as a current senior, I feel I have met that goal.

Academically, I have pursued a double major in Human Resources (HR) and Business Management with an Economics minor. My passion for the field of human resources has driven me to serve three consecutive terms as president of the Society for Human Resource Management Undergraduates, as well as work as an intern in the HR Department on campus. I have been honored to serve on a variety of committees related to the field of business, and have seen the changes that my service was able to create. One such committee was for the ICW, in which I helped create a business plan to extend their lunch program to local daycares and preschools. This plan enabled the organization to apply for additional funds, equipment upgrades, and employ additional adults with disabilities.

Kiwanis International is a community service organization dedicated to changing the world "one child, one community at a time." Kiwanis actively sponsors student-led organizations in order to further promote a sense of leadership, fellowship, and service in the younger generations. This sponsorship has led to the creation of the "Kiwanis Family." I, personally, have been involved in three areas of the Kiwanis family during the past eight years, including Circle K (collegiate level), Key Club (high school level), and Aktion Club (for adults with disabilities), and have held the positions of president and historian.

It has been a great honor to work with Circle K and to serve as an office in this club. Through my work with this organization, I have learned what it means to be a leader, a volunteer, and a friend. It is my sincere hope that the time and effort that I have put into this organization has and will continue to benefit my community even after I graduate.

Adriane is currently living in Davidson, North Carolina working as an HR Global OpEx Specialist for Ingersoll Rand (as of Fall 2013).