Amanda Raup `10
Entrepreneurship and Small Business Management Major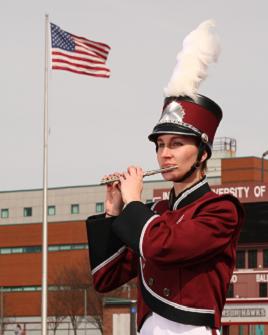 "The many experiences I have been through at IUP and within Eberly will help greatly as I pursue my career in the professional world."

I am from Harrisburg, Pennsylvania, and originally chose to come to IUP for interior design. I began the first semester of my student career as an undeclared Fine Arts major. Then I decided that I did not want to major in music or interior design because I enjoy them as hobbyies. This is when I decided to declare my major as Business Management with a concentration in Entrepreneurship. As I entered my sophomore year, I declared a minor in Music, focusing on flute. I then added Economics as a minor at the beginning of my junior year.

Since I was a freshman in high school, marching band has been a great asset to my life. It is an activity I enjoy very much. At IUP I have been involved in the marching band for three years. This past season I was a section leader for the piccolo section. The band begins the season with an intense band camp the week before classes start. Once school is in session, rehearsals are held every Monday, Wednesday, and Friday evening from 5:00 p.m. to 7:00 p.m. At the rehearsals, we learn various shows which will be performed at appropriate times throughout the game. The band performs the pre-game, half-time, and post-game shows at every home football game as well as a select few exhibitions, which are held on weekends. Marching band has taught me that no matter how little your individual role is, each person has their own unique, irreplaceable importance which is significant to the overall success of the group.

Throughout my college experiences I learned more life values and gained knowledge from many different environments. These values were realized from time spent with new friends, working within student organizations, my diverse course schedule and also from living on my own. As a result of this, I have learned how to communicate well with others and manage my time wisely. These accomplishments would not be possible if it were not for my wonderful friends and professors here at IUP. They have helped me through the stressful times so I was able to achieve all my goals.

Amanda currently works as a Business Analyst & Engagement Team Lead at Momentum, Inc. in Harrisburg, Pennsylvania (as of Fall 2013).