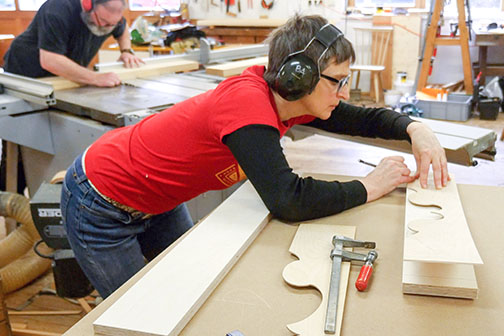 Director of the Wood Center at IUP
B.A. Harrington received her traditional training in cabinet and furniture making at the North Bennet Street School in Boston. She holds a master of fine arts degree in wood, and a master's degree in art history from the University of Wisconsin–Madison, and is currently assistant professor of Art and director of the Wood Center at Indiana University of Pennsylvania.
Harrington's practice involves intensive object studies that regard historical furniture from her ancestral and vocational lineage. Focusing on iconic early American forms made specifically for women, she reclaims the furniture from the world of male production where it receives much of its scholarly attention, to consider the objects in the historically feminine, domestic world of their use.
Her essay on early New England Hadley chests was published in 2013 in a collected volume on Women and the Material Culture of Death.
Her most recent research interests explore a dialogue between new discoveries in cognitive science and traditional craft practices. This investigation considers the embodied knowledge associated with the acquisition of material-specific craft skills, with the intent of developing new craft curriculum based in scientific study.