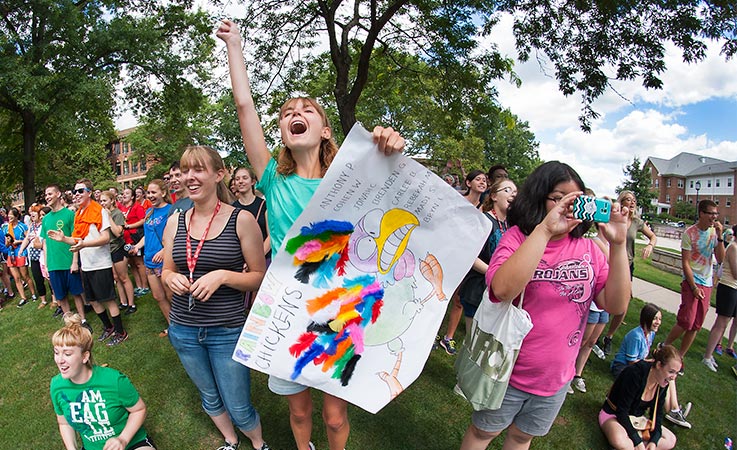 Here we go! Thursday, August 22, 2019, is move-in day and the start of Fall Honors Orientation for the Cook Honors College Class of 2023. The Fall Honors Orientation is designed by current honors college students to prepare you for living and learning in the honors college and IUP. It's always a great time, but also useful.
First-year honors college students attend a summer IUP Orientation (in May or June) and the Fall Honors Orientation (beginning August 22). Through these experiences, you are brought into the IUP community first and then brought into the community of the honors college.
On August 22, plan on arriving between 9:00 a.m. and 12:00 p.m. The Housing Office will send you a move-in time during that window. You will have until 5:00 p.m. to get settled into your room, make the shopping run for anything that you forgot, and, mainly, to allow time for your family to feel like they are being helpful and say their goodbyes. Then the fun really begins!
Get off to a good start by finishing all the books on the list we sent before you arrive. There won't be a quiz, but orientation leaders have planned activities around these readings.
What else will you do at orientation?—It's a surprise!
Remember to Pack:
Pictures of family, friends, and your dog. It will take a few weeks, but eventually you will miss home and be glad you have them.
Anything or something that is really part of who you are and what you enjoy . . . knitting needles, your favorite game, books, or your instrument. You'll want to have it around, and we want to know what makes you ... you!
For more answers to your housing questions, including what you may want to bring and what you are not allowed to bring, visit the

 

Housing, Residential Living, and Dining website.
Who Will I Meet at Orientation?
Staff of the Honors College. We'll be around from day one . . . and pretty much each day for the rest of your college career.
Your HNRC 101 faculty for your first "core" unit. This will make those discussions on day one a little easier.
Honors Orientation Leaders (OLs)
Let the countdown begin!