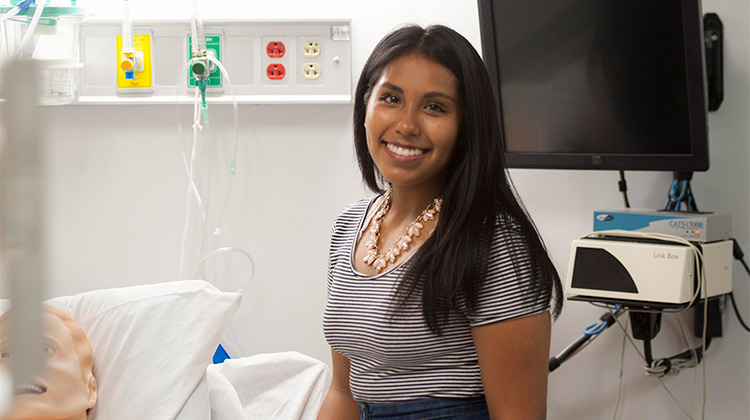 Smart Choice for Those Headed to Medical School, Law School, or Graduate School
If medical school, law school, or graduate school is in your future, the Cook Honors College at IUP is a smart choice. You get a transformational education that gives you the critical writing, listening, and thinking skills to stand out.
Earning your bachelor's degree through the Cook Honors College is a strong college decision that takes into consideration your total higher-education costs.
Stronger Applications and Interviews
Through the honors core, you'll strengthen the writing and communication skills needed for applications and admissions interviews for medical schools, law schools, and graduate programs. Because of the more challenging, scholarly format of core classes, your professors are excellent sources for letters of reference.
With help from the Achievement Fund, you may also be able to study abroad or do an internship that strengthens your application and expands the topics you can discuss at an interview.
"Thanks to the education I received at the Honors College, my college education has allowed me to be competitive and successful in arenas dominated by students from Ivy League institutions, and I have never once felt my undergraduate foundations to be any less than theirs. Studying at IUP also granted me an educational experience outside of an 'ivory tower' atmosphere, which enabled me to develop a more well-rounded worldview. This, combined with a sense of civic duty instilled by the Honors College social service requirements, motivated me to take two years away from pursuing my own goals to give back to my community by taking a job working with the poor."

Tim DeBold, earned master's degrees from both Emory University and Oxford University, then went on to a PhD program at Stanford University
Some of the Schools Our Students Attended After the Honors College
Graduate and Medical Schools
American Musical and Dramatic Academy New York
American University
Antioch New England Graduate School
Appalachian State University
Arizona State University
Armed Forces School of Music
The Art Institute of Chicago
Bard College
Boston College
Boston University School of Medicine
Bowling Green State University
California Institute of Technology
California State University–Northridge
California State University–Sacramento
California University of Pennsylvania
Carnegie Mellon University
Case Western University
Chatham College
College Misericordia
College of William and Mary
Concordia University–Montreal, Canada
Cornell University
Dartmouth
Drexel University
Drexel University–College of Medicine
Duke University
Duquesne University
East Carolina University
Eastern Mennonite Seminary
Edinboro University of Pennsylvania
Emerson College
Emory University
Fairleigh-Dickinson University
Florida State University
Fordham University
Gannon University–Erie
George Mason University
George Washington University
Georgetown University
Georgia State University
Gordon Conwell Theological Seminary
Harvard University
Holy Family University
Hurley Medical Center, Flint, Michigan
Indiana University–Bloomington
Indiana University of Pennsylvania
Iowa State University
James Madison University
John Jay College of Criminal Justice–CUNY
Johns Hopkins University
LaRoche College
LaSalle University
Lehigh University
Logan University–St. Louis
Loyola College of Maryland
Mansfield University of Pennsylvania
Marshall University
Marywood University
Methodist College–Pennsylvania
Methodist University
Michigan State University
Middlebury Language Institute–Vermont
New College of California
New York University
North Carolina Central University
Northern Arizona University
Northwestern Michigan University
Northwestern University
Ohio State University
Ohio State University–School of Veterinary Medicine
Ohio State–School of Dentistry
Ohio University
Oklahoma University
Old Dominion University
OSRAM Sylvania
Pace University
Penn State University
Penn State College of Medicine
Penn StateForest Resource/Watershed
Pennsylvania College of Optometry
Philadelphia College of Osteopathic Medicine
Point Park College
Portland State University
Pratt Institute
Princeton University
Purdue University
Rockefeller University
Rowan University
Rutgers University
Salus University–Pennsylvania College of Optometry
San Jose State University
School of the Art Institute of Chicago
Seton Hall
Seton Hill University
Simmons College
Southern Connecticut State University
Southern Methodist University
Stanford University
Strayer University
SUNY Buffalo
Syracuse University
Teachers College, Columbia University
Temple University
Texas A&M
Thomas Jefferson University–Jefferson Medical College
Tiffin University
Towson University
Tulane University
Uniformed Services University of the Health Sciences
University of Alabama–Birmingham
University of Albany
University of Arizona
The University of the Arts in Philadelphia
University of Baltimore
University of British Columbia
University of Buffalo
University of California–Berkeley
University of California–San Diego
University of California–Santa Cruz
University of Chicago
University of Cincinnati
University of Colorado–Boulder
University of Connecticut
University of Dallas
University of Delaware
University of Georgia
University of Hawaii
University of Illinois–Springfield
University of Illinois–Urbana-Champaign
University of Kansas
University of Maastricht–Netherlands
University of Maryland, Baltimore College of Dental Surgery
University of Maryland–Baltimore County
University of Maryland–College Park
University of Michigan–Ann Arbor
University of Minnesota
University of Minnesota–Twin Cities
University of Montana
University of Nebraska–Lincoln
University of Nevada
University of New England College of Osteopathic Medicine
University of New Mexico
University of North Carolina–Chapel Hill
University of North Carolina–Greensboro
University of Oregon
University of Pennsylvania
University of Pittsburgh
University of Reno
University of Rhode Island
University of Saint Louis
University of South Carolina
University of South Florida
University of Southern California
University of St. Thomas/College of St. Catherine
University of Sussex
University of Tennessee
University of Texas Southwestern Medical School
University of Virginia
University of Wisconsin–Madison
University of Wisconsin–Milwaukee
Utah State University
Vanderbilt University
Virginia Commonwealth University
Virginia Tech
Walden University
Washington State University
Washington University–St. Louis
West Virginia University
Western Illinois University
Western Michigan University
Wilmington University
Wilson College
Law Schools
American University Washington College of Law
Boston College School of Law
Capital University Law School
Catholic University of America Law School
Drake Law School
Duke University School of Law
Duquesne University School of Law
George Washington University School of Law
*Georgetown University School of Law
Penn State Dickinson School of Law
Rutgers Camden School of Law
Temple University School of Law
Tulane University Law School
University of Chicago Law School
University of Maryland Carey
University of Miami School of Law
University of Minnesota School of Law
University of Pennsylvania Law School
University of Pittsburgh School of Law
University of Virginia School of Law
University of Wisconsin Madison School of Law
Vanderbilt University
Vermont Law School
Villanova University Law School
Yeshiva Cardozo Law School
International
Brunel University–London, United Kingdom
Cambridge University–United Kingdom
Karlova Univerzita–Prague, Czech Republic
Oxford University–United Kingdom
Queens University–Belfast, Northern Ireland
Trinity Medical School–West Indies
Universidad de las Americas–Puebla, Mexico
University of Nancy–France
University of Turku–Finland
Westflische Wilhelms Universitt (Medical School)–Mnster, Germany