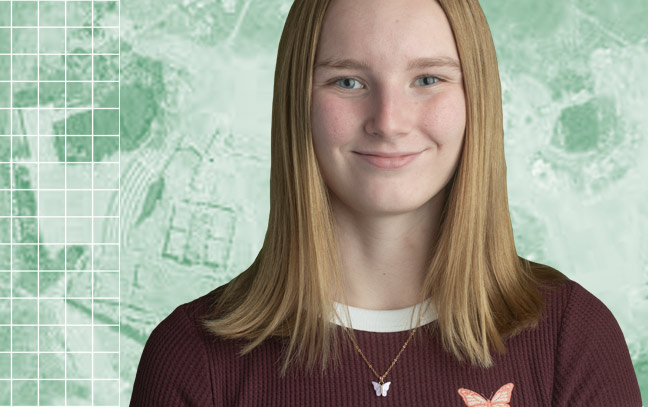 Become an Outstanding Anthropologist
You want to make a real impact in the world. To do that, you need to learn about people and their way of life. IUP's Bachelor of Arts in Applied Anthropology will help you become a sensitive and perceptive anthropologist so you can help change the world for the better.
What Does Applied Anthropology Mean?
Anthropology is the study of humankind, how culture is developed, and what can be learned from those who lived before us through archaeology. By learning about the human experience, you understand why we behave the way we do, how we're different, and how we're alike.
The BA in Applied Anthropology program teaches you how to put anthropology into action. As an IUP graduate, you'll make a positive impact in your community because our undergraduate program gives you:
Anthropological methods and theories
Cross-cultural perspectives
Opportunities to address social justice issues in and out of the classroom
Turning what you've learned into action through internships and research projects
What You'll Learn
Led by our talented and well-regarded faculty, your applied anthropology courses will teach you how our world works—and doesn't work. As an anthropologist, you'll learn how to make sense of complex social systems and how to improve them.
You'll learn how to do both qualitative research—non-numerical research like interviews and focus groups—and quantitative research, which is numerical data like surveys and data analysis.
You'll graduate with a different perspective of the world. When you see how social systems help our society run and why people do what they do, you'll be ready to be a part of lasting change.
Imagine Your Future
It may seem like companies aren't hiring a lot of anthropologists, but, when you look closely, anthropologists are working everywhere.
You can help shape the thinking behind global and public health issues like immigration, environmental policy and sustainability, and poverty. You can be called upon to cross cultural divides and bring together diverse communities both here in the US and abroad.
Businesses are also hiring anthropologists to do market research through surveys and observations to help them understand the demand for products and brands among different demographics.
IUP graduates from the applied anthropology track have gone to work in healthcare, state and federal government, and for nonprofits. You'll be well prepared for graduate school if you want to get your master's or doctoral degrees.
All that to say, you can make a living and support your family as an anthropologist.
Career opportunities in Anthropology
Graduates of the BA in Applied Anthropology program can pursue a wide variety of career paths, including:
Administration/Management
Advocacy (human rights/social justice)
Business
Community Development
Computers/Software Development/Information Technology
Design (products and/or services)
Documentary Filmmaker
Education/Outreach
Environment and Natural Resources
Ethnography/Cultural Anthropology
Evaluation/Assessment
Global Health
Healthcare
Humanitarian Efforts
Human/Social Services
International Development/Affairs
Law/Criminal Justice/Law Enforcement
Market Research
Mass Communication
Museum/Curation/Project Design
Organizational Development
Public Health
Social Impact Assessment
Tourism/Heritage
The Bureau of Labor Statistics projects 7.4 percent employment growth for anthropologists between 2020 and 2030. In that period, an estimated 600 jobs should open up.
Classes and Requirements
Through the BA in Applied Anthropology program at IUP, you can make your education your own.
All anthropology students take the same core courses. When you start the track, you and your advisor will plan out what specific areas you want to focus on.
Experiential Learning
The anthropology program is built on you learning by doing. Through experiential learning, you can immerse yourself in a topic and get valuable experience that will help you in your career or graduate school.
Learning opportunities could be in a variety of ways:
Ethnographic field school
Guided research
Independent study
Internship
Full Academic Catalog Listing
The course catalog is the official reference for all our degree and course offerings. Check it out for a full listing of the classes available and requirements for this degree.
Research Opportunities for Students
As a student at IUP, you'll benefit from the chance to work with your professors on extensive research projects. You'll put your classroom learning to work, helping to bring about change in topics of real importance.
Here are some recent research topics:
Intersection between COVID-19 and the opioid epidemic
Refugee policy
Reproductive rights
Working with law enforcement to improve policing outcomes for all people
Visit the research page to learn more about what anthropological projects you could join at IUP.
IUP Students Are at Work Changing the World
Since 2012, IUP students have partnered with the Appalachian Teaching Project. Working with Professors Abigail Adams and Amanda Poole, these students have studied issues of opioid addiction, COVID-19, rural food security and poverty, sustainable and asset-based development, and community gardens in the communities surrounding IUP. In conducting original research and presenting to officials in Washington, D.C., students are helping their community—and having a good time in the process.
Earn a Minor in Anthropology
The skills you learn in anthropology tie in nicely with many other fields of study. The ability to see how cross-cultural differences play out in business, international studies, or the sciences is a needed skill.
The Anthropology Minor is 18 credits, with courses on topics including contemporary, cultural, and biological anthropology. Courses required for the major include:
Full Academic Catalog Listing
The course catalog is the official reference for all our degree and course offerings. Check it out for a full listing of the classes available and requirements for this degree.
Earn a Certificate in Cultural Competencies
Knowing how to relate and engage in a diverse workplace is a very desirable skill, especially if you want to succeed in a global workforce.
The Cultural Competencies Certificate at IUP will get you the training you need to be effective in the working world. You'll develop your knowledge, skills, and understanding to increase your ability to relate across cultural differences.
The best part is you have flexibility on what you study to earn the certificate. Choose from many options to study what interests you and what will help you gain a stronger foothold in the workplace.
The Cultural Competences Certificate appears on your transcript.
Explore with the Anthropology Club
If you want to be about all things anthropology, you should join the IUP Anthropology Club.
The Club is a great way to learn more about anthropology and where what you learn can take you in your career. The student-run club meets bi-monthly and organizes events and speakers. The club is very active and has sponsored several events including:
Dia de los Muertos (the Day of the Dead) on-campus events
An ethnographic film series
National Anthropology Day events
The club is a great way for you to network. Members have attended meetings of the Society for Applied Anthropology, the American Anthropological Association, and presented at Pennsylvania's State System of Higher Education's annual University Undergraduate Anthropology meetings.
Check out the Anthropology Club's Facebook page for more information.
Statement on Race and Diversity
The Anthropology Department is committed to combating racism through fostering inclusive and welcoming spaces for diverse students and fostering student learning outcomes that expand the understanding of race: particularly, that race is not a biological reality, but that race and racism are cultural and social constructs that intersect with social class and other forms of social positionality to produce harm for people of color in our society and globally.
Join the Anthropology Honors Program
With the Anthropology Honors Program, you can get ahead in your career by completing advanced courses and independent research. The Honors program also prepares you for graduate school, if you want to pursue your master's and doctoral degrees.
The honors program is open to declared anthropology majors with a minimum 3.25 cumulative GPA and a 3.25 GPA in anthropology courses. Students complete six credits of ANTH 483 (Thesis) and two honors or graduate courses—and the courses may count toward your MA program at IUP.
If you're interested in joining the honors program, consult with your academic advisor.
Full Academic Catalog Listing
The course catalog is the official reference for all our degree and course offerings. Check it out for a full listing of the classes available and requirements for this degree.
Earn a Minor in Global Health
Achieving health equity for people worldwide is a daunting challenge—but one that is worth taking on. As an IUP student, you dream big, and your education helps prepare you for big challenges.
Earning a Global Health minor gives you a competitive edge in fields like global development, policy, and anthropology. Based on what interests you, you can focus on one of six global health pathways:
Aging
Disaster, Conflict, and Displacement
Environmental Justice
Food, Nutrition, and Hunger
Gender, Sexuality, and Reproductive Health
Law, Ethics, and Policy
The minor is 12 credits (four classes) in the pathway you choose. You'll also take Introduction to Global Health and either Medical Anthropology or Medical Sociology.
Contact Dr. Abigail Adams (aadams@iup.edu) with any questions about the minor in Global Health.
Learn More about the Global Health Minor
Learn from World-Class Faculty
When you're studying applied anthropology at IUP, you'll be learning from the best. Our faculty are well-regarded and conduct their own research as practitioners in the field.
Here are just some of the topics our faculty members specialize in:
Appalachia
Asian archaeology
Chemical composition of artifacts
Contemporary Native Americans
East Africa
Environmental anthropology
Forensics
Geophysics
Geoarchaeology
Global health
Historical archaeology
Latin America
North American archaeology
Reproductive rights
Refugee policy
State making
Underwater archaeology
US Southwest