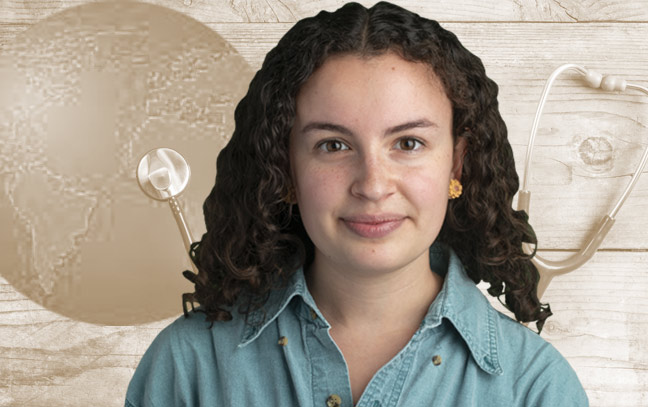 Work for Health Equity and Improved Health
Become knowledgeable about health issues worldwide and develop cross-cultural skills to advance your career through the Global Health Minor.
What Is Global Health?
Global health is an area of study, research, and practice that aims to improve health and to achieve health equity for people worldwide. The Global Health Minor equips undergraduate students to think critically about global health challenges and practices, and it enables them to explore core principles of global health, such as epidemiology, health interventions, and health systems.
Why Study Global Health?
Major health issues affect people across the globe. In today's interconnected world, there's an increasing need for health practitioners with strong analytical, research, and cross-cultural skills. The Global Health Minor provides real-world training to help you develop these skills and advance your career.
This minor will increase your cross-cultural perspective and competence, awareness of health problems and practices, and knowledge about health and health behaviors across countries and cultures.
Through field schools and course projects, this program allows you to merge theory and practice to examine and understand health problems. The curriculum prepares students for graduate studies in health fields, such as behavioral science, epidemiology, environmental health, and health policy. It also prepares them for employment in the rapidly growing global health field, including in public health.
In this program, you'll forge meaningful connections and a shared understanding with a community of global health professionals. The Global Health Minor's innovative and multidisciplinary curriculum emphasizes individual research and experiential learning. Graduates of this program acquire skills in leadership and advocacy combined with a robust understanding of policy and governance.
Imagine Your Future
Whether you're majoring in biology, public health, political science, business, or anthropology, adding this minor can enhance your job prospects and lead you to a career that has meaning and impact. This minor is also an excellent choice if you plan to continue your education in graduate school or in a health-related professional school, such as medical, nursing, or optometry school.
Here are some questions that global health practitioners ask:
What happens when new treatments are introduced into epidemiologically diverse and variable social worlds?
How is care organized by providers and by state and non-state institutions?
By what means do the people who desperately need care access it (or fail to access it)?
How can the stories of real people dealing with insecurities of all kinds be heard and be used to improve current practices in global health?
Find Careers Abroad—or Close to Home
From combating the opioid epidemic in Appalachia to fighting pathogenic diseases around the world, global health practitioners work for health equity and are needed everywhere.
Global health practitioners pursue careers such as those listed below. They serve in many organizations, including nongovernmental organizations, bilateral or multilateral development agencies, government agencies, and consulting organizations.
program managers
policy analysts
researchers
health administrators
clinical practitioners
Classes and Requirements
Global Health Minor Boosts Your Marketability
The Global Health Minor gives your résumé a competitive edge. Choose a focus (See below) that matches your major, your career goals, or the changes you most want to see in the world. Explore the challenges of achieving health equity for people worldwide while building new career directions into your job outlook.
Global Health is an 18-credit minor. You'll complete Introduction to Global Health (ANTH 240) and either Medical Anthropology or Medical Sociology and 12 additional credits related to your specialized pathway. Focus on one of six global health pathways: Food, Nutrition, and Hunger; Environmental Justice; Law, Ethics, and Policy; Disaster, Conflict, and Displacement; Gender, Sexuality, and Reproductive Health; or Aging.
Full Academic Catalog Listing
The course catalog is the official reference for all our degree and course offerings. Check it out for a full listing of the classes available and requirements for this degree.
We Are All Interconnected
The health and well-being of people everywhere have important implications for global security and freedom.
The Ethical Directive
There is an ethical dimension to health and well-being and the need to address health equity issues. Many children in poor countries get sick and die needlessly from malnutrition or from diseases that are preventable and curable. Many adults in poor countries die because they lack access to medicines that are customarily available to people in rich countries.
This is unjust. Are we prepared to accept such deaths without taking steps to prevent them?
National Boundaries Are Porous to Disease
The economic impact of preventable diseases destabilizes the global economy and sends ripples of harm throughout the world. Outbreaks of other diseases, such as cholera, the plague, SARS (severe acute respiratory syndrome), and Ebola, for example, threaten people's ability to engage freely in economic pursuits. The 1991 outbreak of cholera in Peru cost that country about $1 billion. The plague in 1994 cost India about $2 billion. SARS in Asia in 2003 cost the continent's economies a staggering $18 billion in lost economic activity. And, the Ebola outbreak in West Africa (Guinea, Liberia, Sierra Leone) cost $2.2 billion in 2015 alone. The economic toll of COVID-19 is in the trillions, and we have yet to see the complete human toll of this pandemic.
Practicums, Internships, and Field School Experiences
You can gain greater insight into and awareness of the real-world impact of health issues with hands-on opportunities. An ethnographic field school, independent study, practicum, or internship may be applied to any pathway with approval from the Global Health Minor committee.