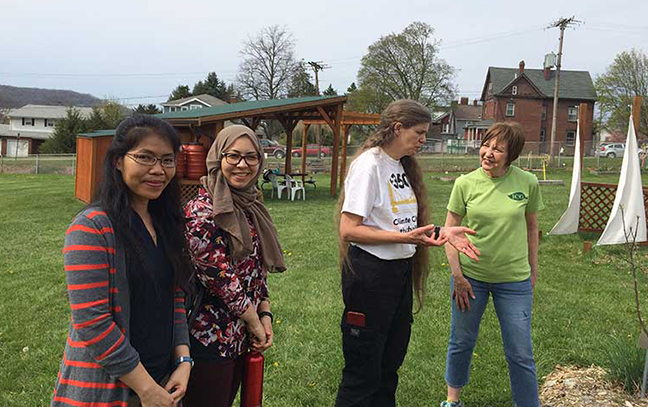 Address the challenges of sustainability by balancing the humanities, social sciences, and natural sciences.
Sustainability refers to economic development that meets the needs of the present without compromising the future.
The Sustainability Studies Minor is an interdisciplinary program that draws from expertise across IUP. It equips students to broaden their thinking in the humanities, natural sciences, and social sciences. A capstone project allows students to combine what they learned to engage in research and action on sustainability. In this minor, you'll join a community of students and faculty from across campus to work toward a more sustainable world.
Imagine Your Future
Sustainability is becoming integral to a variety of professions: business, energy, building, education, design, transportation, agriculture, and planning, to name a few. In the private, public, and nonprofit sectors, and across a range of industries, sustainability officers are playing increasingly important roles.
With growing concerns for a sustainable planet, students with a focus in sustainability studies pursue a wide range of green jobs. Jobs range from sustainability officers to environmental educators, from urban foresters to specialists in energy solutions making policies on climate action.
Career Opportunities in Sustainability Studies
Career possibilities include positions in design, law, food industries, planning and architecture, education, building certification, renewable energy, and waste management.
Similar Occupations
Sustainability coordinator
Environmental consultant
Grant writer
Environmental educator
Urban forester
Specialist in energy solutions
Policy making on sustainable resource use
Policy making on climate action
Classes and Requirements
Courses from more than 20 departments count as electives toward the minor. Emphasis will be on solving complex problems by integrating perspectives from humanities, social sciences, and sciences.
Full Academic Catalog Listing
The course catalog is the official reference for all our degree and course offerings. Check it out for a full listing of the classes available and requirements for this degree.
Graduate School Potential
Students in the Sustainability Studies program at IUP receive a tuition discount and other benefits if they are accepted into the Falk School of Sustainability and Environment at Chatham University, which offers MA programs in sustainability and food studies.
There are growing opportunities to pursue graduate studies and professional certificates in sustainability and related fields. The Association for the Advancement of Sustainability in Higher Education has a searchable database with more information.
Affiliated Faculty
Students in the Sustainability Studies program work with expert and passionate faculty members from a variety of disciplines: anthropology, biology, geography, history, religious studies, sociology, geosciences, and more.
It takes people working across these disciplines to tackle complex environmental issues. Our faculty is committed to working with students to do this, both in and out of the classroom, on campus, and in our communities.