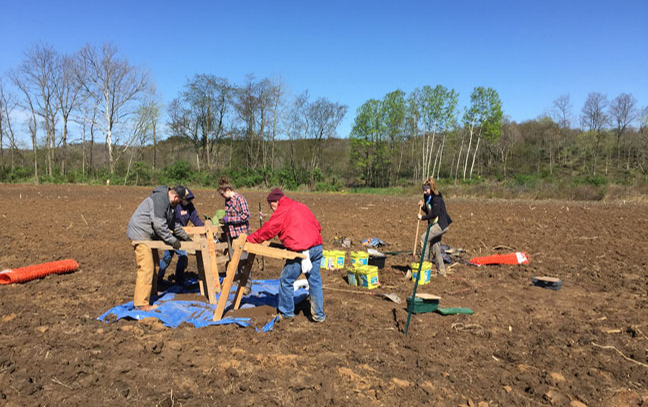 Dig In as an Outstanding Archaeologist
Ready to get your hands dirty and search for artifacts? Interested in examining the clues these artifacts left behind? Then you may want to be an archaeologist! IUP's Archaeology BA will help you find a fulfilling career discovering how those who came before us lived—and what they can teach us today.
Finding the Clues in Archaeology
Archaeology is the study of human history through the excavation and analysis of artifacts. It's closely connected to anthropology, which is the study of the human experience to help us understand why we behave the ways we do.
Both archaeology and anthropology teach you about culture and how to interpret the clues left behind by civilizations and groups of people. As an archaeology major, you'll learn how to find those clues and interpret them.
Pursuing an Archaeology BA
When you graduate with your bachelor's degree in archaeology, you'll head out into the world with an in-demand resume and specialized training in:
Real-world applications like forensic anthropology
Specialized archaeological techniques
Environmental and social issues
What You'll Learn
IUP's archaeology program is one of the top programs that trains archaeologists in cultural resource management (CRM). CRM is legally required archaeological work on public and private lands. It's one of the fastest growing sectors in the country, so you'll leave IUP with a competitive edge.
You'll get your hands dirty at the IUP Archaeological Field School, where you'll practice:
Artifacts analysis
Field excavation
Laboratory processing
Survey methods
You'll get to work on ongoing excavations, such as a fifteenth-century Native American village site in Indiana County or European American frontier sites in western Pennsylvania.
Imagine Your Future
You'll have great adventures as an archaeologist, though it may not look like it does in the movies.
With IUP's focus on real-world skills, you'll have marketable talents that employers want. In fact, most of our archaeology graduates find employment in their chosen field.
Two Paths of Archaeology
Archaeology jobs usually are found in two major sectors. The first is what most people usually think archaeologists do: professors or museum curators.
The other path is a fast-growing sector called cultural resource management (CRM). In CRM, you'll work with federal or state governments, utility companies, or private companies to preserve historic sites and artifacts. With the growing need for housing and business construction, you'll be highly sought-after as a CRM archaeologist.
You can find jobs doing these as well:
Archaeological field director
Archaeological field technician
Archaeological lab technician/supervisor
Geophysical specialist
Global Information systems (GIS) specialist
Writer
Many undergraduates go on to graduate school—you can even start on your master's degree early at IUP through the Early Graduate Admissions program.
Career Opportunities in Anthropology
The type of jobs that are most common for Archaeology BA graduates include:
Cultural Resource Management
Documentary Filmmaking
Education/Outreach
Environment and Natural Resources
Forensics
Law/Criminal Justice/Law Enforcement
Museum/Curation/Project Design
Social Impact Assessment
Tourism/Heritage
Additional jobs archaeology graduates might pursue include:
Administration/Management
Advocacy (human rights/social justice)
Business
Community Development
Computers/Software Development/Information Technology
Archaeologists are highly sought after in the US. Job opportunities are steadily growing, and demand is expected to expand in this decade.
Classes and Requirements
In IUP's Archaeology BA program, you'll prepare to do good archaeology the right way.
All archaeology (and anthropology) majors take four core classes, plus a senior seminar:
Archaeology
Biological Anthropology
Cultural Anthropology
Linguistic Anthropology
What You'll Study
You'll get to work in IUP's Archaeological Field School. Your studies will focus on laboratory methods, cultural resource management (CRM), and archaeological research design.
You can also select from several archaeology electives, including:
Artifact analysis
Forensics
Geoarchaeology
Geophysics
Full Academic Catalog Listing
The course catalog is the official reference for all our degree and course offerings. Check it out for a full listing of the classes available and requirements for this degree.
Archaeology Research Opportunities
When you're in the archaeology program, you'll have opportunities to work with your professors on projects in western Pennsylvania and throughout the country. You'll learn how to manage and protect sites on public and private land.
Here are a few of the projects IUP is leading:
South Mountain metarhyolite
Study geochemical and archaeological analysis of precontact quarries within the South Mountain landscape to understand ancient trade.
World War II aircraft
In partnership with the Defense POW/MIA Accounting Agency, participate in forensic investigations of downed WWII aircraft.
Historic frontier settlements
Take part in ongoing archaeological excavations at the sites of Hanna's Town (the first British county seat west of the Allegheny Mountains) and Newport village to explore frontier life in Pennsylvania.
Pennsylvania Archaeology Shipwreck Survey Team
Work with volunteers to record the submerged history of Lake Erie.
Mobile Spatial Data Acquisition and Processing Lab. Geophysical Technologies
Use a full suite of geophysical equipment (ground penetrating radar, magnetometry, electrical resistivity) to identify and investigate a range of archaeological sites, from precontact villages to cemeteries and historic foundations.
National Park Service (NPS) projects
Participate in ongoing archaeological projects at National Park Service sites, including Fort Necessity and the Johnstown Flood.
Early Metallurgy in Asia
Investigate early metallurgy in southeast China and northern Vietnam during the period 1200–600 BCE.
Continue the Tradition of Great Alumni
Our IUP alumni work in Pennsylvania, throughout the mid-Atlantic, and across the US as archaeologists, museum professionals, teachers, and preservationists. They work for local, state, and federal government, as well as private and nonprofit consulting firms and resource advocates.
Get Experience in Archaeology—and Get Paid
Archaeological sites hold so much of our history. In the Archaeology BA program, you can be a part of unearthing that history through IUP Archaeological Services.
IUP Archaeological Services is a research center that provides technical help to agencies in field and laboratory projects throughout Pennsylvania. We hire students for a full range of projects, including

Artifact analysis
Excavation
Geoarchaeology
Ground penetrating radar
Historical research
Surveying
IUP Archaeological Services has conducted more than $8 million in projects, working with:
Allegheny National Forest
Indiana County
Pennsylvania Department of Environmental Protection
Pennsylvania Department of Transportation
Pennsylvania Historical and Museum Commission
National Park Service
Township planning commissions
US Army Corps of Engineers–Pittsburgh District
You'll be a part of a unique opportunity, getting real experience that leads to real jobs—and you are paid for your work.
Contact Dr. William Chadwick (wchadwic@iup.edu)  for more information.
Use All the Tools of the Trade
As an undergraduate student in archaeology at IUP, you'll have access to state-of-the-art tools that are invaluable for archaeological work. And IUP's laboratories and technology are available for your use.
Laboratories
Archaeology Analysis Lab, which includes comparative collections of precontact and historical artifacts
Chemical Characterization Lab
Computer Lab
Geospatial and Geophysics Processing Lab, which includes the geographic information system (GIS) and geophysical software
Faunal Analysis Lab, which includes the animal bone comparative collection
Flotation and Wet Lab, which includes flotation and soil science
Technology
These are used in classes and available for student research.
Electrical resistivity
Ground-penetrating radar
Large-format printers
Magnetic susceptibility
Magnetometry
Photogrammetry
Portable X-ray fluorescence (chemical characterization)
Total Data Station
Trimble Handheld GPS units
Join the Anthropology Club
Since you're about all things archaeology, join the IUP Anthropology Club!
The club is a great way to learn more about archaeology and anthropology and find out where what you learn can take you in your career. The student-run club meets bimonthly and organizes events and speakers. The club is very active and has recently:
Sponsored a film series
Traveled to local archaeology sites
Organized Dia de los Muertos (the Day of the Dead) on-campus events
The club is a great way for you to network. Members:
Attend meetings of the Society for American Archaeology and American Anthropological Association
Present at Pennsylvania's State System of Higher Education's annual University Undergraduate Anthropology meetings
Find out a lot more on the IUP Anthropology Club Facebook page.
Statement on Race and Diversity
The Anthropology Department is committed to combating racism through fostering inclusive and welcoming spaces for diverse students and fostering student learning outcomes that expand the understanding of race: particularly, that race is not a biological reality, but that race and racism are cultural and social constructs that intersect with social class and other forms of social positionality to produce harm for people of color in our society and globally.
Anthropology Honors Program
You can get ahead in your career by completing advanced courses and independent research in the Anthropology Honors Program. If you want to go on for your master's and doctoral degrees, the honors program prepares you for graduate school.
The honors program is open to declared anthropology majors with a minimum 3.25 cumulative GPA and a 3.25 GPA in anthropology courses. You'll complete six credits of your thesis and two honors or graduate courses. These courses count toward your Anthropology MA program at IUP.
If you're interested in joining the honors program, talk to your academic advisor.
Full Academic Catalog Listing
The course catalog is the official reference for all our degree and course offerings. Check it out for a full listing of the classes available and requirements for this degree.
Learn from World-Class Faculty
When you're studying anthropology and archaeology at IUP, you'll be learning from the best. Our faculty are well-regarded and conduct their own research as practitioners in the field of applied archaeology.
Some of the topics our faculty members specialize in include:
American Southwest
Appalachia
Asian archaeology
Contemporary Native Americans
East Africa
Latin America
North American archaeology
Along with:
Chemical composition of artifacts
Environmental anthropology
Forensics
Geoarchaeology
Geophysics
Global health
Historical archaeology
Refugee policy
Reproductive rights
State making
Underwater archaeology
Get a Head Start on Your Master's Degree
While you're in the BA in Archaeology program, you can also work toward your MA in Applied Archaeology in the Early Graduate Admissions program,
You'll complete up to 40 percent of the MA program while you complete your bachelor's degree. That means you get two degrees in about five years and save 17 percent in time and money. And you get going on your career faster.
Reach out to Ben Ford (ben.ford@iup.edu) for more information.